Christmas is just around the corner and we know that choosing the perfect present isn't always as simple! Tipsters, we've got your back this holiday season with a list of authentically creative Christmas gift ideas!
---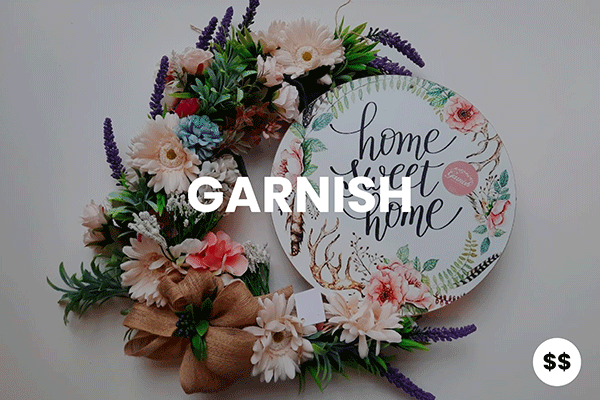 What's Christmas without a wreath? Garnish goes beyond just wreaths with all sorts of swags, garlands, hampers, and gifts this holiday season. You can pay them a visit at Swefieh Village Rooftop up till the 10th of December to view their range of goodies up close and personal.
---

From oriental patterns to festive designs, Artfully Pieces crafts handmade porcelain items suitable to add extra color to every dining table. When it comes to Christmas gift ideas, this is one of the few that'll never disappoint a hostess with the mostest.
---
Made with all-natural ingredients, The Soap Bar handcrafts every piece to offer men and women a selection of chemical-free and naturally-scented soap bars; their packages are a divine idea to give as a gift!
---

Create a sentimental gift for a loved one with Present Perfect's elements in crafting a memorable place into meaningful, miniature art.
---

Timeless elegance in the form of gold jewelry designed by Hania Bitar; every woman would fall in love with the uniqueness and trendiness resonated in these customized and contemporary pieces.
---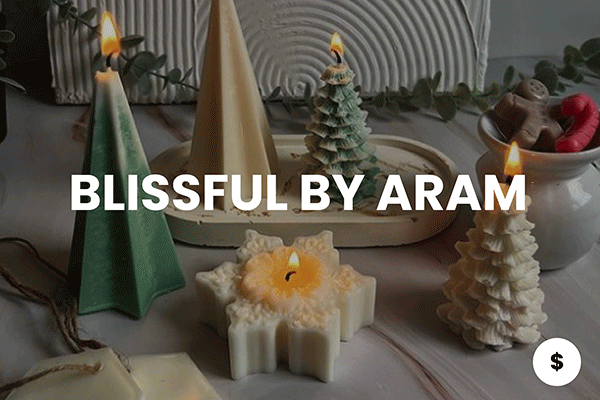 Beautifully scented and eco-conscious seasonal soy candles from Blissful by Aram make a genuine Christmas gift; blissful, sustainable candles are available to enjoy all year long, too!
P.S. Don't miss out on their candle making sessions every Saturday at Syrup Cafe!
---

Hip, trendy, and colorful 18k gold-plated jewelry pieces by Natty's Bling can make the cutest, memorable gifts for every young lady!
---

Extracted from the Lowest Point on Earth, Riva Crystals' skincare packages are superb for every woman searching for enriching products to use for her day-to-day skincare routine.
---

Because everyone loves chocolate, Rein Chocolate makes the sweetest gifts for the sweetest hearts! A delicious surprise in the Swiss chocolate's assortments will definitely draw some smiles.
---

Invited to a Christmas gathering and don't know what to bring for dinner? Choose from the delicious assortment of sweet liqueurs prepared by Liqueur by Fayrouz.
---
The pastel hues in Koko & Bloo's designs are just breathtaking! Every stationery-lover would find these items wonderfully helpful to stay focused and organized throughout the day, week, and year.
---

Authentically designed through inspirations of the Middle Eastern culture, Jordan River Designs have a collection of timeless and beautiful décor pieces and accessories for every home.
---

No one knows a best friend better than the person choosing a selection of unique items to bring together the sweetest, customized gift box prepped by Gift a Box.
---

Threaded with bright, cheerful, and colorful handmade seams are The Crafts Factory's baskets, placemats, mirrors, frames, and wall art – everyone would just love to have one of these creative pieces!
---

Resonating heritage through authentic, handcrafted designs and elements; Souk Zara is a souvenirs shop bursting with genuine gift ideas!
---

A blend of the authentic bedouin fabric is creatively added into Bedouin Spirit's homemade designs; from table runners, napkins, customized camels, to Santa's boot, wallets, and pillow cases; these make wonderful gifts for a foreign friend!
---

A sentimental gift for a best friend, a lover, or a family member dear to the heart, Zekra Book brings together a collection of memorable photos into a creatively designed photo album.
---

Blending the bling of jewelry into notebook designs and tote bag patterns! This creative gift idea can be designed and found at By Sara Quhaiwi.
---

Handcrafted ceramic pieces are timeless, practical, and beautiful. The Pottery Charm handcrafts a selection of colorful mugs and classy dinnerware that make the perfect present for a mother, a sister, or a friend.
---

A Christmas special by Victorian Chocolate is the festive gift box filled with assortments of delicious chocolates, scrumptious cookies, and other goodies! It's the perfect gift idea for when in doubt!
---
Happy Gifting Tipsters!
Lemur Love,
The Tip n' Tag Team