Ahh, Coffee. Ammanis may not agree on much, but if nothing else, we can agree on good coffee. Whether you're cradling a travel mug on your way to work, or dashing out after spin class to refuel with a skinny latte, it's hard to imagine a day without it. So, to keep your days aptly caffeinated, we've compiled a list of the Top 10 Coffee Places in Amman!
---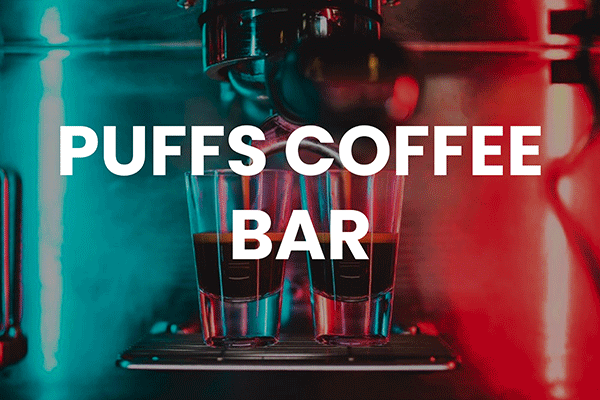 Puffs Coffee Bar  is offering its customers an experience they can't get anywhere else in Amman, with their vibrant atmosphere combined with some of best beats that add a unique flavor to their creative coffee choices available.
Tip: Best for a good time out with friend!

---

Enjoying the little things in life? Nobody does that better than Qahwa BLK. Situated on a corner in Abdoun, a small place with big taste (see: their Extra Extra Large Cold Brew) this is a cafe that knows what it's all about, and you'll know it too once you try their delicious Cheese Ka'ek!
Tip: Best taken to-go!
---

This one is for the basic baddies out there: Light, airy, and gorgeously designed, Base Coffee brings an air of Urban Londonian elegance to the Amman coffee scene. A perfect spot for work and sipping on exquisitely roasted coffee. A big bonus is their conscientious menu of Vegan chocolate and Gluten-free Blueberry Muffins options!
Tip: Best for a chill study-sesh!
---

An entry that we know is good as it has been recommended by our goodest Tipsters. A cute little coffee house that is the quintessential place for studying or working, fueling you with certifiably outstanding Geisha Coffee! Whipped up by Kenan and Mahmoud, the excellent and wonderfully friendly Baristas!
Tip: Best for ultimate caffeination when studying or working!
---

We all wish we read more, wish we had the time and concentration prowess for it. Well, the solution is stunningly simple: carve out the time and place to read! Discover kindred spirits at The Good Book Shop; a lighthouse for book and coffee lovers. It's a so-called "Urban get-away" that supports local business ventures, displays local bands, and is situated in none other than Rainbow Street!
Tip: Best for ultimate concentration when studying or working!
---

Do you like puppers? Do you like good specialty coffee, red-brick vintage vibes, and yummy deserts? Welcome to the casually-cool, pet-friendly Kava! Family and friends and most importantly, dog lovers, come together to this lovely little cafe!
Tip: Best for pet owners and animal lovers!
---

---

Pull up then p*** off! That's right Tipsters, turn up your seat-warmers and keep that seatbelt on, we have a drive-through for you! Marouf Coffee serves a killer flat white: Creamy, bitter, and non-acidic! The milk doesn't take away from the bitterness of the coffee, just how we like it!
Tip: Best for lazy pick-ups!
---

---

You know when you take a sip of coffee and it just hits the spot? That moment is somethin' else, innit? We know, and we are excited to let you in on a specialty, miracle-in-a-cup coffee place; Melange in Abdoun. They pride themselves on harvesting the ripest coffee beans and brewing them using state-of-the-art supplies to get the coffee to its flavor peak.
Tip: Best for dates!
---

For the most laid-back of business meetings, go to Casper & Gambini's. You'll maintain your professionalism, while also making the other party feel like a friend! Casper & Gambini's serve amazing food, and house blend coffee drinks that will have the other party drunk on coffee beans and pliable enough to sign any deal!
Tip: Best for closing deals!
---

Kawon is a one-in-a-million, shooting star kind of romantic. Originally an old house renovated into a library, the friendly staff, the stacks upon stacks of rare book finds, and the vintage vibe of the place are sure to blast you and your date straight into a movie screen!
Tip: Best for out-of-town dates!
---

Nestled in a cozy little spot in Um Uthaina, Beanatna is the perfect place to have a Belle moment with a book, a coffee, and all the surrounding greenery! Or better yet, bring a friend or two for an intimate get-together, and the owner might just pop up with a new menu item for you to try!
Tip: Best for hanging out with friends!
---
Remember Tipsters, stay caffeinated!
Lemur Love,
The Tip n' Tag Team