There comes a point in life when all you need is a night of endless drinking, and who do you turn to but the Tip n' Tag Team? Our Pubcrawlers are made for those amongst you with an intention to go all out. Keep your cars back home, and walk your way through this quintessential Weibdeh crawl.
---

Whoever conceptualized Dali must have heard the saying "there's a place for everyone", and then went for it. The European-esque cafe accommodates to every taste in Amman, and has become a convention point for locals and expats alike, including their puppies. You'll have to come here before six p.m. to make sure you find a seat. Once you're sat and ready, start off your evening with a cold one, or three. Happy hour runs till eight!
---

---

A few drinks in your system are enough fuel to make ten minutes seem like three, but what is time, really? Sure, a construct of the mind, but a little detour never actually hurt anyone. Especially one that includes plans of pizza. Since you're already out on an evening of professional drinking, it makes sense to have the heavenly pie. Good thing Oliva is on your way to your next pub crawl destination, Maestro.
---

---

You might think you've seen it all, what with Maestro's regular musical nights. But to truly complete the La Locanda experience, all you have to do is walk a few steps outside of the band-night-sanctuary up to the fourth floor of the hotel. Your third destination welcomes sights of the old city, held under the moon-lit sky. The ever quaint cafe bar, La Locanda Rooftop, is a cozy little addition to your liquor-fueled evening.
---

---

A five minute walk in the right direction takes you to the three collective dens of Rustic, where every corner creates an atmosphere intimate and separate in itself. Different to your previous pub stops, here you get a side of popcorn to munch on as you drink. A definite plus, as we're sure you'll be feeling peckish by then. You know what works with popcorn alongside alcohol? A glass of water to keep you hydrated, your hangover will thank you the next day.
---

---

For a final destination on your pub crawl, you'll need an outdoor bar to cool off with all the drinking you've been doing. Portico supplies you with the booze and breeze to conclude your evening like the true champ you are. Their terrace offers an intimate open space where you can gulp your last drink in comfort and style.
---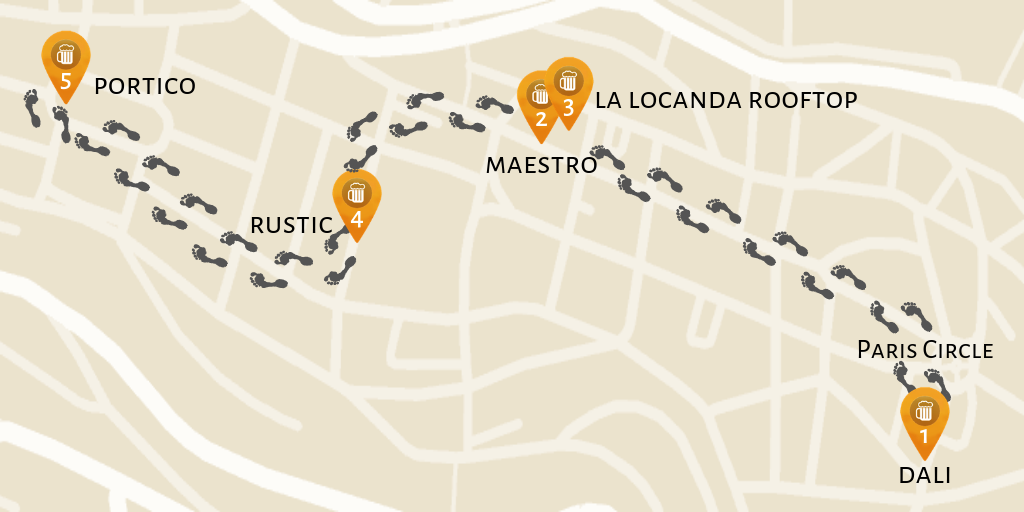 ---
 Uber your way back home.
Lemur Love,

The Tip n' Tag Team