Amman's nightlife is finally starting to pick up its slack; what with parties happening around every other corner, and the rise of the underground scene around town. It's a pretty proactive movement that's been keeping Ammanis busy when the city lights go off. But you still need the occasional spontaneity to keep things spiced up. That's where our pub crawls come into play. We at Tip n' Tag have managed to create a pub crawl mini guide for you to go on with your friends. Buckle up, and better yet, don't drive. You're in for a ride.
---

---

Somewhere Else has a view unmatched by any other place. Overlooking the better parts of the old city, it stands tall, serving its patrons glasses upon glasses of liquor. Perhaps the best way to ease into a pub crawl is with a sight of the citadel nestled amongst the glistening lamps spread across Amman's mountain tops.

---

Now that you've had that first glass of liquid courage, it's time to walk up to what most would say is a spot for expat conventions. Copas can lure you in with its seductive happy hour. Tipsters beware, their two-for-one offer has you drinking twice the amount of liquor, so choose wisely.

---

The first thing you lay your eyes on at Amigo might be the last thing you forget. The pub's well-lit billiards table might look like a center piece to the untrained eye, but is in fact a battle field in the most unconventional sense. You'd be lucky to play a round of pool in between what seems to be a never ending dibs list.

---

You're probably about five drinks in now, given the happy hours of the last two bars. Which actually makes it easier for you to walk up to District without too much care. After about seven minutes, you'll reach this lodge-like bar. The first thing you should do is order a bottle of water. You've got a long night ahead, and this isn't your last destination.
---

With a name quite fitting to the state you'll be in at this point of the night, Tipsy Cow makes for the perfect end point of this pub crawl. Fun little fact, cows have four stomachs; which is about the amount you'll need to fit in all the alcohol you've consumed by now. The bar has some mean dishes though, so you can let your cravings choose your pick.
---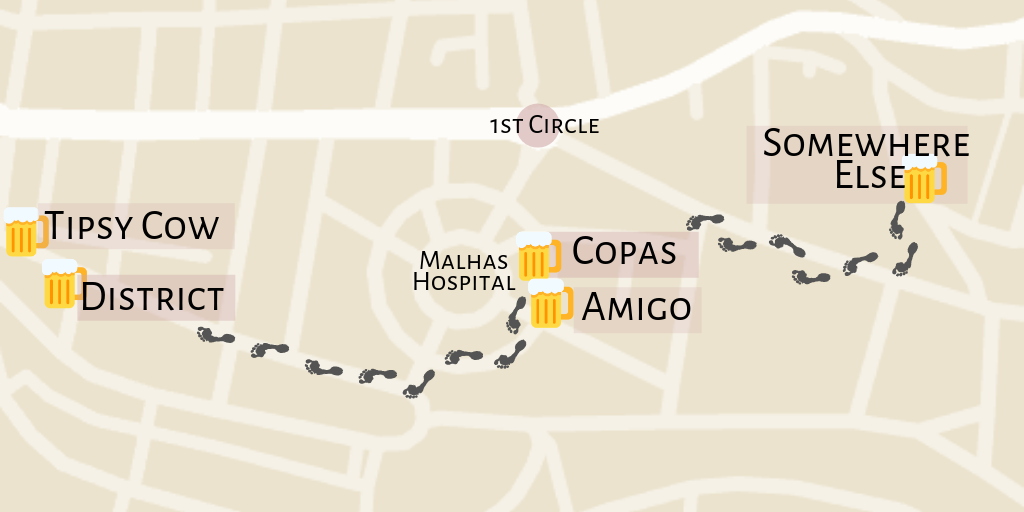 ---

---

Pub crawls are meant to show you new things around the city, and for the love of alcohol, those may as well be new bars. Eostrix, named after an owl breed known to be a good luck charm in ancient civilization, is where you want to start your evening. Maybe some of that luck will rub off on you through a glass of liquor? Who knows.

---
Only a few steps away from the owl bar is your second destination on this crawl. You can save the longer distance for when the second glass fuels your bloodstream. Chestnut is a local favorite for many reasons. One being that it has delicious finger food, which helps if you're planning on drinking the whole night.

---

As promised, your walking for the evening begins. The four minute walk to Bonita is just enough time to get your blood flowing and the alcohol pumping without you being out too long in the cold. By the time you reach this intimate corner bar, you'll be craving a drink to quench your thirst. Good thing you're out on a drinking mission.

---

Only three minutes away from Bonita is your fourth destination for the night. Veer not only has an incredible assortment of liquor in its bar cabinet, but an even more appetizing menu to pair with its delicious concoctions. The soft lighting at this industrial haven will surely be kind to your liquored-up state.

---

Last but not least on this ever intriguing experience is one of the oldest bars in Amman. Uncle Sam is where a nightcap goes to have a nightcap. Even on nights without a drinking mission, this bar harbors those who seek out a final glass before calling it a night. This local gem makes for the perfect spot to end your evening whilst in good company, and it's open till the late AMs.
---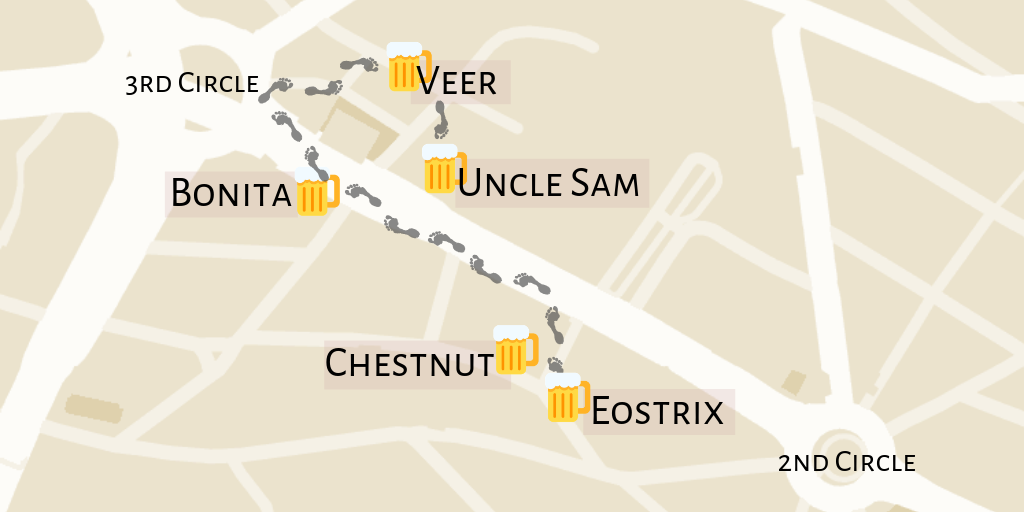 ---
Keep hydrating through the evening and remember, cool kids don't drink and drive.
Lemur Love, 
The Tip n' Tag Team