It's time for another Tip n' Tag Taste-Off! In our previous Taste-Offs, we scoured Amman for the best burgers and the most delicious pizzas around. Now, we think it's time for a little dessert – and we've chosen the perfect bite-sized treats. That's right: it's time to find out which of Amman's bakeries makes the most scrumptious cupcakes around.
Once again, we brought in the expertise of our favorite Amman food bloggers to decide whose cupcakes really hit the sweet-tooth spot. Based on the feedback and insights of our Tipsters, we narrowed the competition down to five bakeries. Our judges conducted a blind taste test of red velvet and carrot cake cupcakes from all of these bakeries, analyzing each according to texture, icing, and overall flavor, before picking their favorites.
So who makes the tastiest cupcakes in town? It's time to find out!
Ready, set, bake!

Since 2007, Sugar Daddy's has been one of Amman's favorite destinations for satisfying a sweet tooth. With all of their delicious desserts made from scratch, Sugar Daddy's provides that home-baked flavor that's perfect for everything from celebrations to a tasty pick-me-up.
While they offer a wide array of cakes, cheesecakes, cookies, bars, and squares, it's their cupcakes that have gained them such a strong reputation. Along with around a dozen daily offerings, the bakery also offers a huge selection of unique cupcake flavors available by order – everything from pink lemonade to gingerbread, to After Eight. Plus, when it comes to customized designs, nothing is too complicated!
Must try: The banoffee cupcakes and the Oreo cupcakes, both available daily, are an absolute delight. For special orders, you must try the pink lemonade cupcakes – they're out of this world!

As a newer arrival to Amman's dessert scene, Santia Favors creates incredible, customized desserts for all occasions. They have a serious knack for creativity, which can be seen in everything from their adorable cookie designs to their inventive, mouthwatering bars and bites (try their fudge brownies with a pretzel crust and salted caramel sauce, and you'll think you've died and gone to heaven).
The sky's the limit with Santia, and they're the perfect option for parties, gathering, and events of all kinds. As with all of their desserts, their cupcakes can be customized to your heart's content. Want red velvet cupcakes with a funky pink frosting? You got it!
Must try: Step outside the box with Santia's brown butter cupcakes, topped with caramel buttercream, caramel popcorn, and a salted caramel drizzle. Your taste buds will go wild!
From its origins in New York City, Magnolia Bakery has gained a global reputation for classic American baked goods, all lovingly, freshly prepared. With branches located all over the world, including in Dubai and Doha, it was only a matter of time before Magnolia made its way to Amman – which they finally did just last month. Their pies are the definition of comfort, and their banana pudding is the stuff of legends!
As for their cupcakes, Magnolia offers a great variety of classic and specialty flavors, including a banana pudding cupcake that's topped with their world-famous banana pudding.
Must try: Obviously, the banana pudding cupcakes are a must! You've also got to have of a taste of their peanut butter and jelly cupcakes, which combine peanut butter cake with jelly filling and a peanut butter buttercream icing.

The Cake Shop started out as a home bakery, and has grown to become one of Amman's most well-known hotspots for sweets, with several branches all over town. For those in need of a customized desserts for any kind of celebration, The Cake Shop offers an endless array of gorgeous baked goods, from scrumptious cakes to delicious cookies.
Their cupcakes are adorably creative, with fun designs made of icing, fondant, and everything in between. Some of the designs are really out of this world, from their truly original "Nashama" cupcakes to their oh-so-cute Cookie Monster cupcakes.
Must try: The Cake Shop's new Lotus Cupcakes are a total delight, topped off with buttery Lotus Biscoff biscuits. And their chocolate "Sheep" cupcakes, topped wtih fluffy marshmallows, are both incredibly adorable and absolutely delicious.

Since it opened just over a year ago, Hala's Treats has been baking up a wealth of sweet and savory delights, from pies, cakes, and cheesecakes to quiches and tarts. Their savory bites are definitely worth a try, with unique offerings like crab rangoon mini-pizzas and turkey, cheese, and chive mini-muffins. On the sweet side, they serve a massive array of delicious, freshly baked cookies that you can't afford to pass up.
With a huge selection of bite-sized goodies, it comes as little surprise that even the cupcakes from Hala's Treats come in miniature form.
Must try: Chocolate lovers have to check out the Chocoholic Chocolate Cupcakes, which are absolutely mind-blowing. Hala's Treats has also perfected red velvet, so you'd be crazy not to indulge!

Dina Toukan (@TwoCanDine)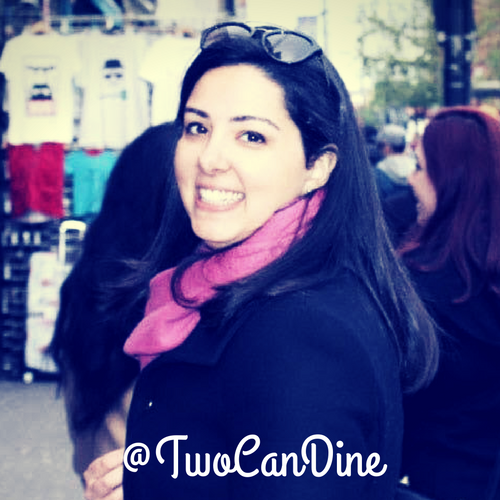 As a food, travel, and photography enthusiast, Dina has combined her three passions into one seriously mouthwatering food blog. Two Can Dine highlights the city's best dining spots, from high-end cuisine to hole-in-the-wall hits. Follow Dina on Instagram and you'll never be short of food inspiration!
Samer Halteh (@The_Spotist)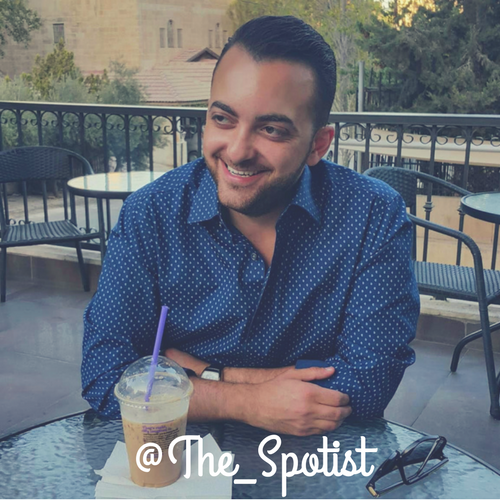 If you're looking for the latest hotspots around Amman and beyond, look no further than Sam's comprehensive blog, which combines food, travel, shopping, and more. His in-depth, behind-the-scenes restaurant reviews are a must-read if you're eager to expand your culinary horizons.
Rama Abu Hammour (@Taste.Amman)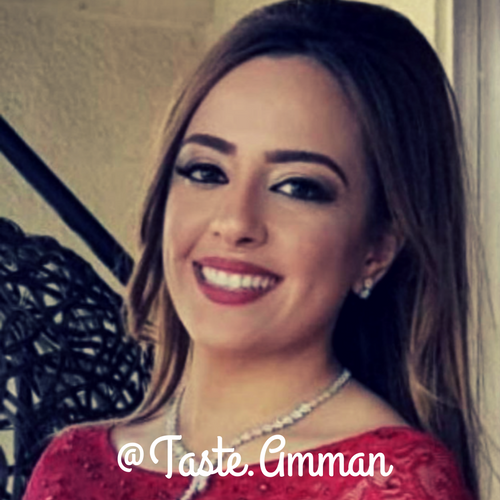 There's no way to avoid working up an appetite while you're scrolling through Rama's Instagram or keeping up with her on SnapChat. Follow along as she takes on Amman one bite at a time, checking out the tastiest eats and uncovering the creme de la creme of local dining experiences.
Dina Shawar (@WhatsForDinz)
From healthy bites to guilty pleasures, Dina is able to adeptly uncover mouthwatering finds across the globe. Her Instagram is filled with a diverse array of delicious dishes: whether you have a sweet tooth or you're craving hearty comfort food, you're sure to find something to fit your fancy.

Our judges joined us at the Tip n' Tag office, where we gave them quite the sugar rush! Once they'd sampled all of the cupcakes on offer, it was time to gather their feedback and tally up the results.

For our first round, we turned to a cupcake classic: delicious red velvet.
Texture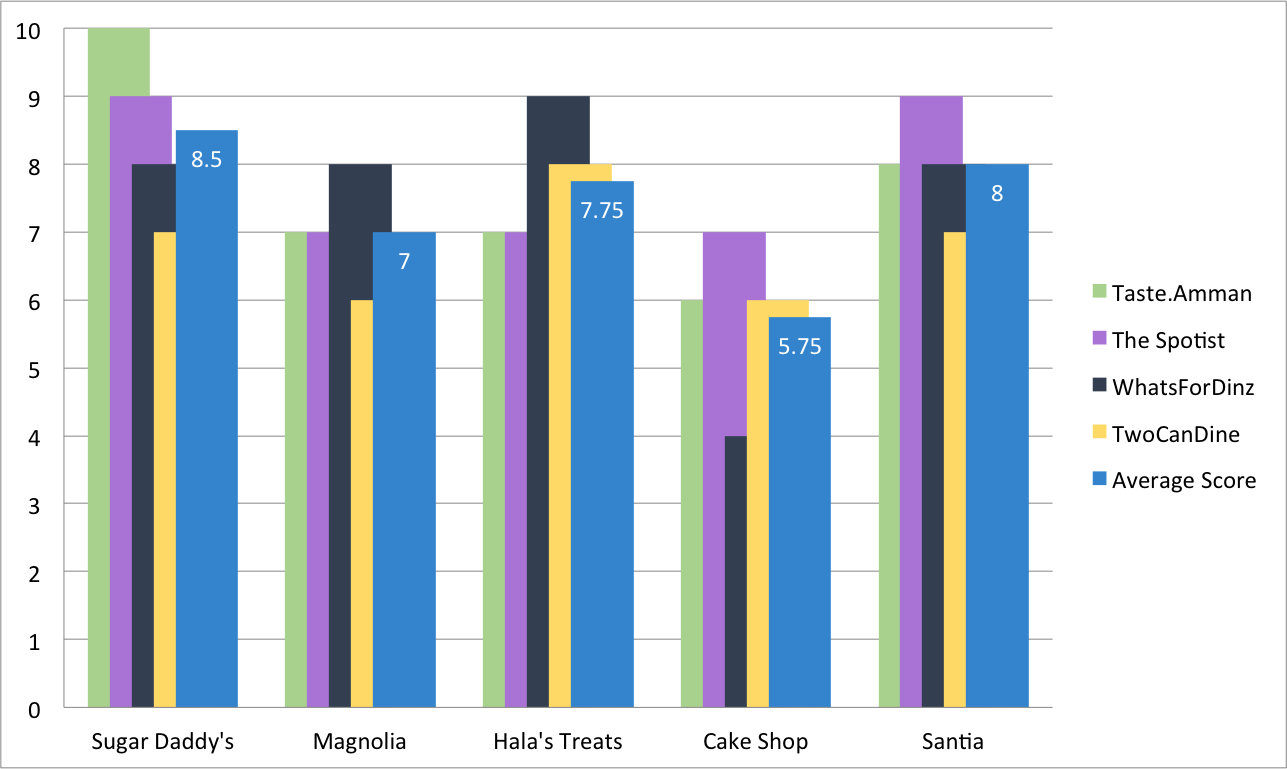 The texture of the Sugar Daddy's red velvet cupcake was the clear favorite, with The_Spotist citing how it really captured the traditional red velvet flavor. Santia's fluffy cake texture also won the favor of judges, with both The_Spotist and Taste.Amman commenting on how delicious it was.
Icing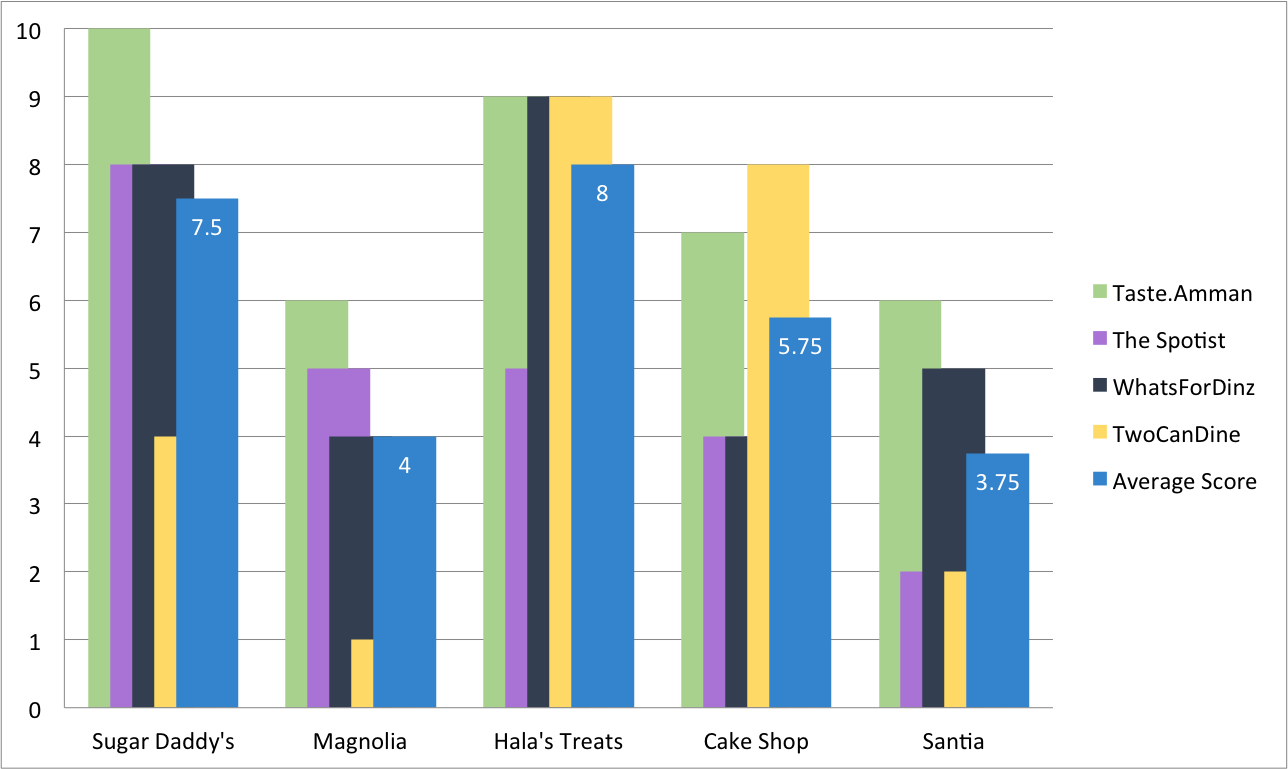 When it came to icing, Hala's Treats won top marks, with TwoCanDine remarking on how terrific it was. Sugar Daddy's also did exceptionally well in the icing department, with Taste.Amman giving it a perfect score.
Overall Flavor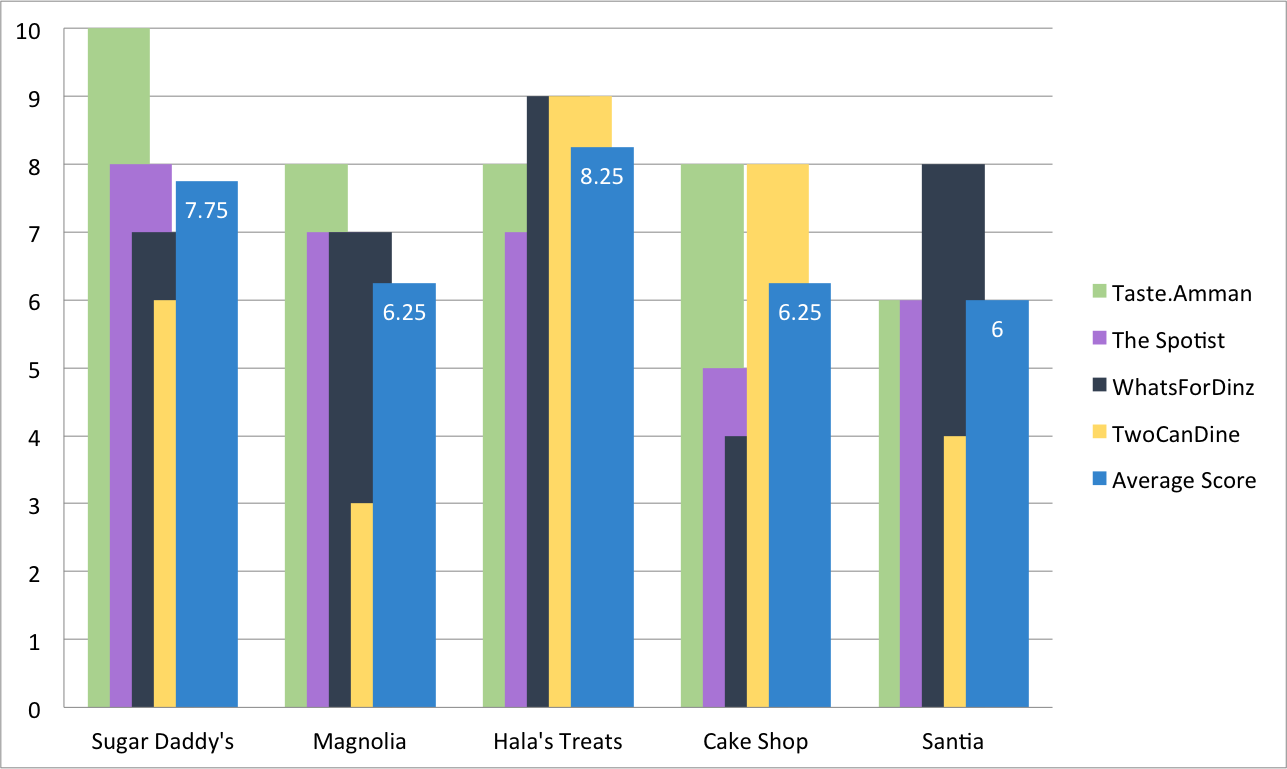 Once again, Hala's Treats won out for overall flavor: TwoCanDine and The_Spotist were both big fans of the practical size of these mini-cupcakes, and WhatsForDinz said that this red velvet was "just perfect."

With a maximum possible score of 30, here's who ended up in the winner's circle:
Gold: Hala's Treats (24 points)
Silver: Sugar Daddy's (23.75 points)
Bronze: The Cake Shop & Santia (17.75 points each)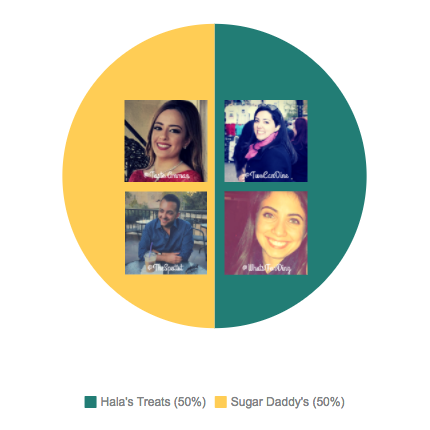 When it came to choosing a favorite, our bloggers were split right down the middle, with Taste.Amman and The_Spotist leaning toward Sugar Daddy's and TwoCanDine WhatsForDinz selecting Hala's Treats as their preferred red velvet.

In the second round, we compared how well each bakery was able to execute the scrumptious carrot cake cupcake.
Texture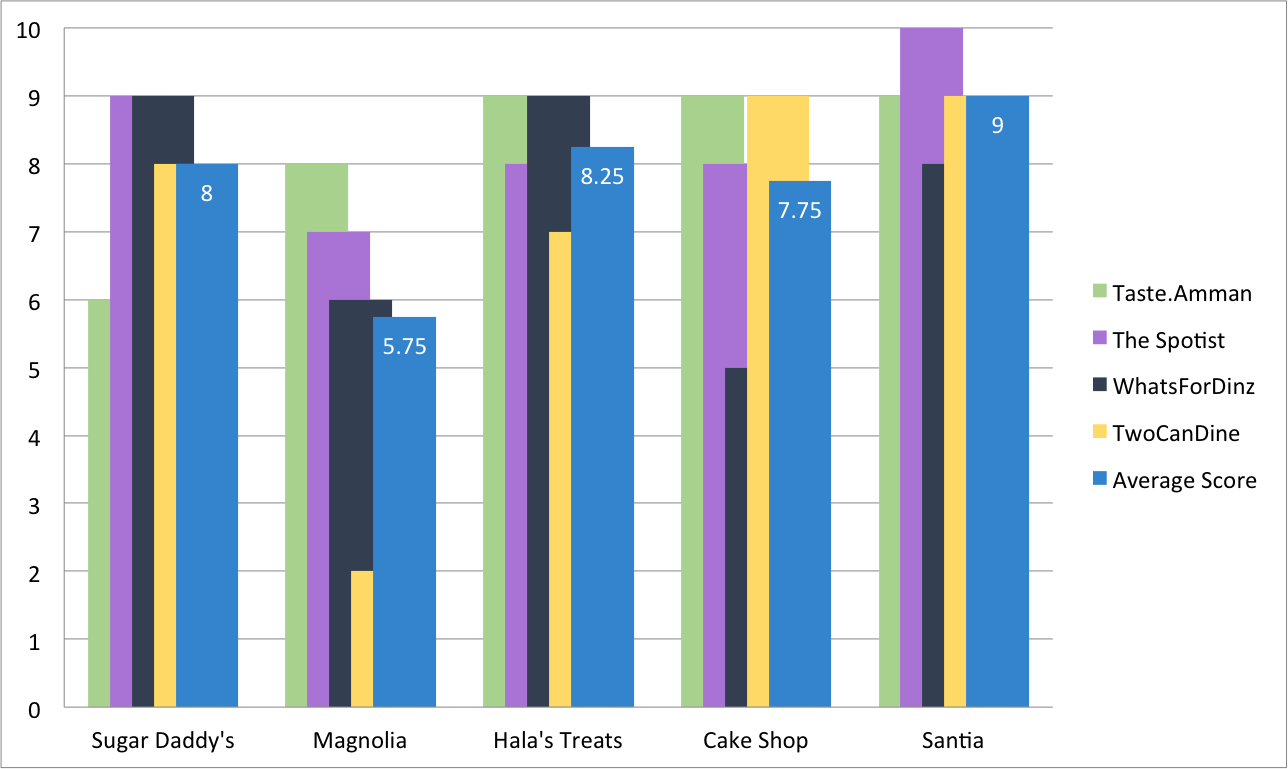 This time around, Santia really impressed with the texture of their carrot cake cupcake, with Hala's Treats coming in second, followed closely by Sugar Daddy's.
Icing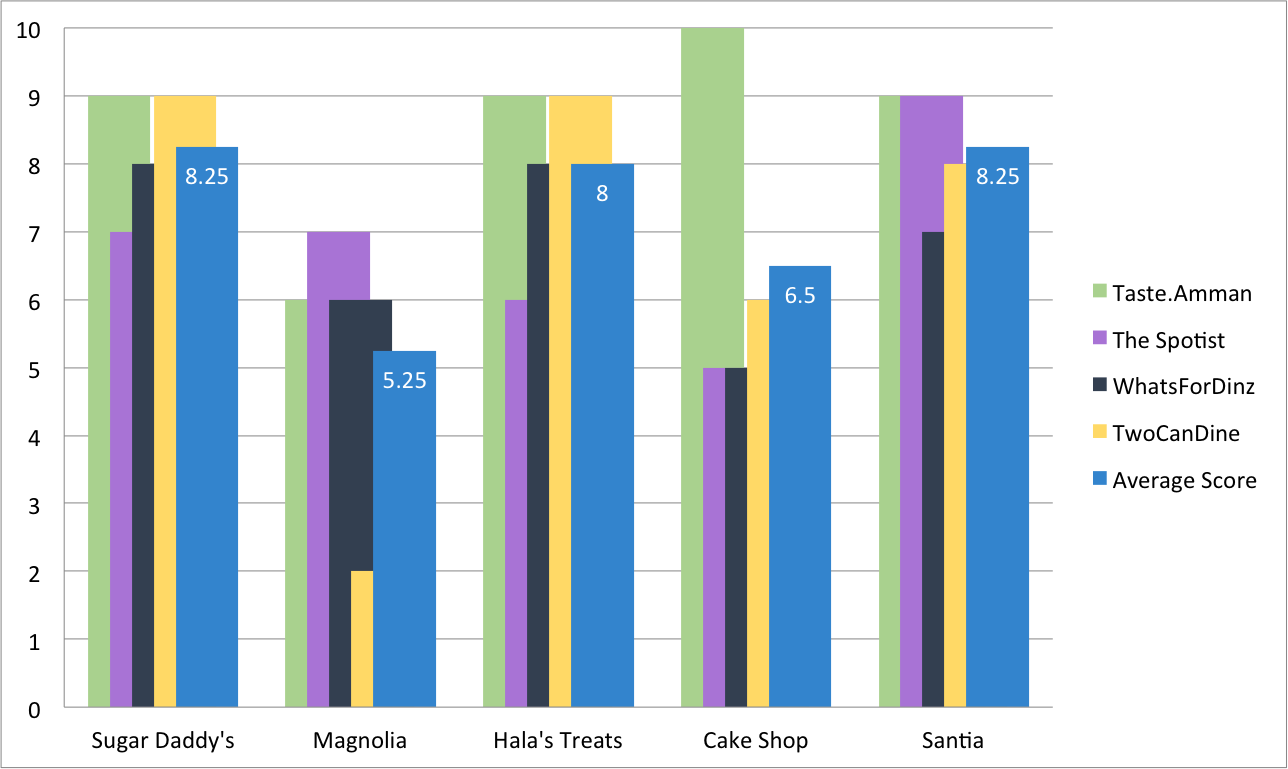 For the carrot cake icing, Santia and Sugar Daddy's tied for the lead, with Hala's Treats coming in close behind.
Overall Flavor
Admittedly, a couple of our food bloggers aren't fans of raisins, which were a fairly prominent presence in Magnolia's carrot cake cupcakes. That said, the clear winner in overall flavor was Santia, followed by Hala's Treats.

With a maximum possible score of 30, here's who ended up in the winner's circle:
Gold: Santia (26.5 points)
Silver: Hala's Treats (24.5 points)
Bronze: Sugar Daddy's (24 points)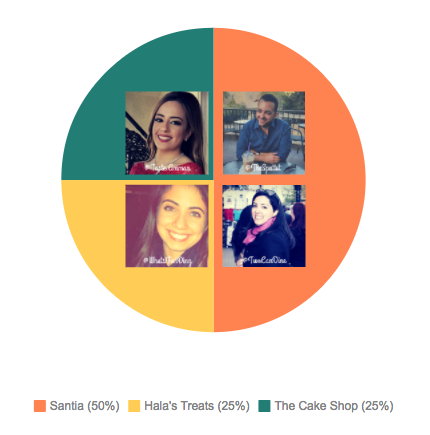 In the carrot cake category, our bloggers were even more divided! While The_Spotist and TwoCanDine both agreed that Santia nailed it, WhatsForDinz preferred Hala's Treats, and Taste.Amman was a big fan of The Cake Shop's carrot cupcake.
In the end, it was Hala's Treats and Sugar Daddy's who consistently made it to the winner's circle, ranking well in both categories. Hala's Treats showed that it really knows its red velvet, while Santia proved that its carrot cake cupcakes are top-notch.
What dish will be put on the chopping block for the next edition of The Taste-Off? You'll just have to wait to find out!
Bon appetit, Tipsters!
Lemur Love,
The Tip n' Tag Team