Roll, roll, roll your sushi boat Tipsters, because the Tip n' Tag team has rolled a list of all of Amman's all-you-can-eat sushi offers in one convenient article. Whether you're in for the crab salads, the sashimi, or maki rolls, we believe that nothing gets your week going like a delicious buffet of your favorite rolled bites. Keep those chopsticks handy, Tipsters!
---
Click on any of your favorite sushi spots to learn more about the offer!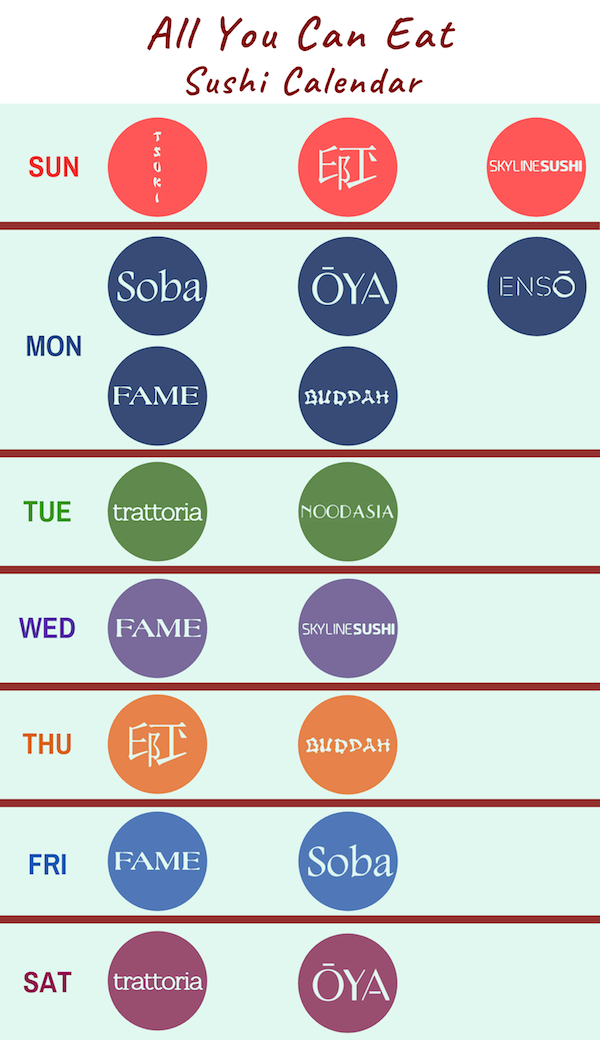 ---

Mondays & Fridays | All Day
If you see the chefs at Soba rolling, you're probably going to drool. You might know this sushi bar for its use of fresh ingredients and its immaculate rolls. And as far as sushi offers in Amman go, you can't go wrong with catching either of their all-you-can-eat sushi nights.
Price: 24 JD ++
---

Tuesdays & Saturdays | 8:00 p.m. to 10:00 p.m.
Should you ever run around looking for a decent sushi buffet in Amman, Trattoria goes above and beyond on that front. Drop by this contemporary Italian eatery on Tuesdays or Saturdays. They have enough boats to go around for everyone, so don't be shy.
Price: 25 JD
---

Mondays & Wednesdays | 5:00 p.m. to 10:00 p.m.
Fridays | 2:00 p.m. to 9:00 p.m.
Fame boasts both a stylish design that borrows influences from all corners of the world, and a star-studded wall, literally. The first thing that greets you when you step foot in this diner are murals of international stars painted on the walls like frescos. If your dream has always been to enjoy an all you can eat sushi night with the likes of Elvis Presley and Sylvester Stallone looking over you, you've been served.
Price: 25.5 JD
---

Saturdays & Mondays | All Day
Make like the Kool-Aid Man and crash into this Asian fusion restaurant on either of their all you can eat sushi nights screaming, "OYA!" at the top of your lungs. Show the world your exaggerated love for sushi is, and chow down on row after row of maki rolls.
Price: 22 JD ++
---

Sundays & Wednesdays | All Day
Skyline Sushi serves fish in the form of immaculate sushi. While the view they offer is amazing in and of itself, you're really coming here for the Japanese delicacy. Be sure to give the sushi a break, put your chopsticks aside, and appreciate the unique origami installation decorating this Asian restaurant from top to bottom.
Price: 30 JD
---

Tuesdays | All Day
If you weren't in the mood for food before, Noodasia's open and excellent design will get you craving a sushi buffet. Tuesdays at Noodasia might be for these heavenly bites, but be sure to save room for their signature noodles!
Price: 15 JD
---

Sundays | All Day
Tsuki's authentic atmosphere, laden with tiny little details, serves to enrich your culinary experience. Behind the bamboo dividers, you can see chefs cooking tirelessly to provide delicious sashimi bites to your table. If you'd like a taste of high-end Japanese delicacies, this haven is your place to be.
Price: 29 JD ++
---

Sundays & Thursdays | All Day
Who would've thought that Safeway offers convenience for both regular shoppers and sushi lovers? To the unsuspecting eye, Ebi is very easy to miss when you get lost between the hustle and bustle of Safeway's aisles, but if you spot it on Sundays and Thursdays, you're in for a treat. Don't go overboard, and shift your shopping schedule to fit their sushi offer!
Price: 14.95 JD
---

Mondays & Thursdays | All Day
Le Royale's fabulous lighting isn't the only thing the hotel has going for it, because their very own Buddah Club has a hot offer going on at least twice a week. Pick up your chopsticks and appreciate the view – both of the rolls and the city.
Price: 22 JD
---

Mondays | 7:00 p.m. to 12:00 p.m.
Can't have enough Asian food in your life? This pan-Asian spot is your one-stop-shop for everything related to the far eastern continent. You don't want to miss out on Enso's non-stop sushi night. Be sure to pair your rolls and sashimi with traditional Japanese sake!
Price: 25 JD
---
Don't forget your chopsticks!
Lemur Love, 
The Tip n' Tag Team