Some call it "Ladies Night Out" while others call it "Therapy." We know that behind every strong woman is a firing squad of her best friends who make it all the more better! So get ready for a night out to remember with your best gal pals, a killer outfit, and even better deals! Cheers!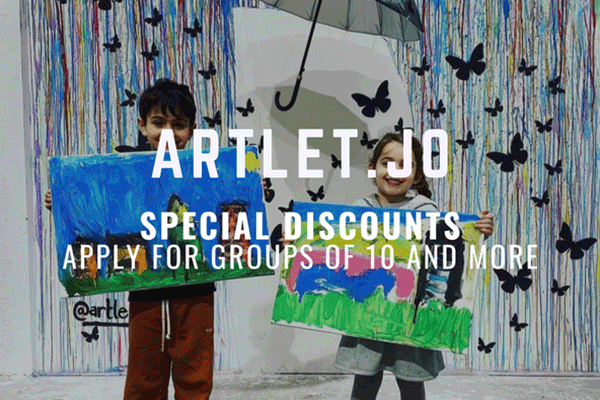 Location: Sweifieh Village
Day & Time: Every Tuesday from 8:00 p.m. – 10:00 p.m.
Deal: Wall Painting (17 JD per person) and discounts of 10% apply for groups of 10 & more, painting on Canvas (15 JD per person, 10% discount for groups of 10 and more), painting on Wooden Daf Instrument (10 JD per person).
Go: With your friends when you're in the mood to paint the town (literally). Head down to one of A-Town's trendiest art spots for an experience you won't forget. Whether you want to paint walls, canvas', or anything in between, you'll bring out your inner artist and have fun!

Location: Jabal Amman
Day & Time: Every Sunday and Wednesday, starting at 9 p.m.
Deal: 4 free drinks on Sunday (Vodka, Whiskey, or Wine) and 4 free on Wednesday (your choice between 2 different cocktails).
Go: When you're in the mood to shake it out with your gals, and cheers to some good times! Located in the historic and iconic Jabal Amman, enjoy some rooftop views, tasty bites, and even tastier drinks!

Location: Kilo Circle 
Day & Time: Every Sunday and Thursday, all day!
Deal: Free Nafas for the ladies! *Must reserve beforehand
Go: When you're in the mood for a chill night with your girlfriends and looking to catch up on all the gossip over some nafas (hookah). And don't forget to pair your hookah with their delicious wing appetizer, and for the main, a steak sandwich to share or order for yourself!

Location: Regency Palace Hotel 
Day & Time: Every Sunday at 9 p.m.
Deal: Free entry for women and one free drink.
Go: To move your two feet to some Latin beats with a live Cuban band! Every Sunday, grab your favorite ladies for vibrant music, good vibes, and free entry with a free drink!

Location: Fairmont 
Day & Time: Every Monday
Deal: 2 free cocktails
Go: When you want to get dressed up and snap some Instagram worthy photos amongst their beautifully curated and aesthetically pleasing vibe. Share their brisket bites, grab a cosmopolitan, and say "cheers!"

Location: W Amman
Day & Time: Everyday Tuesday
Deal: 30% all menu items for the ladies
Go: With your gals when you want to escape the ordinary and put on your heels for some deals at this extraordinary spot!

Location: First Circle
Day & Time: Saturday to Wednesday, all day
Deal: 50% off on selected items
Go: When one girls night a week just isn't enough. With their exceptional ladies night on multiple days, you have plenty of time to crank out a marathon of girls nights that are truly unforgettable.
---
Cheers Ladies!
Lemur Love,

The Tip n' Tag Team