A new food trend has arrived in town this month, and it's going to take your taste buds on quite a trip! In the last few weeks, the sushi burrito has taken Amman by storm, with two different restaurants popping up to serve these incredible culinary fusions. Both Sushiitto, in Abdali, and Fishface, in Abdoun, create delicious, oversized rolls of fresh sushi that will make Amman's foodies sing with delight.
But while these two places may seem identical on the surface, the Tip n' Tag team has discovered that they're actually quite distinctive. We conducted a taste test of these two new hotspots, and discovered that each one has something different and delicious to offer.

For sushi purists, Sushiitto is a pure delight. The menu is simple and straightforward, with all the basics: if you're a fan of tasty makis, Sushiitto will make you feel right at home. The flavors are very simple and straightforward, and you'll definitely want to pour on the ginger soy sauce before digging in.
Sushiitto also has three sides to choose from – kani salad, edamame, and miso soup – rounding out that traditional Japanese cuisine feel.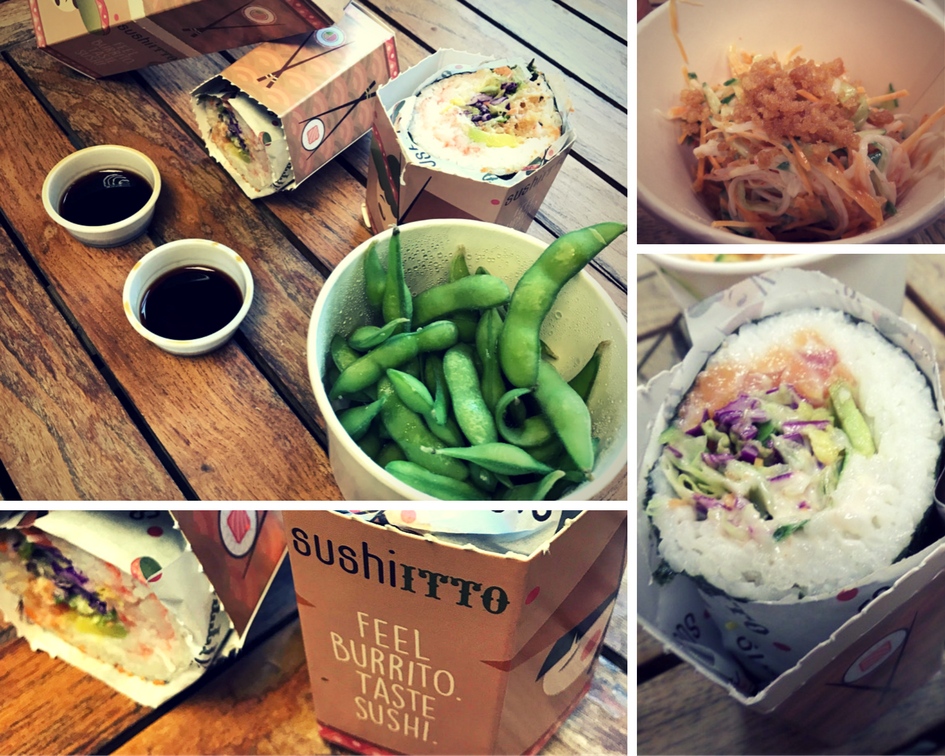 Reviewer Feedback: "Spicy salmon rolls are always my favorite maki, so I knew the crunchy spicy salmon burrito would be a safe bet. That said, I forgot to drizzle some of their ginger soy sauce on the burrito before I took my first bite, and it ended up being a bit dry for my taste. (I always eat maki rolls with a generous dip in soy sauce, so this immediately made sense to me.) Once I added some sauce, the rest of the experience felt very much at home. It was exactly like eating one of my beloved spicy salmon rolls – just, much, much bigger. The kani salad was delicious, and I scarfed down the whole thing pretty quickly. The whole meal was really satisfying. Plus, the flaming Cheetos burrito has totally piqued my curiosity: I love spicy food and bizarre flavor fusions, so you can bet I'll be back soon to give it a go."
Price: The best thing about Sushiitto has to be the price. Our reviewer ordered a medium crunchy spicy salmon burrito, a kani salad, and a water for only 8 JD!
Must Try: Maki lovers absolutely have to check out the crazy burrito (especially if you're a fan of California rolls), while seafood fanatics can't miss the seafood fiesta burrito.
Best for: When you're craving a sushi fix, but you're on a budget. Sushiitto gives you all the traditional sushi favorites, but for a fraction of the price you'd pay ordering up a bunch of maki (we're talking way less than even the cheapest all-you-can-eat sushi night). It's also a great option if you're lunching at your desk at work, both because it's affordable and because – surprisingly – it won't leave a mess.

Fishface is essentially what would happen if Chipotle crossed paths with Benihana. The sushi burritos and poke bowls are infinitely customizable, with over a dozen different toppings and add-ons, as well as a number of delicious sauces.  The burritos and poke bowls only come in one size, though, and they're pretty big, so you'd better bring your appetite!
If you're a fan of innovative flavor combinations, Fishface is definitely your place. There aren't any sides or appetizers at Fishface: just poke bowls and sushi burritos, dressed up any way you please.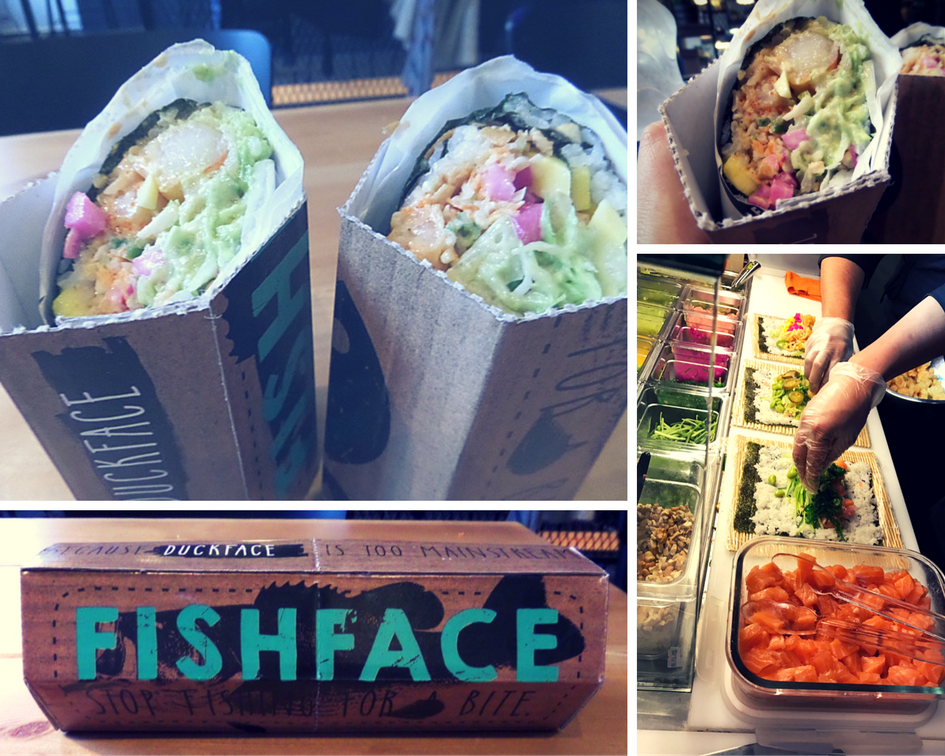 Reviewer Feedback: "I ordered the shrimp tempura and kani salad burrito, and from the first bite, I was overwhelmed with this incredible medley of complementary flavors. Wasabi, ginger, mango, and guacamole all mingled together beautifully over the shrimp, crab, and rice. (I never would have guessed that guacamole would work with this burrito, but it provided just the right touch of creaminess.) Meanwhile, the pickled turnips and cashews added a nice bit of crunch to the texture, as did those delicious wasabi wontons. The ponzu sauce and dynamite sauce both blended very well. In truth, this burrito didn't remind me of sushi at all: it was like nothing I'd ever tried before. But you can absolutely bet I'll be trying it again – and again and again."
Price: Fishface isn't as affordable as Sushiitto, but it's still not exorbitant. Our reviewer ordered the shrimp tempura and kani salad burrito and a water, for a total of 13 JD.
Must Try: The shrimp tempura and kani salad burrito got high marks from our reviewer, and the crunchy salmon is a total delight, whether you order it as a burrito or a poke bowl. Vegetarians and vegans will love the veggie burrito!
Best for: When you're craving comfort food, but still want to eat healthy. Fishface's dishes are hearty and filling, but the ingredients won't hurt your waistline either! It's the perfect guilt-free indulgence.
Have a great long weekend, Tipsters!
Lemur Love,
The Tip n' Tag Team