Everyone wants that Sunday kind of love… the kind of love that lasts past Saturday night. And lucky for all you love birds Saturday just so happens to be Valentine's Day! Here is your guide for setting up the perfect night, just don't wait until the last minute to sort yourself out! Don't worry we didn't forget all you single ones out there we have you covered too – So spread the love and the chocolate!
Dinner
Valentine's Dinner @ Karmah's Kitchen
February 14 from 6:00 to 10:30 p.m.
Make reservations for the hottest new restaurant in town! This cozy restaurant sets the mood for a wonderful night while you enjoy their pre-set 5 course meal for 35 JD per person, featuring delicious delights like Persian pomegranate lamb and chocolate mousse with strawberries.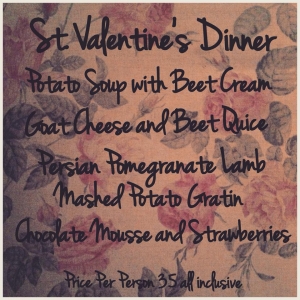 Valentine's Dinner @ Vintage
One of the warm and cozy romantic spots in Amman, prepare yourself to ohhh and awww over their delicious food! With a pre-set 6 course menu for 39++ you can enjoy a delightful meal including smoked salmon, caviar topped salad, spinach topped ravioli, angus beef and sorbet with your valentine!
Valentine's Romantic Dinner @ Fairouzy
February 14 from 7:00 to 10:30 p.m.
Take in the panoramic views of Amman from the 13th floor of the Landmark Hotel while enjoying a 6 course meal at Fairouzy! A Levant restaurant that serves the most scrumptious and mouthwatering oriental and Mediterranean dishes with a fresh look, relaxing atmosphere and a truly Lebanese identity.

Valentine's Dinner @ L'Incontro
February 14 from 7:00 to 11:00 p.m.
Head over to Grand Hyatt Amman's signature restaurant of Italian specialties. Dive into their appetizer buffet, a pre-set choice of halibut or tenderloin for your main course accompanied with a bottle of Rose Wine and top it all off with a glorious chocolate fondant! Make sure to call now to try and secure a good seat, price is 49++.
Events
Najwa Karam Valentine's Party @ InterContinental Hotel
February 13 from 10:00 p.m. to 2:00 a.m.
Celebrate with Lebanese multi-Platinum, best-selling recording artist Najwa Karam enjoying great music and dinner. Make reservations today, tickets range from 200 to 300 JD.

Anas Kareem & Ziad Saleh Valentine's 2015 @ Amman Marriott Hotel
February 13 from 9:00 p.m. to 3:00 a.m.
Spend a magical night with Anas Kareem singing the newest Arabic hits and medleys, as well as, local star Ziad Saleh and his amazing band who will fire up the night. Couple and groups can enjoy the exclusive buffet with free corkage!  Tickets are 60 JD – call to reserve today!
Valentine's Party @ Roberto Dance Academy
February 12 from 8:00 to 10:00 p.m.
If you are an adventurous couple or on a budget then join Roberto Dance Academy to get up and close for Valentine's! Tickets are only 5 JD with a dress code of red & red.
Flowers, Chocolates & Gifts
Beautiful Arrangements @ Garden of Eden Flowers
Pick up fresh flowers or their ready made 3 in 1 gifts for the big day, you are sure to score extra points!
Valentine's Sweets @ Crumz
Valentine's day cakes, cookies, cupcakes, chocolates, cookie bouquet & much more!

Valentine's Bazar @ Avenue Mall
February 12 – 14
Look no further for that special gift for that special someone! You can find whatever you need at the Valentine's Bazar featuring hand made gifts for that extra touch of uniqueness!
Bitter?
Anti-Valentine Party @ SeKrab
February 13 at 8:00 p.m.
Single? Or think all this love bird stuff is silly? Then head over to Sekrab where they have you covered! Join them in celebrating being single and free with DJ MOH & DJ Exoda. Be prepared for there strict rules of…

1. No pink or red colors
2. No dessert sharing
3. No flowers, hearts or gifts allowed
4. No emotional outbursts, pet names or love showing whatsoever!
Oh and if you need to have a moment, bring a letter, photo or anything that reminds you of an ex and you can burn it all together!
Happy Valentine's Day Tipsters!
Lemur Love,
The Tip n' Tag Team
Looking for more flowers, chocolates and romantic dining options?
Check out our Valentines Day Cheat Sheet from last year!