'Tis the season to be jolly, tipsters! Check the halls that are hosting Christmas bazaars and markets this holiday season. We're jingling your weekend plans with this festive list of Christmas extravaganzas!
---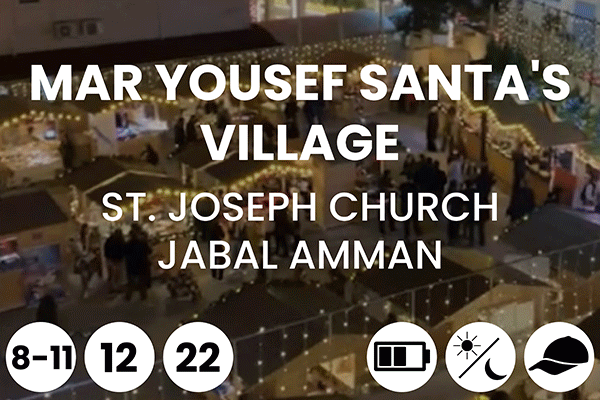 Time: Friday to Sunday: From 11 a.m. to 11 p.m., Thursday: 7 p.m. to 11 p.m.
Entrance Fee: 1 JD
Want to live an extraordinary festive experience, feel the magic and warmth of Christmas and make it a December to remember? Then don't miss out on Mar Yousef Santa's Village; where we have something for everyone!
Come and enjoy the jingles of choirs and bands caroling, the mouthwatering foods, the sweet aroma of mulled wine and chestnuts roasting. As for the kiddies, they'll definitely enjoy our fun activities and take pictures with Santa Claus in Santa's house! The cherry on top is that you'll have the golden opportunity to meet the great journalist and Goodwill ambassador, George Kordahi, who will be honoring us with his presence at the opening of our Santa's Village.
Mar Yousef Santa's Village is, by far, the place where you enjoy delicious treats, feel the spirit of Christmas, and make wonderful memories!
---

Date: December 1st – 3rd
Entrance Fee: 5 JD before 7:00 p.m. | 10 JD after 7:00 p.m.
A 3-day Christmas event filled with fun activities and games for families, delicious eateries, festive kiosks, and a series of entertaining kids shows and concerts for everyone to enjoy; Kan Zaman's annual Christmas Village is not to be missed!
---

Date: December 10th
Entrance Fee: 2 JD
If you're planning to begin your Christmas shopping, pass by the Seasonal Bazaar by Friends of Jordan Society, held at the Amman Marriott Hotel, to discover a selection of local and regional brands showcasing handcrafted jewelry, artisanal items, fashion pieces, delicious baked goods, and so much more!
---

Date: November 20th – December 23rd
Entrance Fee: Free Entry
A Christmas market that can't be missed! Head to Swefieh Village's rooftop and check out the beautiful variety of local talents. Whether you're searching for handcrafted Christmas ornaments, authentic home décor elements, scrumptious desserts, and traditional artisans, you'll definitely find what you're looking for at the Swefieh Village Christmas Bazaar.
---

Date: December 1st – 3rd; December 8th – 10th
Entrance Fee: 1 JD
Bringing Christmas cheer to the heart of Amman this year! With live music, delicious treats, fun and games; everyone would definitely have a festively fun time at The Christmas Village. If you can't make it this weekend, you'll get to enjoy the Christmas festivities the coming weekend!
---

Date: December 1st – 3rd
Entrance Fees: 5 JD
Don't miss out Madaboun's Christmas tree lighting occurring at 6:00 p.m. on the very first day of their 3-day Christmas event! This magical weekend is packed with live bands, scrumptious delights, and lots of fun and games. We heard that Santa and his elves will be passing by, too!
---

Date: December 8th – 10th
Entrance Fees: 1 JD – Proceeds will be donated to Alimini Educational Initiative
Stepping into Romero's Christmas Market is like taking a walk down a Christmas market in Vienna or Paris. The heartwarming smell of chestnuts roasting, the jingles of Christmas carols, and the authentic kiosks selling homemade and handmade products while people are walking, talking, and laughing just reminds us of how magical Christmas can be.
---

Date: December 9th
Entrance Fees: 3 JD
Every year, diplomatic corporations and embassies gather to share the joy of Christmas at the AHS Annual Charity Bazaar. Enjoy a day of shopping from various local and international brands, singing Christmas carols, and munching of the sweetest holiday delights.
---

Date: December 1st – December 31st
Entrance Fees: 2 JD
With a series of Christmas activities, shows, carols, and of course the famous Christmas tree lighting, you can't miss out on the Boulevard's exciting preparations for this holiday season! Walk down the boulevard while enjoying roasted chestnuts and hot chocolate!
---

Date: December 1st – 10th
Entrance Fees: 3 JOD for club members | 5 JOD for non-members
You'll definitely bump into someone you know at the Orthodox Club's Christmas Village since it's one of Amman's largest Christmas villages! With so many brands showcasing their products, baked goodies, artistic pieces, and decorations, you'll enjoy the Christmas carols, the hot chocolate, and your kids can definitely take a photo or two with Santa Claus!
---
Let's make it a December to remember Tipsters!
Lemur Love,
The Tip n' Tag Team