Pull out the sweatpants or better yet just stay in your pj's because Thanksgiving is here but it's not like you need an excuse to gobble until you wobble! Last year the Tip n' Tag Team got some flak for celebrating Thanksgiving and while many are familiar with the traditional representation of the original Thanksgiving we are putting political and cultural overtones aside to give symbolic thanks to the world. Everyone has unique ways of celebrating, each producing their own memories and stories every year – here is your complete list from where to get a turkey & fun games to even going meatless this Thanksgiving! 

– Cozmo, Plaza Superstore & Safeway: All have frozen turkey for several sizes but on average you can get a 7 kg turkey for around 30 JD.
– The Meat Master: You can get either a cooked or uncooked 5 – 9 kg turkey where they will stuff it & give you 2 sauces. Depending on the size it will run you anywhere from 21 – 120 JD.
– Brisket: Offering smoked unstuffed turkey including sides of either a 4 – 5 kg turkey for 80 JD, 7 – 8 kg for 110 JD or 10 kg for 130 JD. You can also spice Thanksgiving up this year and order a 1 kg Brisket for 28 JD.
– Deeritna: Offering either a 5 kg stuffed turkey for 92 JD or a 7 kg stuffed turkey for 128 JD, with two side dishes.
– ATICO Fakhreldin Group: Their turkeys are priced at 13.6 JD per kilo, delivered to your house ready to go with either 2 styles of preparation; American style bread stuffing with chestnuts, apples and sage or an oriental style, stuffed with Arabic rice.

– Royal Academy of Culinary Arts: The meal delivered to your home includes a turkey able to serve 4 – 5 people with cranberry sauce, gravy, cranberry and rosemary stuffing, maple syrup glazed sweet potatoes, rice pilaf and braised green beans. For dessert they have apple and pumpkin pie, all for 150 JD.
– Amman Marriott Hotel: Offering a 6 – 7 kg turkey for 85++ JD, an 8.5 – 9 kg turkey for 110++ JD or a 3 – 3.5 kg holiday ham for 125++ JD & a 6 – 7 kg holiday ham for 225++ JD. Depending if you pick the turkey with traditional thyme, sage and apple stuffing or the holiday ham you will get an array of sides including giblet gravy & cranberry sauce, cranberry-orange nut bread, apple raisin glaze cranberry-orange nut bread, corn bread, sweet potatoes, mashed potatoes, green beans, autumn squash, roasted corn, potato chowder, Waldorf Salad, potato salad and of course pumpkin & apple pie.
– Crowne Plaza: Pick between a 7 kg turkey for 110++ JD or a 9 kg turkey for 130++ JD with your choice of either American or Arabic stuffing with sides including roasted potatoes, honey glazed carrots, Brussels sprouts, chestnut bread stuffing and of course gravy & cranberry sauce. 
– Four Seasons Amman: Get a 9 – 10 kg maple, cider and sage brined turkey with orange hibiscus cranberry sauce, gravy, baby greens, shaved Brussels sprout slaw, grilled vegetable antipasti, spiced pumpkin soup, bread stuffing, brown sugar glazed sweet potatoes, creamed corn casserole and creamy whipped potatoes. Finish with a traditional pumpkin pie and caramel pecan pie, this meal serves 8 – 10 people for 120++ JD.
– InterContinental Hotel: Offers fully cooked roast turkeys served with roasted vegetables and potatoes, gravy and cranberry sauce or oriental sauce. For a 7 kg turkey it's 100 JD or a 9 kg turkey for 125 JD, add a pumpkin pie for 15 JD.

– Sugar Daddy's Bakery: Enjoy one of their many options of either Pumpkin Spiced Cupcakes, Pumpkin Cheesecake, Caramel Apple Pecan Cheesecake, Chocolate Pecan Pie, Banofee Pie or our favorite the Pumpkin Praline Pie for 26 JD.
– The Cakery: Something simple to finish off Thanksgiving dinner maybe with a Apple Spice Tea Cake, Panforte or our favorite their Pumpkin Trifle filled with ginger cookies, fresh cream and granola mix – medium for 38 JD or large for 40 JD.
– Primal Restaurant: If you want cake that is gluten free, lactose free and free from refined sugars, then have any one of the delicious cakes from Primal. Like their Primal Carrot Cake, Chocolate Power Pie or our favorite their Seasonal Pumpkin Pie, all available for 34++ JD.


– Beverly's: Enjoy their honey orange turkey breast with caramelized veggies for only 18 JD. Why not try their Pain Perdu? It's deliciousness in a cup as it's filled with sweetened toast, drenched in caramel sauce and topped with pecan nuts! This Thanksgiving themed meal is being served between lunch & dinner, make reservations for dinner and enjoy live entertainment.
– Marriott Hotel: Enjoy a delicious Thanksgiving buffet starting at 6:00 p.m. for 28++ JD with all the favorites like roast turkey with classic stuffing and cranberry sauce, to Virginian honey glazed ham.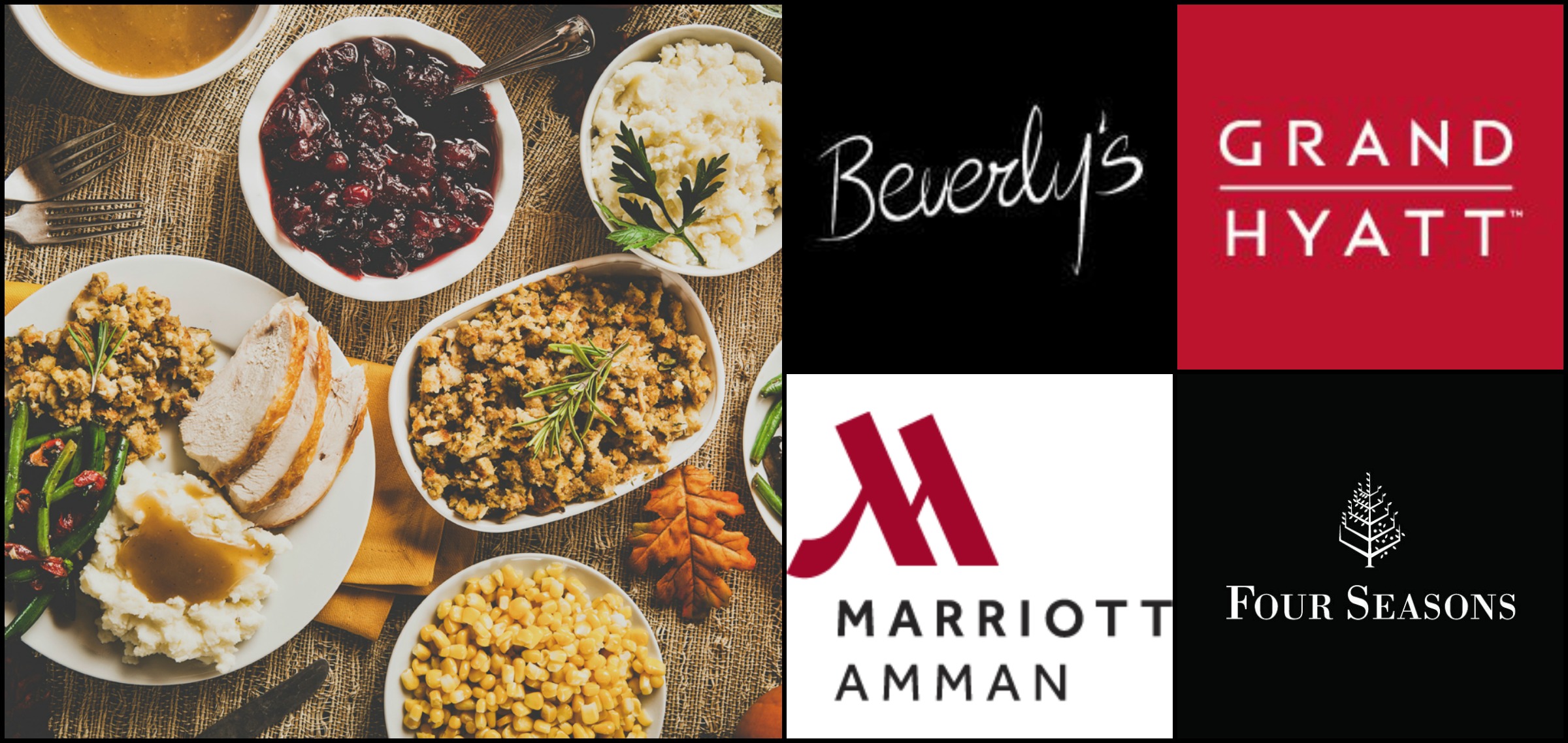 – Grand Hyatt Amman: Celebrate the occasion at 32º North Restaurant with a heartwarming dinner featuring salads, seafood, Asian cuisine, Italian live cooking creations, grilled meats and of course stuffed turkey followed by special desserts. All starting at 8:00 p.m. for only 32++ JD.
– Four Seasons: Taste Thanksgiving with the Four Seasons at Olea Restaurant this Thursday or Friday from 1:00 to 4:00 p.m. For 39++ JD you can enjoy all the favorites and then some.

Get into the Thanksgiving spirit with these crafts, games, drinks & even some meatless dish options!
Creating a gratitude jar is an easy & simple way of creating meaningful memories! Just set a jar out with wooden sticks for people to write what they are thankful for this year and then share with the group. If you are looking to keep the kids busy while you're cooking them have them creating fun Thanksgiving themed crafts (click here for craft ideas). Get everyone talking with these printable Thanksgiving conversation starters (by clicking here) or really break the ice this Thanksgiving by playing Cards Against Humanity (click here for the printable version).
 All the items you need to complete these clever creations can be found at Ikea, She Can Scrapbook & Hobby Center, Samir & Ghassan Stationery & Art Supplies, Sharmiran (for the wooden sticks) or your local grocery store!

Before the turkey enjoy some refreshing drinks! Maybe a Creamy Hot Apple Cider screams out to you (click here for recipe). Or an Autumn Red / White Sangria will hit the spot (click here for recipe). If none of those work try an easy to make Cranberry Margarita (click here for recipe).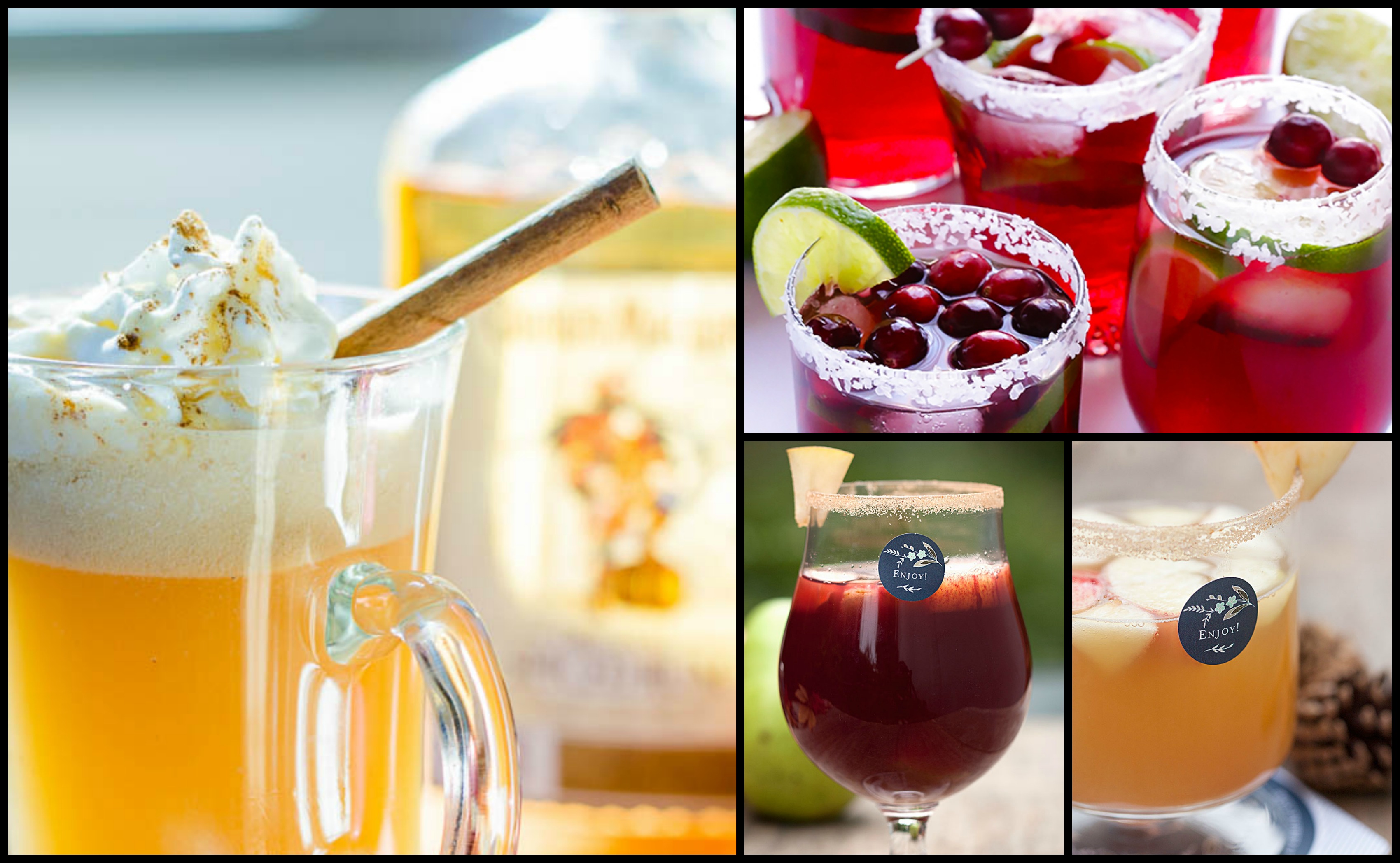 This is for all our vegans that go meatless on Thanksgiving, serve these to the carnivores and call it a social experiment! Try a delicious Smoky Mac Stuffed Sweet Potatoes (click here for the recipe). Maybe an Oat Free Spicy Barbecue Lentil Loaf (click here for the recipe). Or change it up with a yummy Roasted Brussels Sprouts & Crispy Baked Tofu with Honey Sesame Glaze (click here for the recipe). If you are looking for more meatless mains, then click here!
You can find most ingredients like Tofu, Vegan Cheese (Safeway) or other vegan products at Cozmo, Seed, Select Foods Shoppe and American Products Center.

The Tip n' Tag Team is thankful this year for our loyal users, our new users & the all the wonderful discoveries we find together!
Stuff yourself silly and stay tuned for more holiday fun!
Lemur Love,
The Tip n' Tag Team
P.S. Left over turkey sandwiches are the best…