The holidays can be absolutely exhausting…so many gifts to purchase, treats to bake, and decorating to do! Our Tip n' Tag Team is going to make your Christmas shopping a little bit easier. Check out our specially curated LOCAL holiday gift guide for everyone on your list! 🎄❄️☃️
---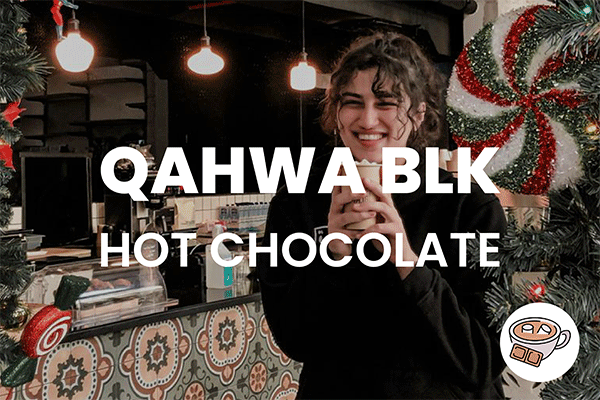 Opening Hours: 7:30 a.m. – 11:30 p.m. Weekdays | 8:30 a.m. – 11:30 p.m. Weekends
What to get: Hot Chocolate with Marshmallows
Tip: Fall season is hot chocolate season for a reason! When it comes to fall drinks, this iconic favorite never disappoints. And we're here to tell you that the perfect spot to enjoy a hot, creamy cup of hot chocolate with marshmallows is at QahwaBLK's cozy corner in Abdoun.
---

Across the Chapters is a small business inspired by the love of reading. Their first collection of bookmarks is "READ" with designs that portray minimal typography of the word "read" in Arabic in three different forms. They come in three colors: black, silver and gold. It's the perfect gift for the bookworm in your life.
Tip: You can request a personalized bookmark of any name/word you choose!
---

YAD Studio is a handmade accessory online business. The brand focuses on producing handmade statement pieces for people who appreciate the beauty in craftsmanship. You can pick up your items or have them delivered to you.
Tip: For a safe and stylish Christmas, shop from their limited edition Mask Couture collection, embellished with their iconic leaf embroidery design.
---

Aperçu is a Amman-based design studio that first debuted in Amman Design Week 2016. Their designs are limitless and redefine modern living. They're known for their impressive collection of resin art furniture and accessories that make perfect gifts that will make lasting impressions.
Tip: Choose one of their gift sets that include a tray or coasters with a scented candle, chocolate, wine, and wine glasses.
---

Dopamine's perfectly executed chocolate items are a symphony of taste and texture. Send your loved ones happiness in a box this season, and surprise them with a selection of some of the best local gourmet chocolate items in town!
Tip: The create your own Chocolate Christmas Tree is an ideal gift everyone will surely love!
---
It's not your typical hot cocoa! This home-based hot chocolate business makes the most delicious cocoa bombs in town! Surprise your friends with these incredible chocolate bombs with mini marshmallows inside that break open and melt into a delicious cup of hot chocolate when pouring hot milk.
Tip: The milk chocolate, chocolate bomb is a classic!
---

Shop from Jordan's first shop specialized in leather crafting. They offer durable high-quality leather goods with distinctive designs to satisfy all tastes, that are handcrafted by a team of professional local craftsmen. They offer a variety of tasteful leather items that include: wallets, notebooks, bags and accessories.
Tip: Choose a wallet of your choice and engrave any name on it for free!
---

Toffimelt was born four generations ago in downtown Amman, and still lives on, crafting the highest quality artisanal caramels, toffee and confections. Spoil your loved ones this year with these sweet creations that melt like butter in your mouth.
Tip: Try their famous winter season Gingerbread & Pecan Caramels.
---
What's better than a gift? A gift basket! Wow Shop is a web-based gift shop that you can trust for customized and personalized gift baskets for everyone on your list! You can order using their website and get free delivery on all orders.
Tip: Customize a personalized Christmas basket of your choice in very simple steps!
---

Your furry friend also deserves a gift this year! Spoil them with homemade treats made with locally sourced and fresh ingredients that cater to their sensitive tummies! You can shop their range of products online, and don't forget to place the promo code and your dog's name before checkout.
Tip: With each Christmas package you purchase, you get a free Apple and Peanut Butter Bite Bag!
---

Affichat's selection of original vintage film posters is unique and includes some of the most memorable films and film stars. These posters will surely impress any film buff and are a terrific gift idea and a great investment since movie posters are now recognized as one of the leading art forms of the 20th century.
Tip: Invest in an original vintage Arabic film poster from their unique selection!
---

A casual twist to a classic piece! A Qashabeyyeh is an article of North African clothing that resembles a long dress with a hood. The brand brings lively colors in the original Qashabeyyeh blended with Bedouin patterns and an urban twist! These handmade garments come in various colors and patterns and are unisex.
Tip: A new collection of 5 different colors is out, and you can customize your own size!
---

Your party starts at Bash! This local business is a modern-day party service and supply boutique that carries a curated selection of party decor and gifts. They offer an eco-friendly full-service balloon bar and balloon arrangement delivery in Amman, in addition to full-service event styling and custom installations.
Tip: Customize personalized arrangements to surprise your loved ones this season!
---

ColorTrap is a local, small and independent design and production studio. They create trendy and modern art pieces and decorative home items. ColorTrap also takes the environment and sustainability into account!
Tip: For something a bit cheeky, spice up any space with a Cheeky Bum Planter.
---

This trendy Enamel brand brings you a unique gift shopping experience. Their products range from pins, postcards, stickers and patches! You can find their products in different locations across the city, or have them delivered straight to you.
Tip: Purchase a gift box that includes pins, a mystery sticker pack, a mystery iron-on patch, and postcards.
---

MonArtist is a local brand that creates hand-made candles scented with natural fragrances and essential oils. They specialize in lighting up the aromatherapy scene in town with their all-natural products. Their candles not only look and smell amazing but also help keep the zen vibes going for ultimate relaxation!
Tip: They have unique flower bouquet candles in three different sizes!
---

Bedui is a local contemporary jewelry brand inspired by the desert! The brand offers light, durable and minimalistic silver pieces. Their "Modern Nomad" collection boasts designs with a contemporary take of Bedouin statement jewelry.
Tip: Spoil your loved one with a Hubb (Love) Ring that represents the belief that love is a seed for life!
---

An online handmade and customized accessories brand that was founded in 2011, and quickly became a people's favorite due to its trendy items and pieces! You can shop for all different kinds of accessories including phone charms, bracelets, rings, bracelets, necklaces, earrings, and more!
Tip: Customize your own name chokers and bracelets for an extra-special gift!
---

Batrina is a local brand that creates products influenced by the Jordanian culture and people! Their products range from stickers and magnets to postcards, notebooks and coasters and more items of quirky Jordanian pop art designs. You can order their products online or find their items in one of the selling points.
Tip: Shop their bestseller: The Bitter Coffee Mug!
---

Petra Orfali's designs are simple yet elegant with an oriental spirit and modern touch. The brand gained fame when her handmade Bedouin jacket design went viral. Her signature Hatta has been worn by celebrities such as Najwa Karam, Enrique Iglesias, Maya Diab, and many more! You can visit the boutiques in The Boulevard and Sweifieh Village, or you can shop online.
Tip: Spoil your loved ones with a gift card this holiday season!
---

There's always that one healthy or vegan person on every list! The Dottir is a homemade local business that creates some of the best refined sugar free, gluten free and vegan desserts in town! These stunning and delicious desserts will be a definite hit amongst your friends this season!
Tip: Order a Raspberry Chocolate Cake that's fitting for the season and a box of gluten free Cinnamon Rolls!
---
Happy Shopping Tipsters!
---
Lemur Love,
The Tip n' Tag Team