Now that all that lovey dovey stuff is behind us let's move forward and get this year kicked into high gear! If an organic farmer's market won't get you going, how bout falling from the sky in Wadi Rum? Too much thrill to spill? Immerse yourself in two out of the box exhibitions or take the chance to  help a child with a medical condition…the list goes on and on.  Don't let the clouds get you down and out this week – Tip n' Tag's got you covered!
Delight A Child's Heart @Hamleys (Abdoun)
Until February 19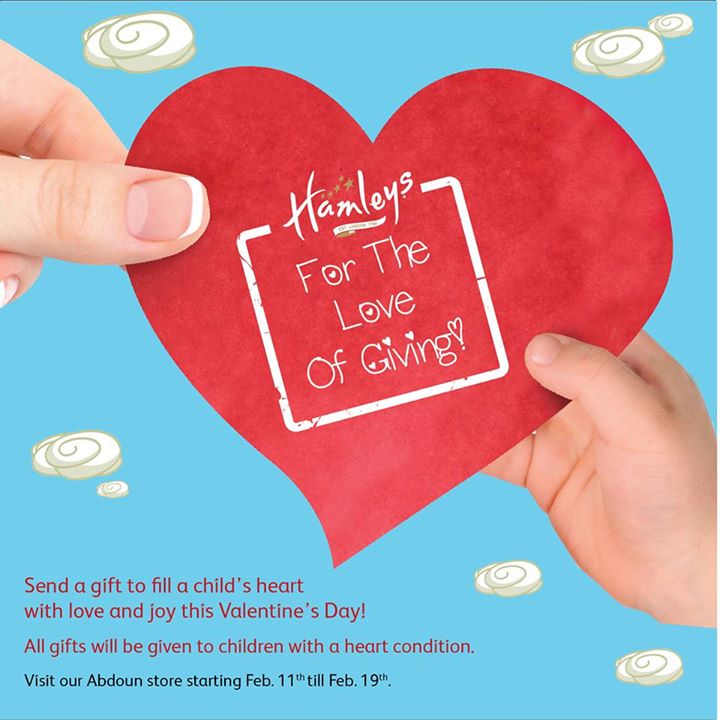 Keep the love going this February by sending a child suffering from a heart condition a gift! Brighten their day and take part in this great initiative by visiting Hamleys and choosing which gift to send to a beautiful child!
Happy Pancake Tuesday @Grand Hyatt Amman
February 17 at 6:00 p.m.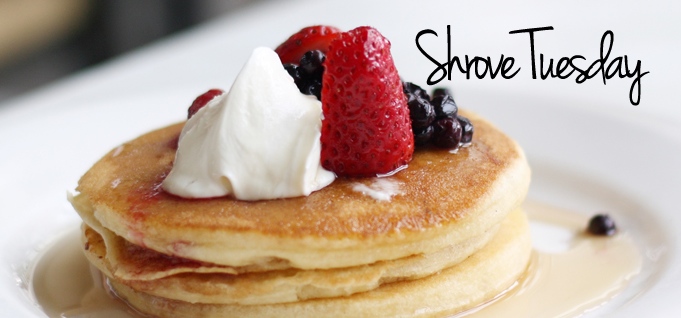 Shrove Tuesday is here! Before you have to give up all the good stuff starting Ash Wednesday partake in the selection of sweet or salty pancakes, fruit scones and mini pastries for just 15 JD!
"Urban Stories: Amman" Exhibition @Darat Al Funun
February 17 at 6:30 p.m.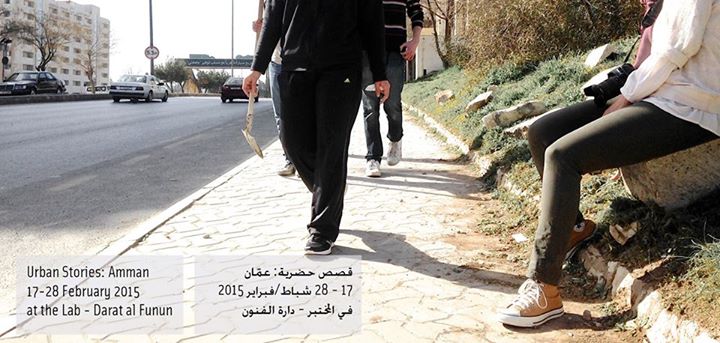 In a major effort to turn our city's urban spaces into places, last December participants looked at alternative forms of transforming the public arena for the better in an investigative design workshop entitled "Design Workshop: Amman Urban Furniture". "Urban Stories: Amman" showcases 7 of those case studies stemming from personal observation, photography and video surveys of human interaction with Amman's streets. Hear from Rawan Kashkoush as she demonstrates the workings of placemaking and speaks about how the workshop turned into a live case study. Works produced by Adie Al Nobani, Mohammad Naji, Nada Amro, Munqeth Agha, Shireen Khamees, Hadeel Ayed Mohammad and Rand El Haj Hasan.
"Peace It Together" @Zara Gallery
February 16 – March 5 from 6:00 to 8:00 p.m.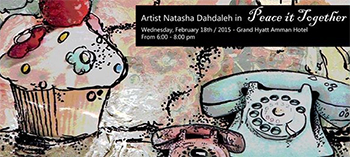 Join Zara Gallery for their funky new exhibition filled with little trinkets, yummy foods and cool knick knacks! Immerse yourself in finding peace, pleasure and serenity with everyday items and overlooked objects with local artist Natasha Dahdaleh.
Paradrenalin Skydive 2015 @Wadi Rum
February 20 – March 8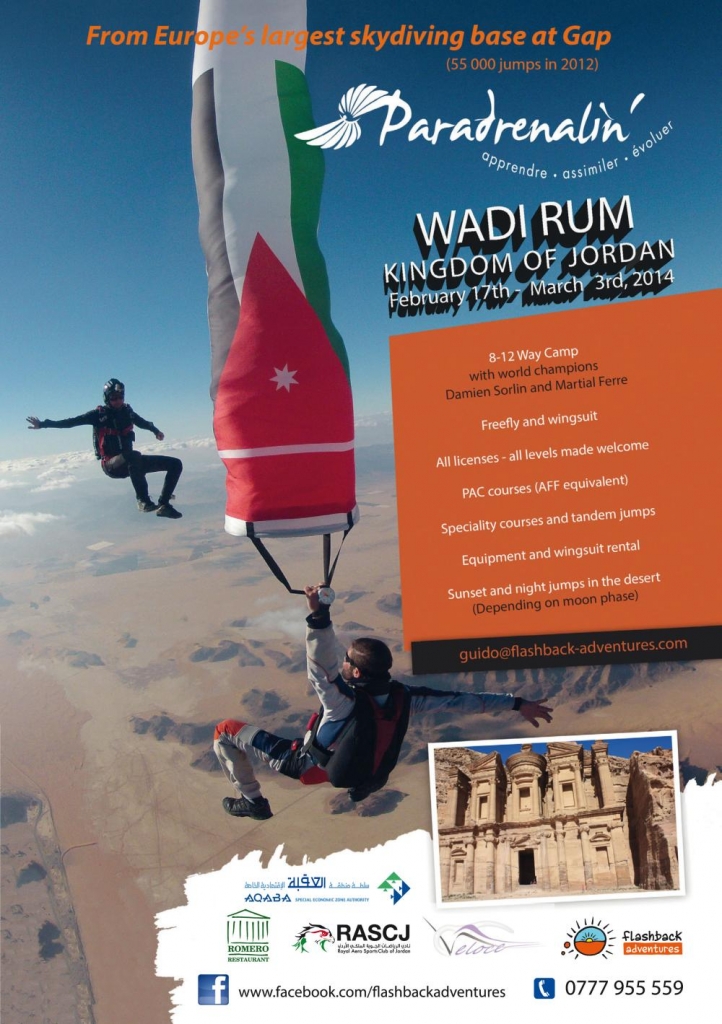 Calling all adrenaline junkies! Enjoy two weeks of Free Fall, Wing Suit, Formation Skydiving, Canopy Piloting and Scuba Diving with the Paradrenalin Team of champions and professionals. Take in some of the most spectacular views of Jordan at 4000m in the air! Spots are limited so book now cause first come first serve! Call +962632309165 or contact@paradrenalin.fr
Farmer's Market @Blue Fig (Postponed Until Spring)
February 20 from 10:00 a.m. to 3:00 p.m.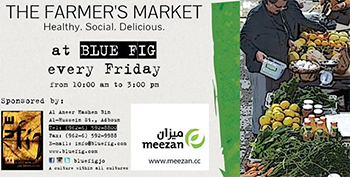 We know our Tipsters are always looking for organic, high quality produce from local suppliers and Blue Fig has you sorted! Join them every Friday as they bring together high quality producers of healthy, delicious, local and artisanal goods! So all you socially responsible, health conscious foodies delight in this wonderful farmer's market!
Girl Expo @Trainers Gym
February 21 from 10:00 a.m. to 8:00 p.m.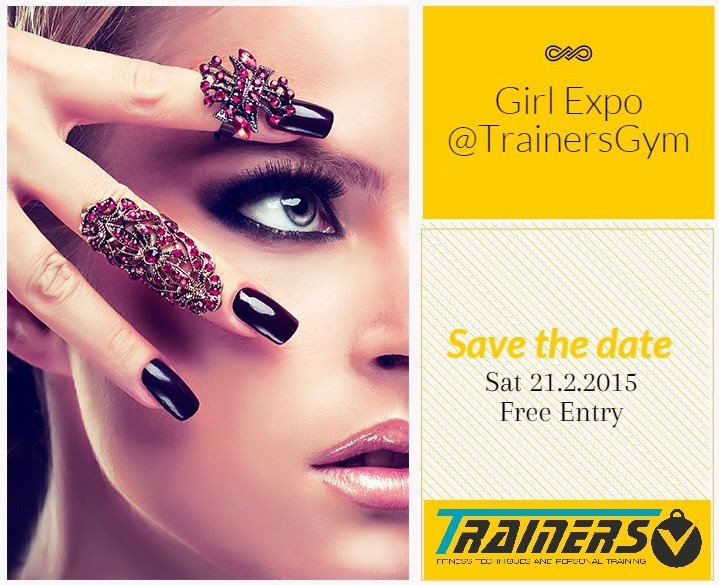 All you ladies that love style, makeup, health, skin care and fitness – visit the Girl Expo! While soaking in all things girly you can also enjoy fitness shows, free gifts and prizes. One lucky winner will get an extra 200 JD to the original prize, which is a one year membership at Trainers Gym!
Animal Lover Action Group @Starbucks (Swefieh)
February 21 at 11:00 a.m.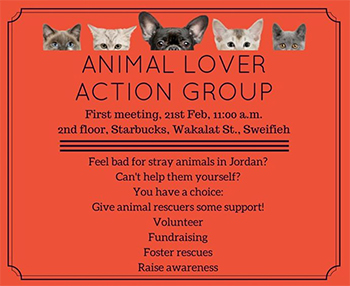 Not everyone can be animal rescuers but that doesn't mean you can't help! Join this wonderful new group aiming to help support animal rescuers and unite animal lovers! Get ready to organize fundraising events for rescuers, coordinate volunteering efforts and raise awareness for animal welfare.
WAY Palestine Film Festival Screening – 4 Short Films Screening @Rainbow Theatre
February 21 at 7:00 p.m. & February 27 at 4:00 p.m.

The Welfare Association for Youth brings WAY Palestine Film Festival with all proceeds going towards the building of playgrounds for children in Gaza through Al Bayyara Project. Catch the following short films while supporting a great cause.
Ismael
A short film set in Palestine in 1949 and inspired by a day in the life of Palestinian painter Ismail Shammout.
28Min Short Film by Nora AlSharif
Maqloubeh
Five young students from different backgrounds share an apartment in Ramallah. They are stuck in their apartment, due to a curfew and skirmishes outside. Their confinement leads them to prepare a maqloubeh, a traditional Palestinian dish whose ingredients vary from town to town.
10Min Short Film by Nicolas Damuni
Give a Man a Fish
Corsican fisherman Michel and Gaza filmmaker Iyad discuss freedom, solidarity and fishing as they travel the Mediterranean, with the poetry of Mahmoud Darwish evoking the bond between their two ancient shores.
23Min Documentary by Iyad Alasttal
Though I know the River is Dry
Caught between his brother's past and his child's future, one man's choice triggers catastrophe for his family.
19Min Short Film by Omar Robert Hamilton
Until next week Amman!
Lemur Love,
The Tip n' Tag Team