With the year flying by (can it really be September already?) don't let this week's events fly by you too! Catch the ever-inspirational European Film Festival, an evocative debate about women in Middle Eastern society, get yourself a job at the Akhtaboot Job Fair or if you really feel daring,  join the first ever hot dog eating contest with Jordan's first ever Slingshot! Hurry up and secure your plans for the week before it's too late and you're literally left out in the cold!

27th European Film Festival 2015 @Haya Cultural Centre
From September 6 – 19 at 8:00 p.m.
Under the Patronage of HRH Princess Rym Ali, The Delegation of The European Union, EU Embassies of The EU and The National Institutes for Culture (EUNIC) in cooperation with The Royal Film Commission – Jordan invites you to attend the 27th European Film Festival!
Schedule:
Sept. 6 – Dutch film Spijt! (Regret!) by Dave Schram, to watch the trailer click here
Sept. 7 – Czech Republic film Stastny Smolar (Lucky Loser) by Jiri Strach, to watch the trailer click here
Sept. 8 – French film Couleur de Peau (Approved for Adoption) by Laurent Boileau, to watch the trailer click here
Sept. 9 – Polish film Kamienie na Szaniec (Stones for the Rampart) by Robert Glinski, to watch the trailer click here
Sept. 10 – Greek film To dentro kai i Kounia (The Tree And The Swing) by Maria Douza, to watch the trailer click here
Sept. 11 – Hungarian film Tüskevár (Thorn Castle) by György Balogh, to watch the trailer click here
Sept. 12 – Romanian film Cea mai fericita fata din lume (The Happiest Girl in the World) by Radu Jude, to watch the trailer click here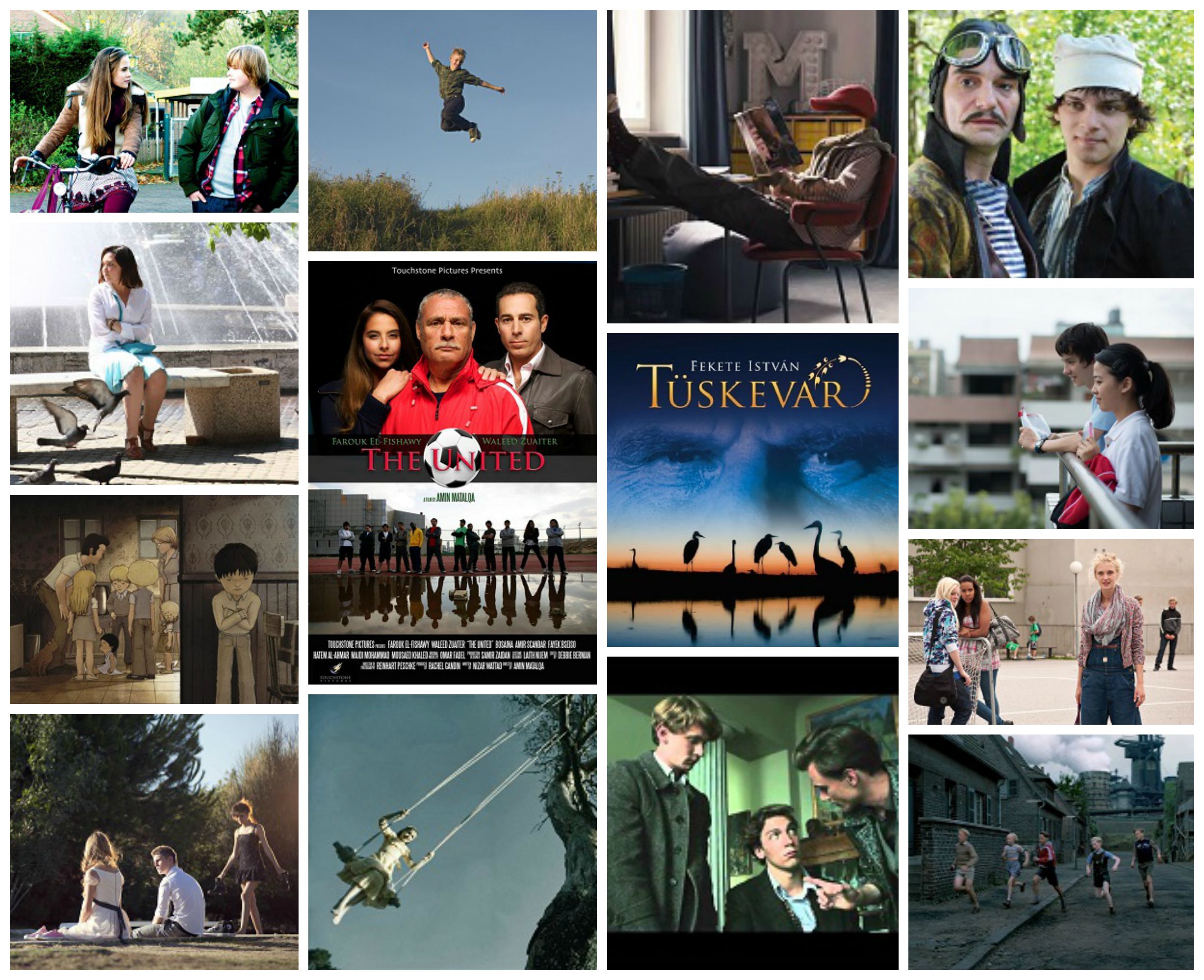 Sept. 13 – Swedish film Tusen Ganger Starkare (A Thousand Times Stronger) by Peter Schildt, to watch the trailer click here
Sept. 14 – Spanish film La Gran Familia Española (Family United) by Daniel Sánchez Arévalo, to watch the trailer click here
Sept. 15 – Italian film Il Ragazzo Invisibile (The Invisible Boy) by Gabriele Salvatores, to watch the trailer click here
Sept. 16 – English film X + Y by Morgan Matthews, to watch the trailer click here
Sept. 17 – German film Das wunder von Bern (The Mircle of Bern) by Sönke Wortmann, to watch the trailer click here
Sept. 18 – Danish film Drømmen (We Shall Overcome) by Niels Arden Oplev, to watch the trailer click here
Sept. 19 – Jordanian film The United by Amin Matalqa, to watch the trailer click here
"Carte Blanche" Screening & Debate @French Institute
September 9 at 7:00 p.m.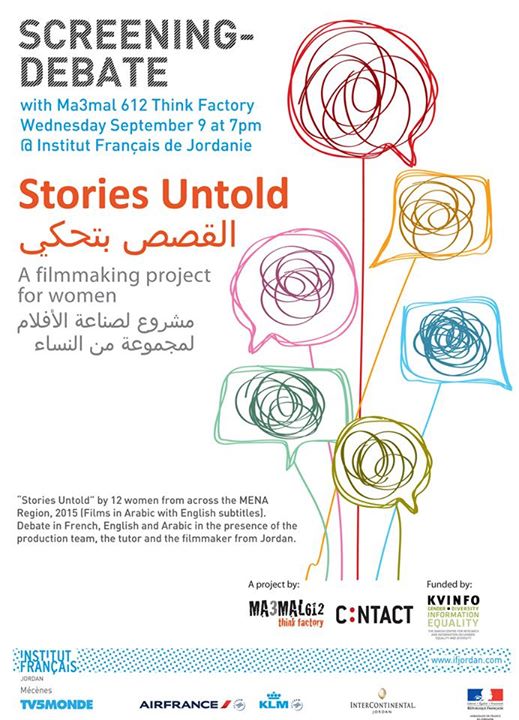 Take part in a truly unique experience involving a screening and debate unlike anything we've heard of in recent times. "Stories Untold" presents the unique stories of twelve exceptional women from across the MENA region. The women were recruited due to their impactful stories and their diverse life experiences. Together the films offer a wide range of important personal testimonies from the region, purposefully through low tech expression. The Carte Blanche will include a debate in French, English and Arabic in the presence of the production team, the tutor and the filmmaker. A project by Ma3mal 612 Think Factory, don't miss the opportunity to join the conversation!

Akhtaboot's Job Fair 2015 @Al Hussein Youth City
September 9 & 10 from 10:00 a.m. to 8:00 p.m.

Looking for a new opportunity? Check out the 6th annual job fair by Akhtaboot! Recognizing a need to bridge the unemployment gap all over the Middle East job market, Akhtaboot is providing a number of leading Jordanian companies and educational institutions covering different industries. Join this 2 day job fair for not only an opportunity for a future career but also career related courses. For more info click here!

Amman Cycling Tour 2015
September 11 at 8:00 a.m.

Tours of Jordan is a national Jordanian corporation with tourism, social, sport and youth development objectives. This project aims to encourage cycling in Jordan, support it as a sport amongst the Jordanian youth and present historical Jordanian sights. Starting at the King Abdullah II Park the tour will take you through the City Center all the way to The Roman Theater. Past the finish line you can enjoy a concert by Moh'd Rafe', Ghazal and a stand-up comedy show from the hilarious Ahmad Srour. With media sponsors like Ro'ya TV, Play 99.6, Nashama 105.1, Studio Flora and LG G4 prizes, you are sure to enjoy the after-party! Tickets are 20 JD if you need to rent a bike or 10 JD if you bring your own! Tickets available at Nader Bike, Cycling Jordan, Bike Rush, and CrepeMania.

Wazzup Amman & Aziz Maraka Concert @The Dome
September 11 from 10:00 a.m. to 10:00 p.m.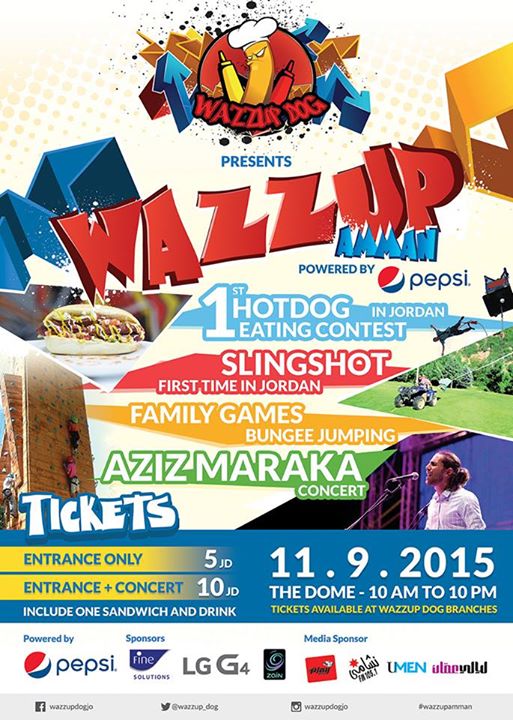 Hamburgers not your thing? For some hot dogs, bungee jumping, a slingshot and a concert to wash it all down hit the spot just right. If you're part of that crowd then join Wazzup Dog for the first ever hotdog eating contest in Jordan! Grab your friends or take the family for games, rock climbing, jumping castles, sumo wrestling and a concert by Aziz Maraka. For only 5 JD you can enjoy the festivities with one sandwich + drink or pay an extra 5 JD to also enjoy the concert! Join the food eating challenge for 20 JD (includes entrance, sandwich, drink and concert) and you have a chance to win 1000 JD, an iPhone 6 or an LG G4 phone, just go to any Wazzup Dog locations to buy your ticket today! *Each attraction cost extra: Slingshot 35 JD, Bungee Jumping 50 JD, Rock Climbing 3 JD, Sumo Wrestling 7 JD…

Clean Up The World Campaign @Debbin Forest Reserve
September 12 from 8:00 a.m. to 3:00 p.m.

Join the Royal Society for the Protection of Nature, with the support of Hikma Pharmaceuticals for the 7th annual campaign of "Clean Up The World"! For more information or registration email pr@rscn.org.jo, remember it's "our environment … our planet … our responsibility"
Lemur Love,
The Tip n' Tag Team