It's just an hour time difference but it certainly feels like Summer, doesn't it? Now that we're back on Summertime Tipsters… let's start acting like it! Buy your favorite suntan lotion, shed those last couple of kilos and start living like it's mid-July cause we've got your weekly fix of awesome events covered!

Dreams Give Hope @Artisana & Gallery 14
Till April 7th at 10:00 a.m.

Under the patronage of her royal highness Princess Wijdan Al Hashimi, "Dreams of Hope" by local artist Shereen Audi was opened on March 7th and will be running all the way till April 7th. This week is your last chance to view the collection, between 10:00 a.m. and 6:00 p.m. Audi's latest collection has been described as "different", "delicate" and "liberating" where her work on display depicts women inside cages adorned with flowers and surrounded by fluttering birds and angles.
Tribute to Zaha Hadid @Darat Al Funun
April 5th at 6:30 p.m.

Darat al Funun is hosting a tribute evening to the artist and architect Zaha Hadid. In celebration of her life and work, a talk she gave in 1997 during the Aga Khan Award for Architecture Ceremony at Darat Al Funun in Amman will be screened for attendees to watch. If you are a fan of the late Zaha Hadid and her genius, head down to Darat Al Funun this Tuesday evening. 
Symbols of Love @Orient Gallery
April 5th at 6:00 p.m.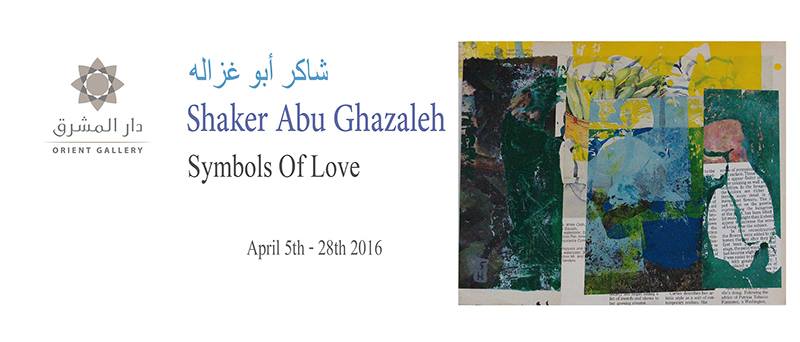 Artist Shaker Abu Ghazaleh's latest art collection under the name "Symbols of Love" will be on display Tuesday at the Orient Gallery in Abdoun. The collection of works is expressive of his way of thinking when it comes to the composition of his work, utilizing a mix of expressionism and abstraction. He succeeded in showing the nature of the work and the artistic input that is based on composition and technical innovation between posters, typography, graphic, drawing and coloring.

Empty Chair @Hackmanite
April 5th at 8:00 p.m.

Empty Chair will be performing live once again this Tuesday night at Hackmanite. This beloved rock band consists of 4 talented musicians that came from different parts of the world and united as one band, here in Amman. Empty Chair will be performing original songs as well as a few famous covers for you to sing along to. Book your tables now because contrary to the band's name, it surely will be a full house!
Grain and Grass @Grand Hyatt Amman
April 6th till April 9th at 6:00 p.m.

A PopUp bar open only for four days in celebration of the beginning of spring, sponsored by The Meat Master and Carakale… sounds exactly where you want to be, right? That's not all, there's going to be a DJ playing live throughout these four days for your amusement, fun games for you and your friends to play, beer and mouthwatering food. Book your tables now to guarantee a spot for the upcoming weekend. 
GuitaNai @The Country Club
April 7th at 9:00 p.m.

This Thursday night, you can enjoy outdoor seating while munching on great food, sipping fabulous drinks and catching a live performance by GuitaNai. This local band has been growing more popular since their performance on MBC's reality show "X-Factor" where their upbeat covers and original style captured the admiration of audiences from all over the region. If upbeat music and a little bit of dancing is what you're looking for this weekend, then watch them perform live this Thursday night at The Country Club! 
Hana Malhas & The Overthinkers @The Corner's Pub
April 9th at 7:00 p.m.

Jordanian folk-pop/rock artist Hana Malhas will be performing live with The Overthinkers at The Corner's Pub next Saturday. The Overthinkers are a group of multi-talented musicians, each with several musical projects to their name: Tarab 3al 7atab's very own Lama Zakharia, Monther Jaber, Darem Aqrabawi and Omar Abbassi. Don't miss out on yet another cool indie music session by talented local musicians happening at Corner's.
Ticket Price: 10 JD including one drink.
Till next week, Tipsters!
Lemur Love,
The Tip n' Tag Team