If you think that living in Jordan gives you very limited Halloween celebration options, (wrong buzzer sound effect) then think twice!  We like to think of ourselves here at Tip n' Tag as the ones who open your eyes to the awesome truth that is: Amman is underrated. This week's Daydreamer is all treats and no tricks, check out all the things you can do around Amman to celebrate Halloween. So put on your spookiest or kookiest costumes and hit the town!
Halloween Night @ Sky Lounge
October 29 at 10:00 p.m.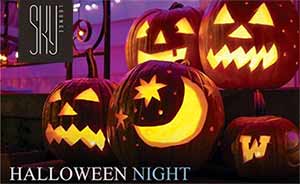 Spend Halloween night with a remarkable view at Sky Lounge, at the top floor of The Grand Millennium Hotel in Shmeisani. Dress up in costume and prepare for a night you won't forget (or possibly remember).
Halloween Party @ Roberto Dance Academy
October 29 at 8:00 p.m.

Party for all students & friends. Custom Music: Salsa, Merengue, Batchata, Argentine Tango, Cha Cha, Rumba, Waltz, Rock, West Cost Swing and more! Limited Places so you better book your spots now!
[disko'tek']* brings back THE MIGHTY 90s @ The Bank 
October 30 at 9:00 p.m.

If you are not into all of the pumpkin and ghosts theme that will be going around town on Halloween weekend, this is where you need to be. You can come in a costume or not, at [disko'tek']* parties people don't judge…they only dance!
Eat, Drink and Get Spooky @ Buffalo Wings and Rings
October 30 @ 2:00 p.m. – 5:00 p.m.

Eat, Drink, and Get Spooky with your kids at Buffalo Abdoun and Khalda this Halloween.
A full entertainment program; face painting, a magic show, balloon magic and prizes galore!
The best costume in the house wins free kids meals for an entire Year!
The Junk Yard Mansion @ Sekrab
October 30 @ 7:00 p,m. – 2:00 a.m.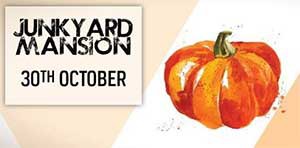 Story Entertainment Presents The Junk Yard Mansion at SeKrab. Featuring "Arabs With Synthesizers", Dj Humpy (from Lebanon), DJ Exoda, DJ MOH and a Live performance by SaxoSam all in one Halloween party! Grab your tickets now from Sekrab, Turtle Green Tea Bar and Jobedu. Age:+23.
Halloween Party with Tawfeeq Al Dalu @ Century Park Hotel
October 30 at 8:00 p.m.
Put on your best costumes and join the party with the Jordanian singer Tawfeeq Dalu, a dinner buffet and drinks available. Two DJ's will be warming you up and keeping you entertained until it's time for the main act!
MiniMozarts @ YMCA
October 30 at 4:00 p.m.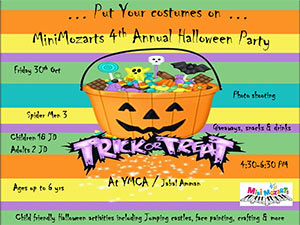 An event with many fun activities for kids including crafting, face painting, a jumping castle, a beauty corner, photo shooting & more! All ages up to 6 yrs are welcome to put their costumes and join the spook-tacular 4th Annual Halloween Party by MiniMozarts. Tickets available at ParadigmPreschool and MiniMozarts music studio.
A Spooky Halloween Party @ Kids Care Academy
October 31 at 12:00 p.m. – 4:00 p.m.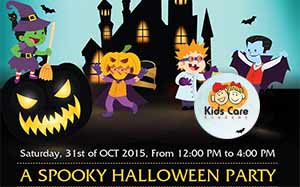 If you have kids between the ages of 2 and 5 then this is the event for you! Dress your kids up in costumes and enjoy fun games and competitions. Lots of prizes, lunch and dessert will be served too!
Happy Halloween!
Lemur Love,
The Tip n' Tag Team