If you're trying to get beach ready this week, well first of all you're too late. Secondly, what you're gonna read (and most likely do this week) is going to set you back, but don't worry, calories don't count on the weekend!
You have a chance to stuff yourself at a food fair, join a food eating contest or pick up some great local produce if you really wanna be the healthy – go local type. Now mix all that yummy stuff with some (non-food related) events that will bring out your Circassian pride, fulfill your motorcycle mania and end your week with an international DJ appearance not worth missing out on. All aboard – good times ahead!
ICS Food Fair 2015 @International Community School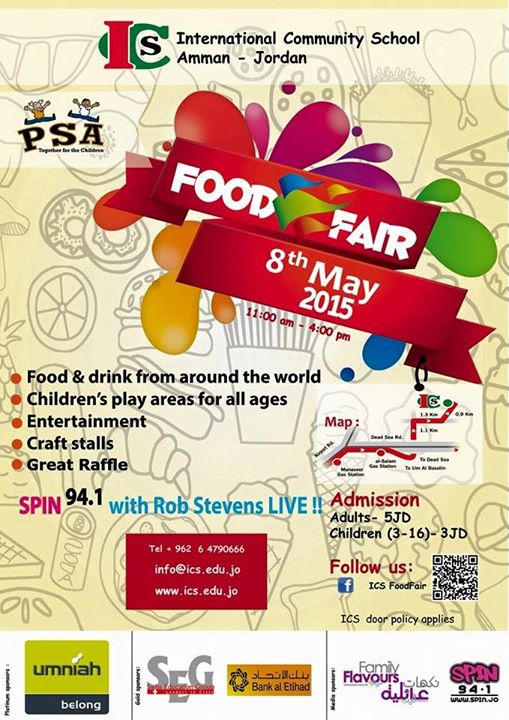 May 8 from 11:00 a.m. to 4:00 p.m.
The event is called Food Fair, do you even need to read the rest? Join the ICS community for their food fair with a huge range of international food, culture and community spirit. Not only is this a huge event but its's the most important fundraiser for the PSA's charitable activities! Enjoy food and drinks from around the world, a children's play area, entertainment, craft stalls and much much more! Tickets are 5 JD for adults & 3 JD for kids!
The Ultimate Mini Burgers Eating Contest @Buffalo Wings & Rings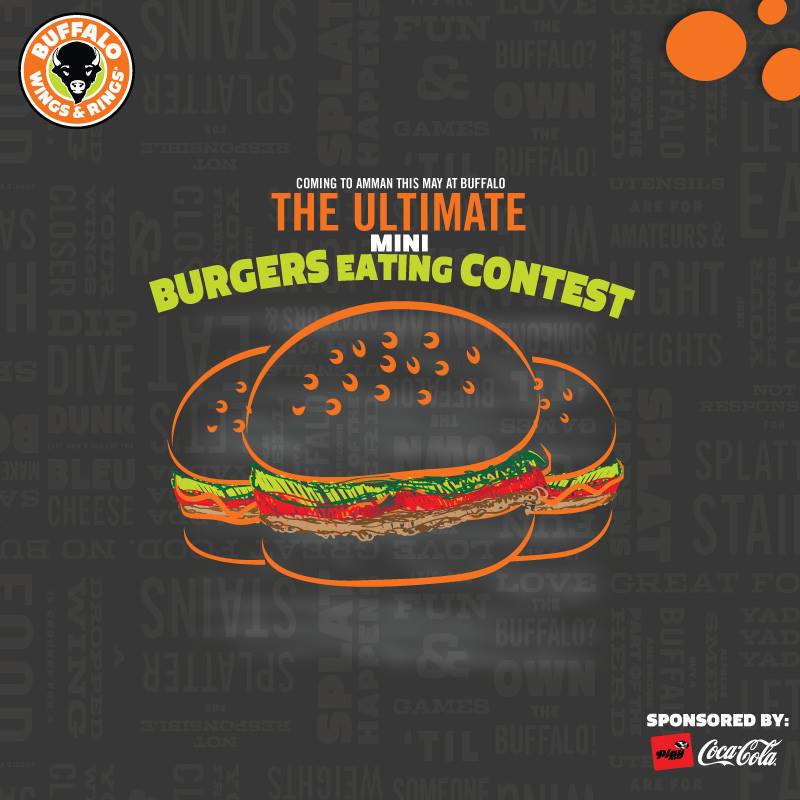 May 5, 12, 19 & 26 at 7:00 p.m.
Think you can eat the most? Then secure your bragging rights by joining the Ultimate Mini Burgers Eating Contest at Buffalo Wings & Rings! Eat as many sliders as you can in 2 minutes or less for a chance to win an iPhone 6, iPad Mini and other prizes. To sign up click here!
Al Shams Farmers' Market @Wild Jordan

Every Friday from 11:00 a.m. to 6:00 p.m.
With the sun finally here to stay, get in on all the great local produce! Al Shams Farmers' market offers weekly fresh organic produce directly from organic farms in Ajloun. Take the family or your friends and plan a great meal with the freshest ingredients!
H.O.G® Kingdom of Jordan Rally 2015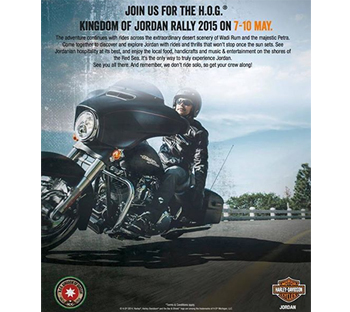 May 7 – 10 
Each year a huge event takes place in the Middle East for Harley Davidson avid enthusiasts and fans, this year the 4th H.O.G® Kingdom of Jordan Rally will be taking place in the southern port city of Aqaba. More than 400 Harley Davidson riders from across the region, Europe and the U.S. will be coming to Aqaba for this exciting event. Harley Davidson Amman & the Kingdom of Jordan H.O.G®. Chapter invites you to join them in a variety of fun activities and challenging rides. For more information or for registration click here!
International Circassian Cultural Academy Annual Gala Dinner @Grand Hyatt Amman
May 7 at 8:00 p.m.
Under the patronage of HRH Prince Ali Bin Al Hussein, join the International Circassian Cultural Academy- ICCA Annual Gala Dinner. The ICCA is a non-profit cultural association that aims to preserve and promote Circassian cultural heritage in Jordan as well as on the regional and global arenas. It is sure to be an entertaining night with the HIGHLANDERS Circassian dance group preforming, famous musician Aslan Tlibzu from the Caucuses and with a Circassian handmade vintage and modern style fashion show designed by Madina Saralp. Tickets are 50 JD or VIP table of 10 for 800 JD – For reservations and more details click here!
Danny Howells @Canvas

May 7 from 8:30 p.m. to 2:00 a.m.
FUZZevents, in collaboration with Freedom Music, Amstel, SPIN Jordan and The Good Pub, bring you Danny Howells! Get your groove on with one of the most in demand Djs in the world, with his unique eclectic sounds and infectious personality. Get there early to pre-drink at the terrance with Raed + 50% off alcohol from 8:30 – 10:00 p.m. Then move indoors for a smooth warm up with AVIDBOLD! Before 10:00 tickets are 15 JD + 50% off all drinks, after 10:00 tickets are 20 JD + 1 free shot till 12:00. Spaces are limited , to add your name to the guest list and guarantee a spot, call: 079 591 0361.
Rotary Day @The Dome

May 8 from 12:00 to 6:00 p.m.
Enjoy a very special outdoor entertaining event with family & friends for Rotary Day! With activities from face painting to a basketball bungee, as well as, music and tasty food. Dive into a full salad bar, a live cooking station and desserts with such great options even the pickiest of eaters will be happy! Pick up tickets at any Rotary Club in Amman 15 JD for adults, 10 JD for children 4-12, free for children under 4 and 5JD for nannies.
 See you next week!
Lemur Love,
The Tip n' Tag Team