Rose petals, glasses clinking, chocolate truffles, balloons and you guessed it…lots of cheese. It's that time of the year once again, Valentine's Day is just around the corner and we bet it's even bigger this year. Couples spending all the money in their pockets, down to the very last fill, to show their significant other just how much they care for one another. Girls dolled up and men with clean shaves. Where to go, what to eat and how to celebrate is what this Daydreamer is all about!

Majd Ayyoub @The Lodge
Looking for a night of romance, wine and all things lovely and divine? You can head down to The Lodge for a Valentine's Day 5-course dinner where local artist Majd Ayoub will be performing live to celebrate this special day. Limited seating number, book your tables as soon as possible to avoid disappointment!
60 JD Per Person
Valentine's Day Dinner @Landmark Amman Hotel
Feb 14 at 7:30 p.m.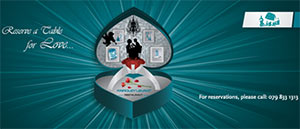 Enjoy an extraordinary panoramic view of Amman at Fairouzy restaurant, all the way up from the 13th floor. Enjoy a 6-course set menu and romantic music to make it the perfect night for 2 this Valentine's Day.
35 JD ++ Per Person
Valentine's Dinner @Grand Hyatt Amman
Feb 14 at 7:30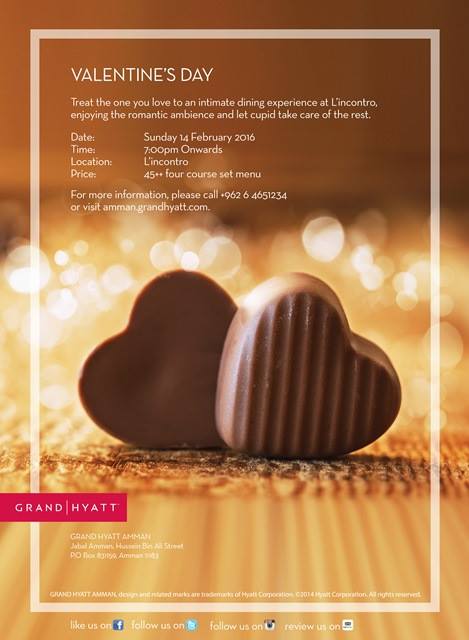 Treat the one you love to an intimate dining experience at L'Incontro Italian restaurant, a romantic ambiance and excellent music. A 4-course set menu including Cold mezze, hot mezze, main course and a mouthwatering Italian dessert. If you don't settle for anything less than the best, then L'Incontro is where you need to be
 45 JD++ Per Person
Say it with Dinner @Beverly's
Feb 14 at 8:00 p.m.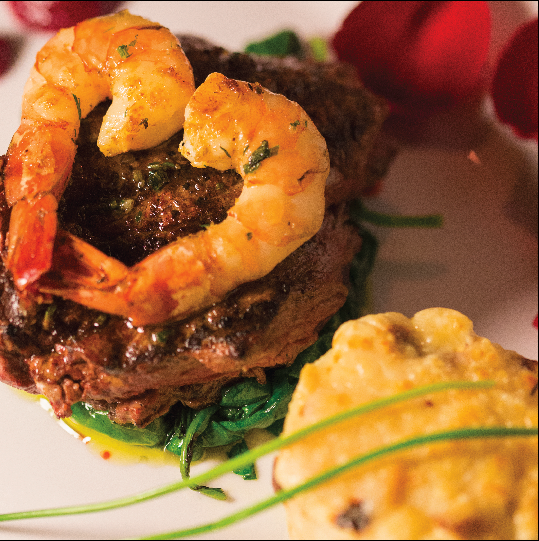 Bring your loved one and enjoy a special night with a live performance by local artist Laila Sabbagh and "The Group" band. With Beverly's vast wine selection and romantic atmosphere, this venue is all set for your romantic dinner for 2.  A special Valentine's Day special is served per order throughout the evening that consists of premium cut of steak and shrimp on a bed of sauteed spinach served with a side of potato gratin for 22 JD ++.
10 JD Per Person Entertainment Fee Upon Entrance
Autostrad @Canvas
Feb 14 at 8:00 p.m.

Your significant other is not one to melt over candle-lit dinner cliches? Do you think music brings people together more than square tables at fancy restaurants? Then this is just what you should be doing this upcoming Valentine's day. Austostrad will be performing live in concert on Sunday, Feb 14. Enjoy unique music by this beloved local band. No cheese, no drama – just good music and lots of love in the air.
15 JD Per Person
Valentine's Jazz with Ahmed Harfoush @Oobe
Feb 14 at 9:30 p.m.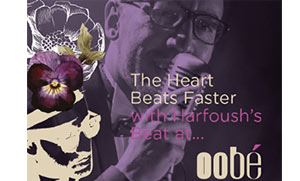 Egyptian jazz vocalist Ahmed Harfoush will light the night up with the best of the new world and smooth jazzy tunes. Have your choice of complimentary wine or champagne glass on the house in celebration of this heart-warming day.
 15 JD Per Person
Payback Playback @Jar'D
Feb 14 at 8:00 p.m.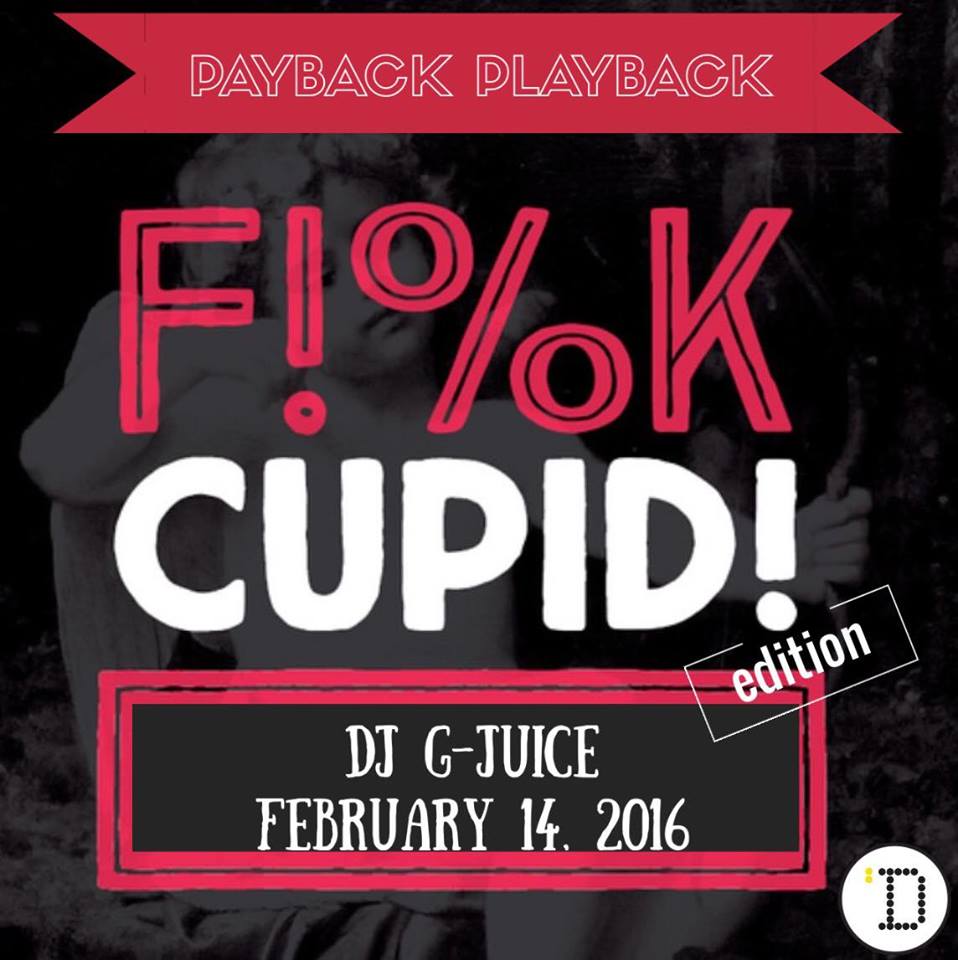 Payback Playback is a local movement aiming to elevate the party scene and makes "being bad, feel so good", each event's proceeds is donated to a charity of their choice. This Valentine's Day, in their F!%k Cupid edition, all money made from the event will be going towards helping kids with heart conditions. This event will be featuring DJ G-Juice, where he'll be spinning the best of Hip-Hop and R&B music.
Free Entry
Anti-Valentine's Day Party @Sekrab
Feb 13 at 8:00 p.m.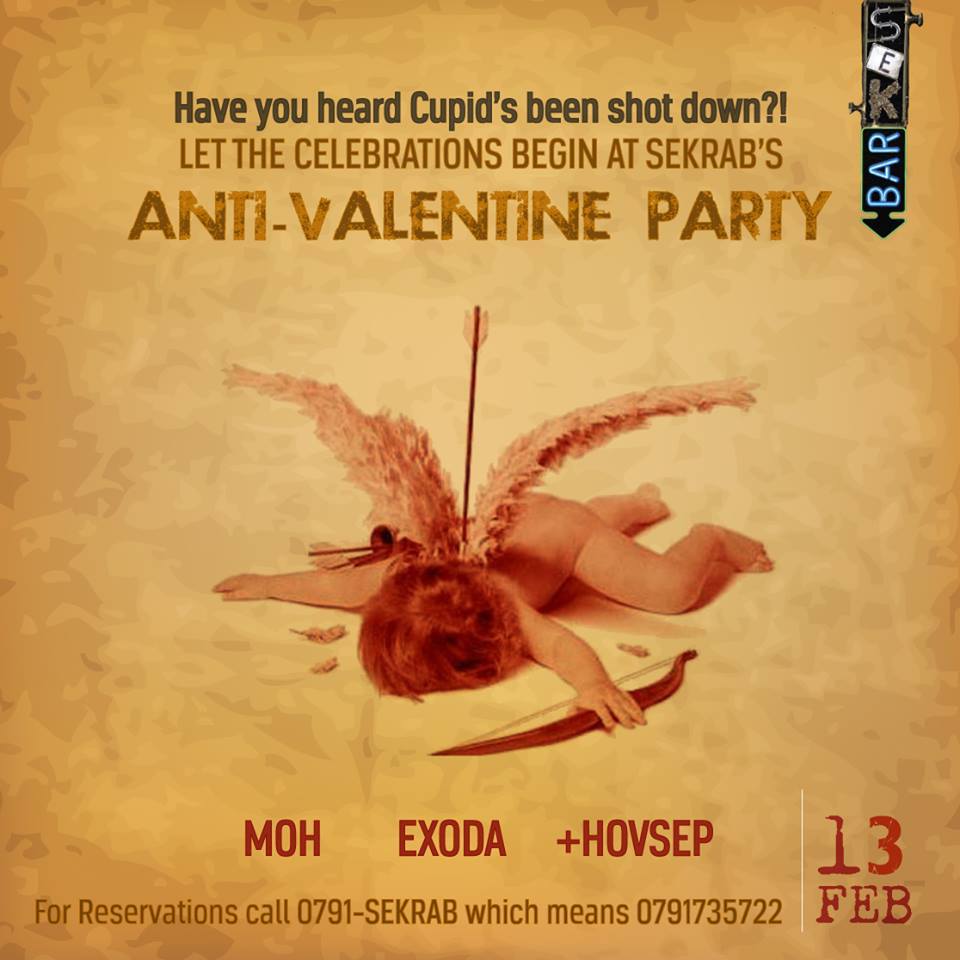 Sekrab has shot Cupid down! And they're celebrating this upcoming Saturday, featuring DJ Moh, DJ Exoda, DJ +Hovsep all playing back to back in one massive celebration one day before Valentine's Day.
Free Entry
Parent's Survival Night @The Little Gym
Feb 14 at 7:00 p.m.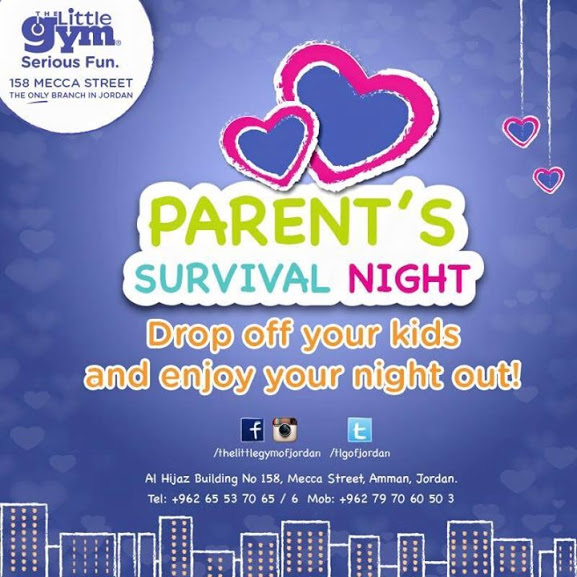 Can't catch a break during your busy week? Valentine's Day plans seem far fetched because you have no one to help out with the kids? Not to worry, The Little Gym has got your back! Drop off your children for a few hours and hit the town for some fun and romance. There are lots of group activities for the kids to engage in, they'll be having as much fun without you as you will be without them!
The Little Gym members: 10 JD, Non-members: 20 JD

Black Ice @Blue Fig
Feb 8&15 at 8:00 p.m.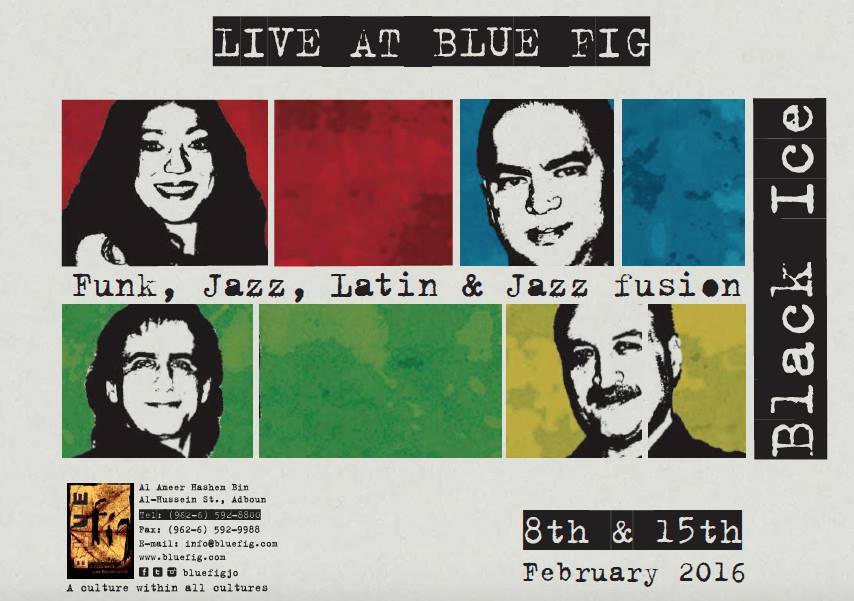 For all you Jazz fans in Amman, Blue Fig will be hosting Black Ice on Monday the 8th and 15th of February. Head down there for a dose of Jazz Fusion, Funk and Latin music! It also happens to be Martini Mondays – buy one and get one free.
Nashama Bazaar @Intercontinental Hotel Amman
 Feb 13-15 at 10:00 a.m.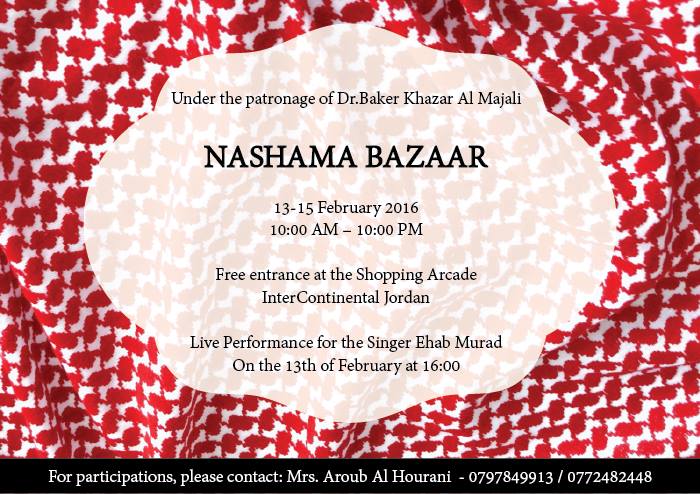 For 3 consecutive days, Nashama Bazaar will be taking place at the shopping arcade in the Intercontinental Hotel Amman. You can shop for local products or even participate by setting up a booth of your own to sell food and/or goods. A performance by local artist Ehab Murad is taking place on Feb 13 at 4:00 p.m.
Free Entrance
Mysticism of Blues by Ayman Issa @Foresight Art Gallery
Feb 9 at 10:00 a.m.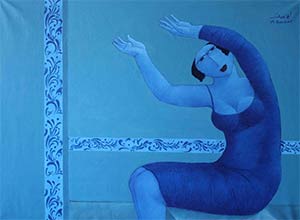 Under the patronage of HRH Princess Majda Raad Bin Zeid, "Mysticism of Blues", a solo exhibition by Palestinian artist Ayman Essa, is taking place at Foresight32 Art Gallery. An inspired and creative collection of the artist's work will be on display all the way till the 22 of Feb.
Firefox OS launch @ZINC
Feb 13 at 11:00 a.m.

If you are a techie, geek or a follower of what ZINC cooks up on a regular basis then you know that this is a big deal! FireFox OS is launching in Jordan next Saturday! To take part in this event you must book your tickets now before seats run out.
See ya next week Tipsters!
Lemur Love,
The Tip n' Tag Team