Now that we've had a week to be settled after our long Eid vacations, we're back to our morning coffee, your usual working hours and best of all, your weekly dose of fun and exciting events served up sizzling hot straight from the Tip n' Tag Team! This edition of The Daydreamer will have you excited to get back on the horse and look forward to what's left of a sun-filled summer. We'll be covering some future events that you need to plan early for and your weekly events too!

Red bull Sound Clash 2016 @Amman Exhibition Park
September 1st at 8:00 p.m.

This epic event organized by Red Bull got people cheering and screaming for their favorite bands for the past couple years and now they're bringing it back in September of 2016 and make no mistake, it'll be bigger and louder this year around. Sound Clash is a competition that brings two local bands on the same stage, competing head to head for the loudest audience cheer to name them winner of Red Bull's Sound Clash. Amman music enthusiasts, prepare for amazing performances by your favorite local talent this September, in a night full of excitement, high levels of energy and great music!
Enrique Iglesias Live in Amman @Amman Exhibition Park
August 11 at 9:00 p.m.
Latin music legend and Latin music legend's son, Enrique Iglesias, is performing live in Amman for the very first time! Ladies, let's take you back in time to when some of the most romantic pop songs of the early 2000's were made. To the time when all girls whether in love or not knew every word to Enrique's songs, to when you've turned the volume up listening to his songs on your walkman and CD players. This event is guaranteed to get you nostalgic and accomplishing a childhood/ teenage dream to see this pop icon live in concert. Get your tickets now through Sajilni.
Ticket Price: JD 45, JD 75, JD 110, JD 150.
Yanni Live @Amman Citadel
September 25th at 8:00 p.m.

Grammy award nominee composer, multi-instrumentalist, producer and performer Yanni is gracing Amman Citadel with his presence in a live concert on September 25th. This world-famous, award-winning pianist has a respected career of 30 years and still going, Yanni has no doubt become the face of piano and composition for the entire world. Don't miss on this unique opportunity to watch one of the most world renowned musicians of our time perform live in concert. Get your tickets as soon as you can through Sajilni, as we're sure tickets will sell out soon.
Ticket Price: JD 75, JD 120, JD 150 & JD 175.
Amman Design Week @Ras El Ain / Down Town
September 1st at 11:00 a.m.

Mark you calendars, design geeks of Jordan! Amman Design Week is an all-new, upcoming event with the intent of encouraging the growth of the design sector in Jordan, in an environment that stimulates learning and innovation. This event is supported by Her Majesty Queen Rania Al Abdullah, Amman Design Week will pilot on September 2016 creating a platform that will bolster Jordan's design sector and move it towards international recognition and acknowledgment.  More information will follow in upcoming Daydreamers, stay tuned! 

Interior Design Workshop @Architecture & Spatial Coaching Studio
Starting July 18th at 10:00 a.m.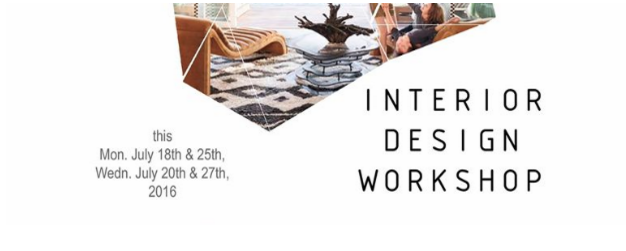 Get a certificate on space design using tools and methods that are applicable to your daily life! A chance to adapt your needs as well as your philosophy to your own living and working space with whatever vision you have in mind, throughout this 12- hour training and practice interior design course. By enrolling you will be learning how to make an ordinary space into a fresh and vibrant one in any environment. Get the knowledge and expertise of a french architect  giving this course on Mondays July 18th & 25th and Wednesdays July 20th & 27th.
Course Fee: JD 300
Summer Show 2016@ Nabad Gallery
Till August 24th at 10:00 a.m.

Nabad's Summer Show 2016 featuring a wide range of works by a large number of artists from Jordan and the region, whose works are permanently available in the Nabad Store. This year's Summer Show presents artists exhibiting at Nabad for the first time, including Syrian artist Youssef Youssef, Sudanese artist Mahmoud Gahalla and Iraqi-Jordanian artist Zaina El Said. The Show features Jordanian artists Khalid Khreis, Farouk Lambaz, Fuad Mimi, Abdul Raouf Shamoun, Diana Shamounki, Nabil Shehadeh, Wijdan, Ghada Dahdaleh, Riham Ghassib, Ammar Khammash and Basel Uraiqat, Dalia Ali, Jamal Al Armouti and Omar Al Qadiri. Don't miss our on this exhibition of esteemed and fresh, local and regional talent all in one space for you to enjoy!
Fashion Sketching @GSC
July 17th at 1:00 p.m.

A three-month course on fashion sketching is now open for sign-ups, Sunday to Wednesday from 1:00 p.m. till 4:00 p.m. A great chance for you to work on your sketching skills with a number of  creative students and professional teachers to learn how to do fashion sketches like a pro.

Electronic Summer Festival @Exit Club
July 22nd at 10:00 a.m.

Are you ready for an all day pool party featuring DJ Diaz, DJ Oun and DJ Ali Zidane, 12 hours of non-stop music, drinks and food? The Electronic Summer Festival features a spacious outdoor venue with a pool, a beer pong competition and much more on Friday, July 22nd. You need to be over 18 years to attend this event, mixed groups and couples policy applies. For further information, check out Electronic Summer Festival's facebook event.
Substance @U Roof Lounge
July 18th at 9:00 p.m.

If you're looking for a place to go to for a little music and a few drinks this Monday night, then you want to head to U Roof Lounge, for their event "Substance"! Located at The Regency Hotel where they are hosting an event from their rooftop venue, known for its stunning view overlooking Amman from the 21st floor. DJ Exoda and DJ Moh will be spinning live throughout the night. Expect great music, an amazing view, and a fire juggling show to bring in some heat! Book your table now if you are 21 years old and over.
Mousiqana 3 @Darat Al Funun
July 19th at 7:00 p.m.

 Mousiqana 3 is a live concert of Arabic classical music by the participants of Darat Al Funun's annual music workshop. The participants spent five weeks of intensive training with Jordanian musicians Tarek Al Jundi and Alaa' Takrouri, with the assistance of Yazan Sabbagh and Abdel Hadi Jaafar, participants of previous two workshops. In addition to the musician Obaida Madi, if your ears long for classical Arabic music that takes you back in time to simpler and happier days then this event is where you need to be this upcoming Tuesday night.

Family Brunch @Le Meridien Hotel
Every Friday at 12:30 p.m.

No need to rush out of bed to get on with your weekend family activity! Le Meridien is offering a family brunch every Friday starting 12:30 p.m. with an open buffet, live DJ, kids entertainment including a clown, cartoon characters, face painting, a tele match and more to look forward to this weekend and every weekend this summer!
Ticket Price:  JD35, kids between ages 6 and 12 get a 50% discount, kids under 6 years enter for free.
رحلة صيد Pokemon @Amman
July 22 at 2:00 p.m.

A group of two thousand people in Amman are going on a hunt, for Pokemons that is! The "Pokemon Go" mobile game has taken over the world within two weeks since its release, people of Amman are now joining forces, determined to "Catch Em' All"! If you are a fan of the game and need to stock up on your Pokemons then stay tuned to this event happening on Friday where you can go looking around in different parts of the city from, 2:00 p.m. till 9:00 p.m. stay tuned to their Facebook page for more details on the meeting location.
Till next week, Tipsters!
Lemur Love,
The Tip n' Tag Team