Take a dive into this week's events or better yet crawl from one to the next! We have a packed line-up of everything from a treasure hunt to (you guessed it…) a pub crawl! Go to one or go to all, just get out & immerse yourself in the local community!
Amman's Official Pub Crawl 2015
June 12 from 5:00 p.m. to 1:00 a.m.

With this event you may just end up crawling by the end but hey, their motto is "We don't get drunk, we get awesome!" Join the 2015 Pub Crawl and for 25 JDs you get 1 drink at each place the crawl visits, an Amman's Official Pub Crawl T-shirt, 1 free ticket to Glow City after-party at Cube and transportation. You'll start at Jar'd then proceed to Hackmanite, O Six Gastro Lounge, Chestnut Restaurant & Pub and end at Cube Lounge. Tickets are limited so call Lumina Events today to book your spot!
Glow City @ Cube Lounge
June 12 from 10:00 p.m. to 2:00 a.m.

If a pub crawl is not really your style you can glow on at Cube! Join them for a very special glowy night, with entrance of only 10 JD with 1 shot included!
Carmina Burana @ International Amman Academy
June 11, 12 & 14 at 8:00 p.m.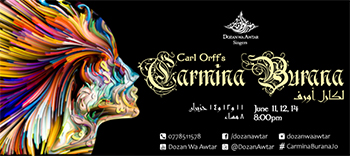 Escape through the raw power of musical genius, performed with a Dozan flair. Coming to you for the first time in Jordan, with over 100 performers are Dozan wa Awtar Singers accompanied by The Jordanian National Orchestra Association! Tickets are from 25 – 30 JD and available at The Cakery (Sweifieh), Hamleys (Abdoun) and karasi.com, get them today before it's too late!
ACID ARAB | Random House Live @ Canvas
June 11 from 9:30 p.m. to 1:00 a.m.

At it again with another chill event is Malahi & Fatty Dabs Burger Shack as they present "ACID ARAB & Random House Live" at Canvas! Acid Arab is a duet from Paris whose goal is to mix all kind of Eastern music (North Africa, Lebanon, Egypt, Turkey or… Mumbai) with electronic sounds, from pioneering acid house to today's powerful techno. Random House is a Jordanian based band influenced by Indie Rock, Reggae, Punk Rock mixed with Sufi music. This is bound to be one amazing night (click the links above to have a listen) & tickets are only 10 JD!
Blues O' Bantaloon Live @ Books@Cafe
June 13 from 8:00 to 11:00 p.m.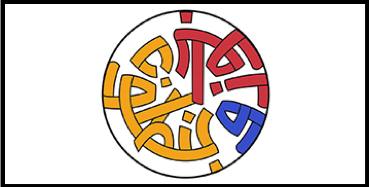 Head over to Books@Cafe and enjoy the summer night with Blues O' Bantaloon! You will hear a fusion of Arabic music with blues, rock, funk, jazz and reggae. Tickets are only 5 JD, so sit back and relax all night long!
Jordan Food Exhibition @ Amman International Motor Show Center
June 9 – 13 from 4:00 to 11:00 p.m.

This event is for all the foodies! Enjoy some nibbles or buy products to take home, either way you will leave happy & full! The first of its kind here in Jordan the Food Exhibition will bring together major food importers, commercial centers, those in charge of food security and leading food industry professionals. A collection of food all under one roof is just a bite away!
Vespa Treasure Hunt
June 12 at 10:00 a.m.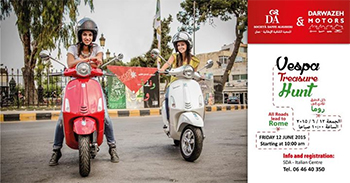 Discover the hidden treasures of Weibdeh as you join Darwazeh Motors & Societa Dante Alighieri for their Vespa Treasure Hunt! Don't miss the chance to win tickets to Rome, Sharm and more! Participate with your Vespa, car, motorbike, bicycle or simply on your foot! Maximum number per team is 4 and tickets per persons 10 JD. Buy your tickets at Societa Dante Alighieri, Jo Bedu, Mlabbas, Caffe Strada and Bikers Corner Restaurant & Cafe!
Franco Arab Film Festival
Until June 11

The 21st Edition of the Franco Arab Film Festival brings you recent feature films of Arabic and French production, a competition of Jordanian short films and a series of cinematic treasures meant for young audiences from the newly launched IF cinema funds. Screenings will take place at the Rainbow Theater and Royal Film Commission until June 11, check the schedule below for times and location!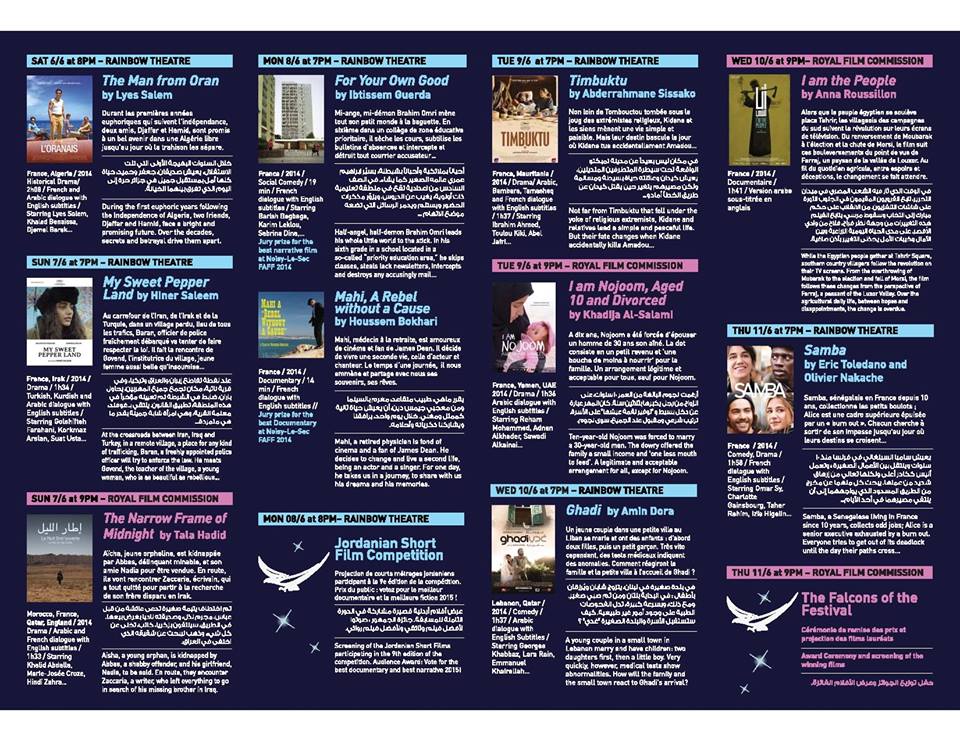 Rugby Tryouts @ Modern Montessori School
June 13  from 8:00 to 10:00 p.m.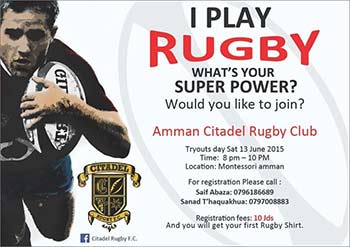 Do you have what it takes? Try outs for Citadel Rugby F.C.  are happening this week and you have a chance to be apart of the team. Registration fees are 10 JD, call today to find out more!
Live it up Amman!
Lemur Love,
The Tip n' Tag Team