For an Updated List: Click Here
Although many of us are fasting Ramadan this year, not everyone in Amman is. This one's for the Tipsters out there craving an iced beverage and a light meal, away from the eyes of the public. To make it easier on those of you who want to continue with their daily rituals of breakfasts, lunches and afternoon drinks, the Tip n' Tag Team has created the ultimate guide for places open during Ramadan 2019.
---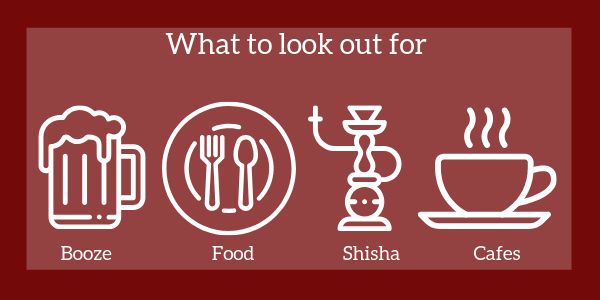 ---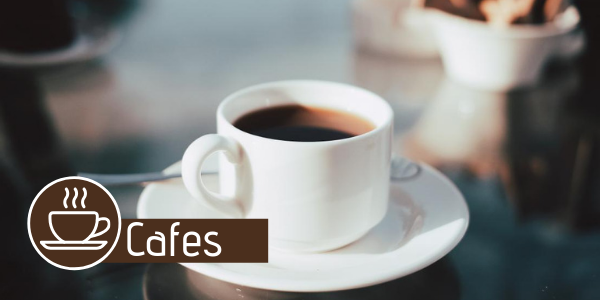 ---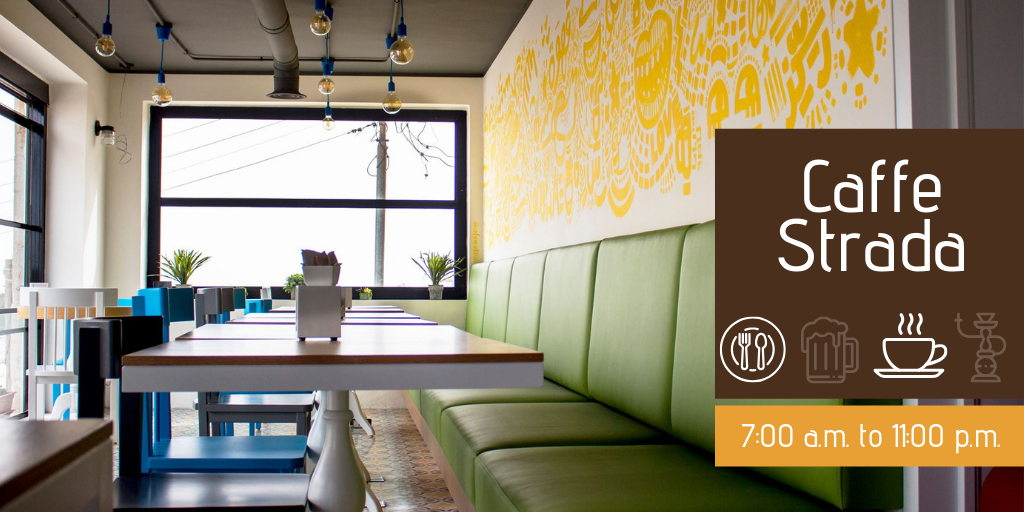 If you're looking for a caffeine fix in Ramadan, Strada is the place to go. They serve a mean cappuccino, and they maintain their normal opening hours during the holy month. Get some work done, or chill with your friends as you wait for Iftar.
---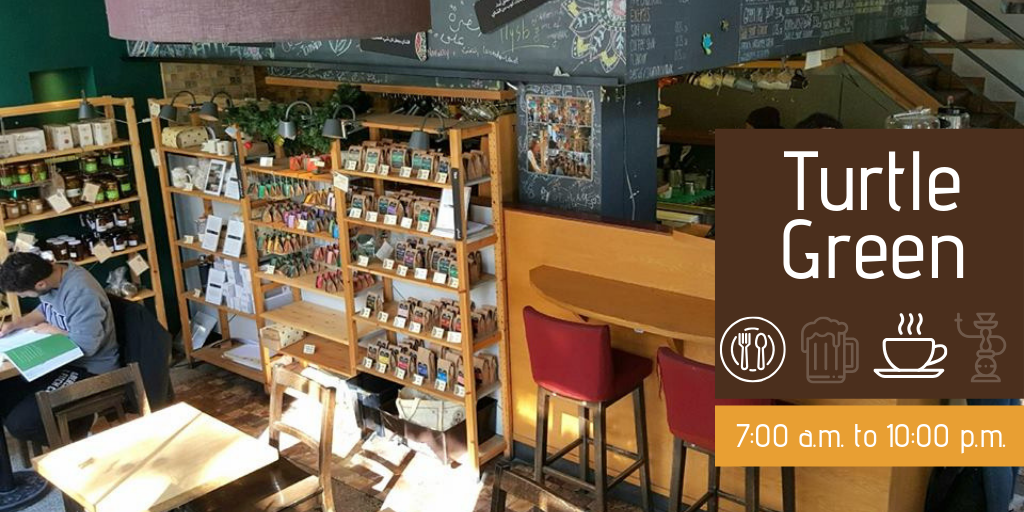 Turtle Green is a haven for those of you seeking to sip on good tea in a great atmosphere. Their turtles still haven't done much, but their matcha and kombucha can bring you up to heaven and down again. Drop by any time of day and sneak in a cheeky cigarette while sipping on a drink, they'll be serving tea all day during Ramadan 2019.
---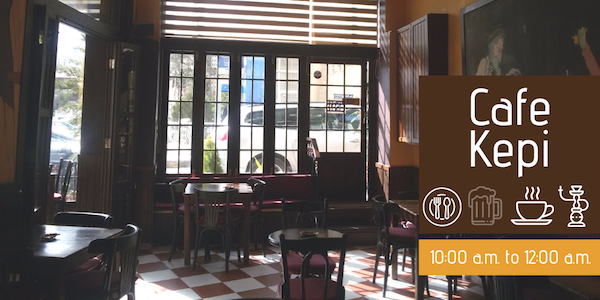 This cozy little cafe on Paris Circle will be open during fasting hours to serve you delicious food, coffee, and shisha. Soak in the tunes of Fairouz and maybe play a game of backgammon with your friends. The oriental theme at Cafe Kepi fits perfectly with this holy month.
---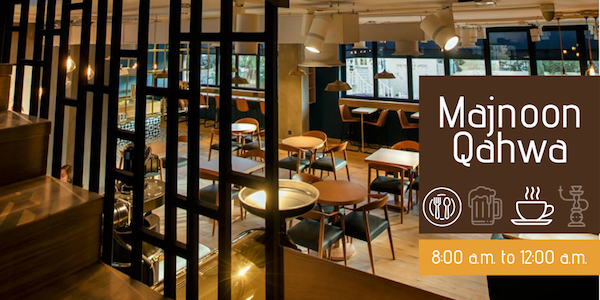 Majnoun Qahwa is home to specialty coffee and good snacks. Check out their take on Bedouin coffee, and snack on their salads.
---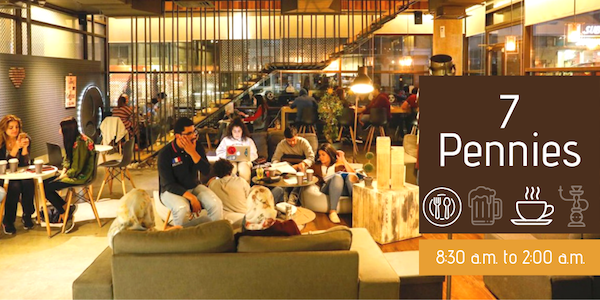 Ramadan is the season for giving, and at 7 Pennies, a good portion of every JD you spend goes to a charity of your choosing. If you're looking for a vibrant place to study, here's where you'll wanna be.
---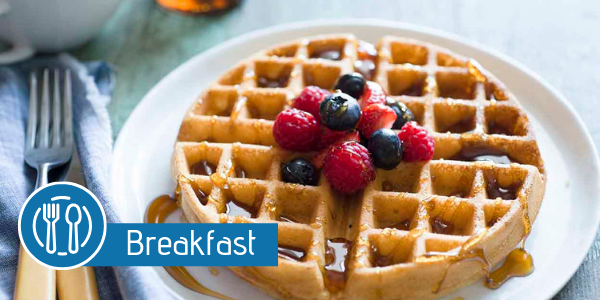 ---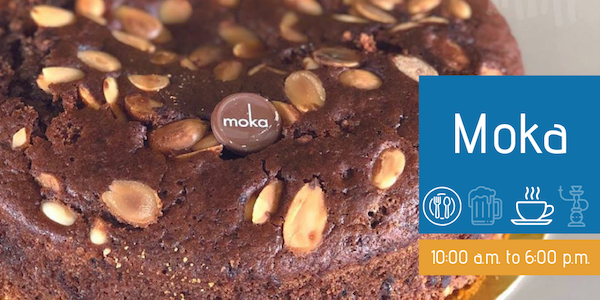 Sweet cravings hit the hardest during Ramadan. We don't have scientific evidence to back that statement, but we know Moka will continue serving their delectable sweets and baked goods all day, regardless of fasting. Try some of their wildest creations or opt for something more subtle for breakfast.
---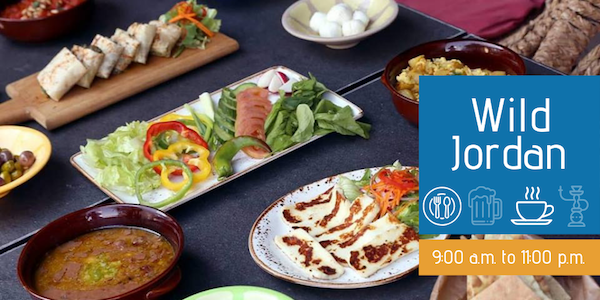 If you're looking for a smoke-free sanctuary that you can work at or grab breakfast at, Wild Jordan is here to the rescue. Try out their delicious date smoothie to help ease you right into the holy month's traditions. Check out their Iftar Meal Deal if you find yourself in the area around sunset.
---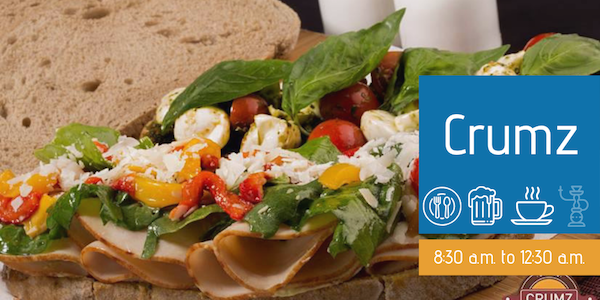 This might come as a surprise, but Crumz is not an ordinary bakery. They offer a wide variety of dishes to compliment their delicious baked goods. It's a
---
Shams el Balad specializes in purely vegetarian and cruelty-free food, and if that appeals to you, you should know that they'll be running from 10 a.m. every day during Ramadan 2019. Shams is the place to be if you're looking to have an unabashedly Arabic breakfast or brunch.
---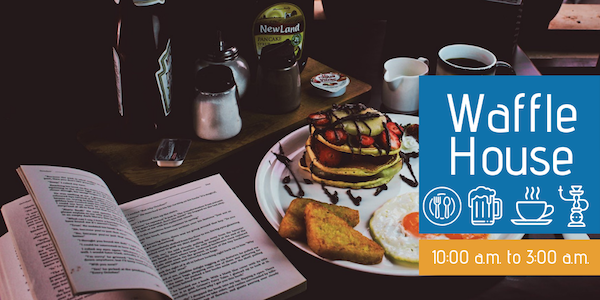 Waffle House will be bustling from 10 a.m. till the wee hours of the morning for Suhoor. Don't let the name deceive you: they not only serve delicious waffles, but alcohol as well as shisha to go with the wide variety of bites you could have there throughout the day.
---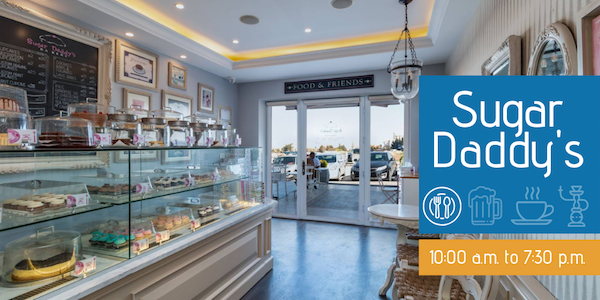 Having a hard time finding a sugar daddy? Settle for something just as good: Sugar Daddy's cupcakes. Stock up on them and snack throughout the day in the comfort of your home!
---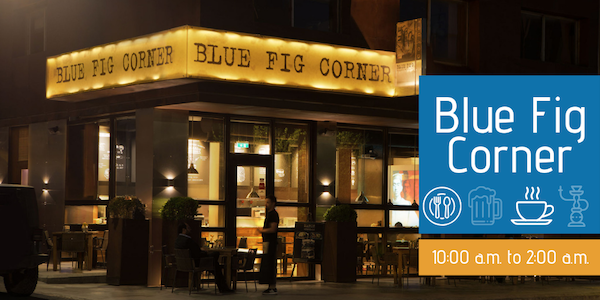 Blue Fig Corner is not only a great spot to grab a bite, but it's a great substitute for its older sibling who won't be opening until after Iftar. Sate your brunch cravings any time of day here.
---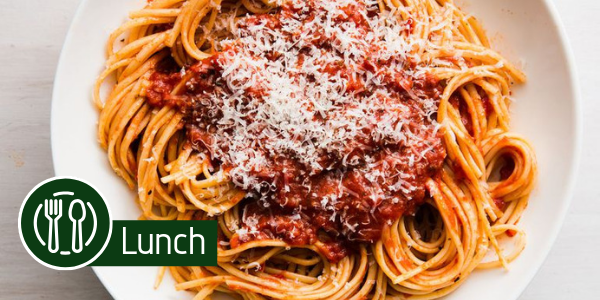 ---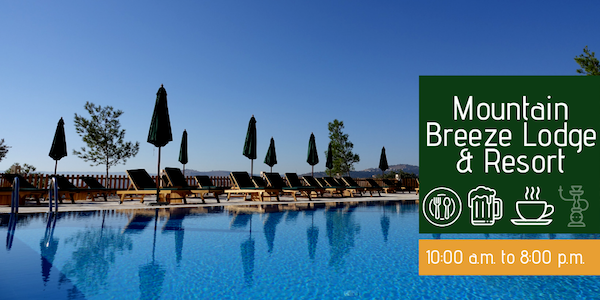 How does a getaway at a resort surrounded by a sight of nature that goes as far as the eye can see sound like? Head over to Mountain Breeze Resort where you can enjoy a delicious meal at their restaurant any time of day. Treat yourself and get your summer tanning game on by their gorgeous pool. The cherry on top? If you book your accommodation through their website during the holy month, you get a free dinner!
---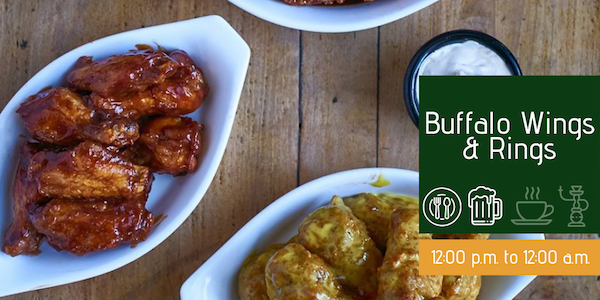 Buffalo has been reliably supplying the people of Amman with delicious wings of all varieties since the early 2010s. Try their wings, boneless or traditional, with a variety of delicious sauces to go with an ice cold beer. Not into wings (how dare you)? Check out their expansive menu that has everything from tacos to burgers.
---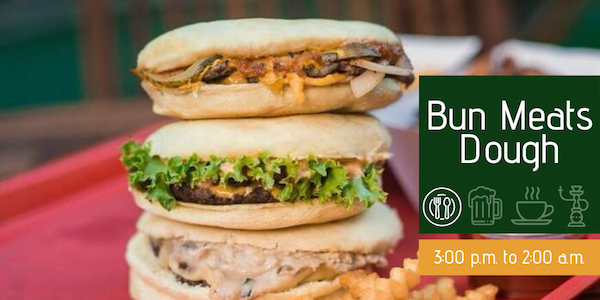 If you are a fan of the glazed donut burger that Bun Meats Dough introduced to the Amman burger scene, you'll be pleased to know that you can grab a bite at this joint everyday in the afternoon.
---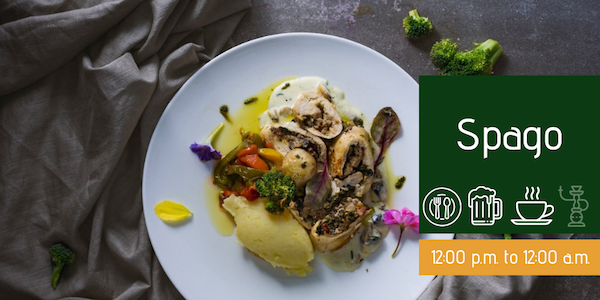 When has a little taste of Italy ever been a bad idea? Whether you're one to dive into the antipasti, pasta or carne, Spago has a menu that satisfies every taste. Head on here for an early lunch, or gather your friends around for Iftar.
---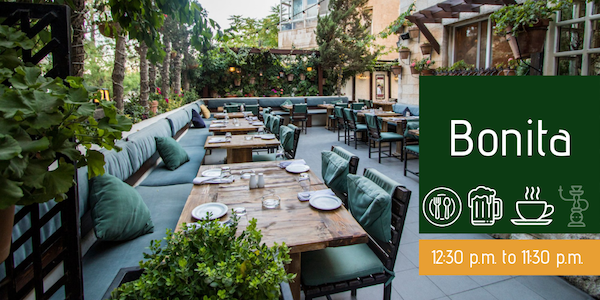 Nothing says lunch better than a massive paella at Bonita. If you're ever in the mood for tapas, this cozy restaurant is the place to enjoy Spanish cuisine and practice your (perhaps not-so-limited) Spanish vocabulary.
---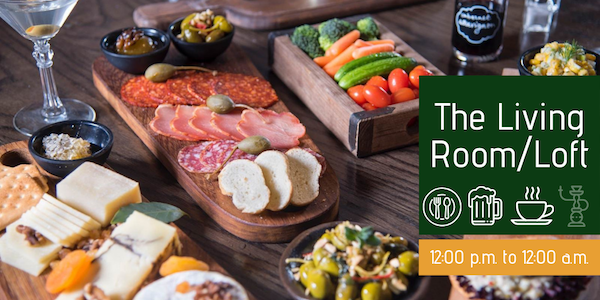 Both the Living Room and its sister location, the Loft, will be serving delicious dishes and drinks to enjoy throughout the month. Try their delicious smoked salmon and down it with a glass of wine. Afterwards, treat yourself to their famous sticky toffee pudding.
---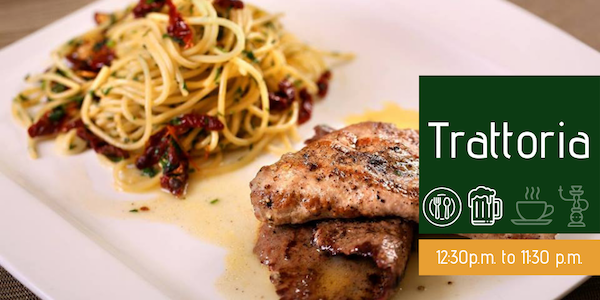 Trattoria is a popular Italian eatery in town that is known for its all-you-can-eat sushi nights on Saturdays and Tuesdays. If you're not there for the sushi, try their pasta, and pair it with a good, heartwarming Italian soup.
---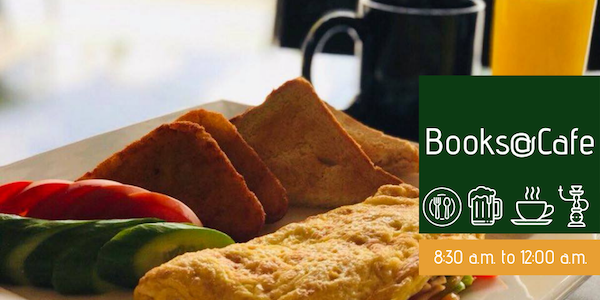 While Books@Cafe's terrace will be closed during the daytime of the Ramadan season, they will still be serving their delicious and eclectic dishes throughout the day. If you're feeling adventurous, try their confusion pizza – a pie half-topped by a pasta of your choosing. Insane.
---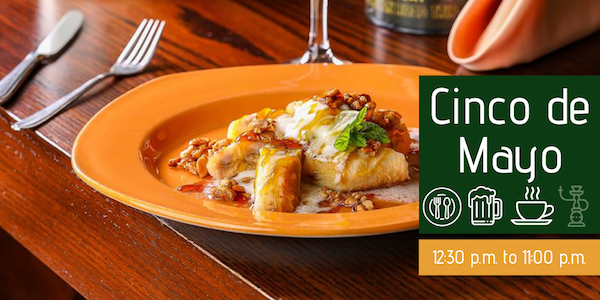 Feeling extra feisty? Treat yourself to some Mexican food from Cinco de Mayo. They'll be serving delicious and colorful Latino cuisine and alcohol like they always do. Wet your whistle with a margarita to go with your tacos!
---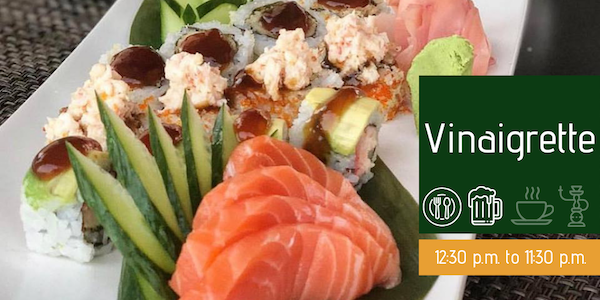 Vinaigrette is one of Amman's most popular lunch spots: partly because of the great view they have of the cityscape, and largely due to their delicious sushi. If it's been a while since you've had a sushi boat, try Vinaigrette's and down it with one of their refreshing drinks.
---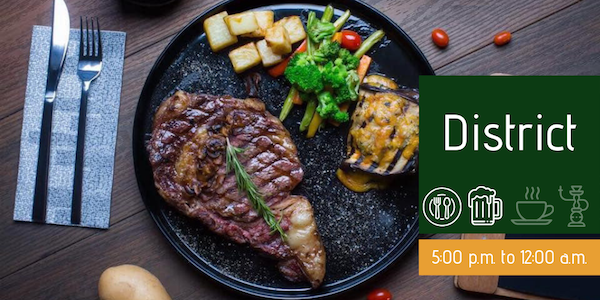 District is the place to be if you're into brunching. Kick back and enjoy a mimosa or two to go with the view while savoring some the delicious menu items. They often host bottomless brunches where the rivers of brunch cocktails flow ceaselessly!
---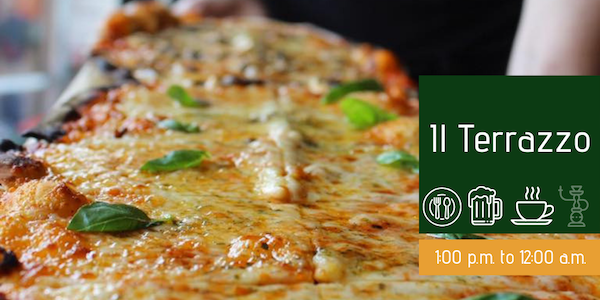 Il Terrazzo excels at Italian cuisine, and offers its patrons a warm and welcoming ambience. Give their meter-long pizza a try and pair with a glass of your favorite wine. If you're lucky, you might be able to catch a live performance to go with the meal!
---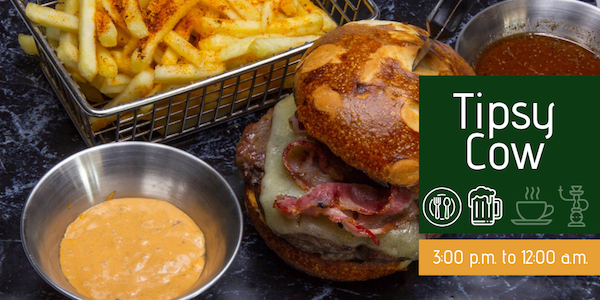 Tipsy Cow exists for two reasons: the novelty of having a weird name, and serving delicious food and drinks to those who need it. If you're feeling particularly nibblish after work, drop by Tipsy Cow for both a drink and a delicious meal!
Tip: People have been buzzing about their burger as of late.
---
One can only truly be happy with chopsticks in hand and sushi in their tummy, and Yoshi (the restaurant, not the dinosaur) serves great sushi. Sip on their Sake Cosmopolitans and savor the flavors of the far east on a hot afternoon this summer.
---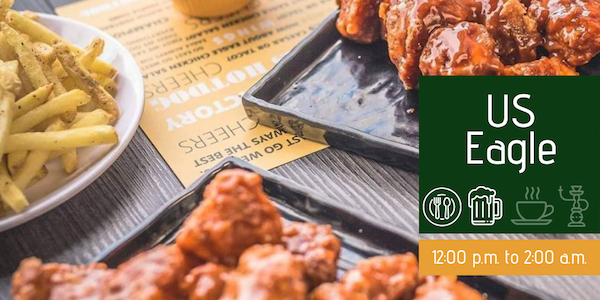 Looking for a spot to watch the game after work? How about somewhere you can chow down on wings, onion rings and beer all in one go? You won't have to miss out on the spirit of the game or a good bar bite. US Eagle has you covered day and night, even during the holy month.
---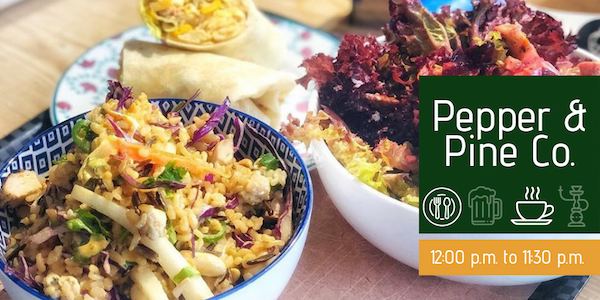 Are you looking for something to sustain you until Iftar this Ramadan? Pepper & Pine Co. make mean smoothie bowls that pack a healthy pick-me-up punch. Check out their delicious salads if you're looking for something on the lighter side.
---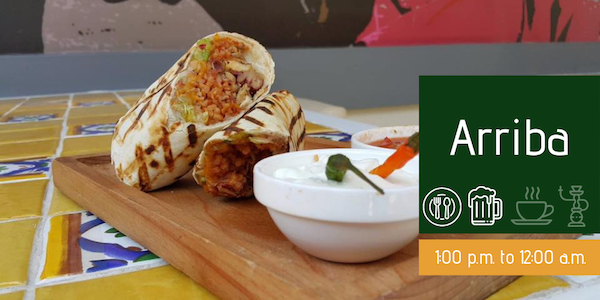 Thinking of a laid back place to grab a light bite at? How about trying out Arriba's new menu? You can break your fast with their delectable dishes or have an early dinner with a few of your friends.
---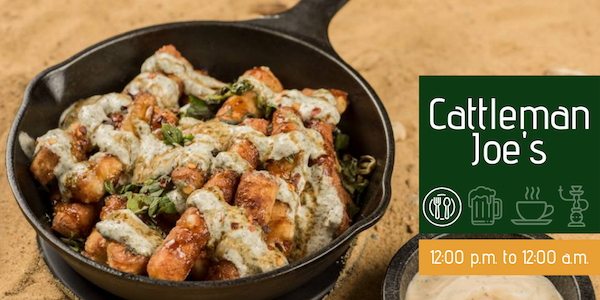 Do you find yourself craving a good steak every now and then? Cattleman Joe's will be serving up T-bones and an eerily faithful adherence to cowboy culture throughout the month. Don't forget to put on your cowboy hat!
---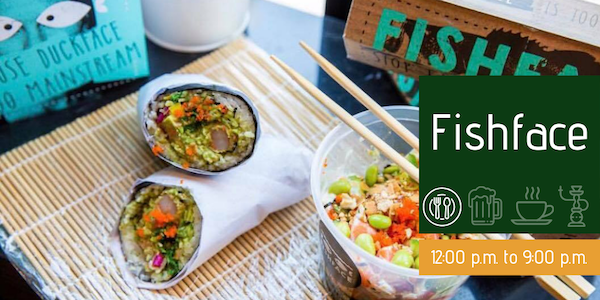 Sometimes, Ramadan can have us craving all sorts of weird dishes. If you're in the mood for something eclectic, Fishface are still serving their eclectic sushi burritos. Grab a burrito to share with a friend, or try their pokes if you aren't feeling as adventurous as could be.
---
Sushi with a view of Amman's skyline? Sign us up. Head over to Skyline Sushi whenever you're in the mood for real Asian food. Try out their wide array of sushi and Thai dishes.
---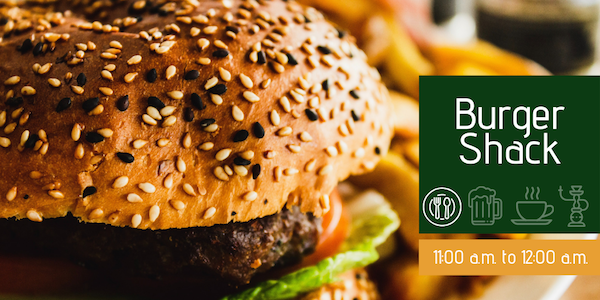 Burger Shack's Abdoun branch will continue serving their delicious burgers throughout Ramadan during their regular hours. If you find yourself craving a classic cheeseburger, you can't do wrong by visiting Burger Shack.
---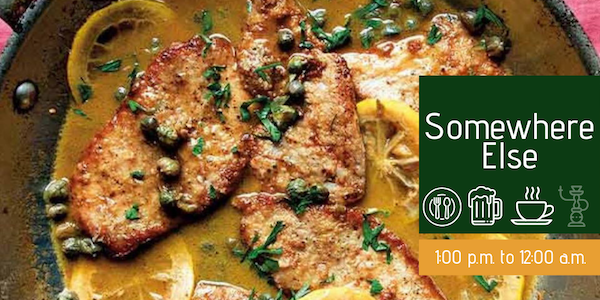 Though Somewhere Else won't be there to share the brunt of Ramadan with us for the first half of the season, they will reopen in the last 15 days of the month. This cozy and welcoming gastro-pub will be serving you fresh and delicious meals paired with your favorite drinks, provided you are patient enough for their reopening.
---
Organic's the word at Primal. If you're looking for delicious and creative vegan-friendly options, Primal's the place to go. Their delicious smoothies will help you power through a hot Ramadan day.
---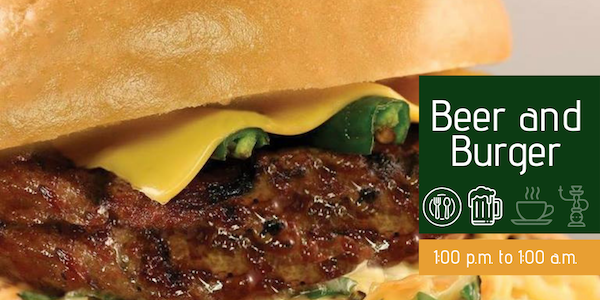 Though Beer n Burger will not be open to the public for the first leg of Ramadan, you'll be able to enjoy a good beer with great burgers towards the second half of the holy month. Make a trip to Fuheis out of it and enjoy beers and burgers: the greatest combination known to man since peanut butter and jelly.
---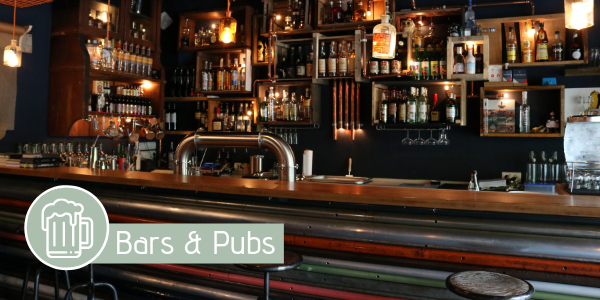 ---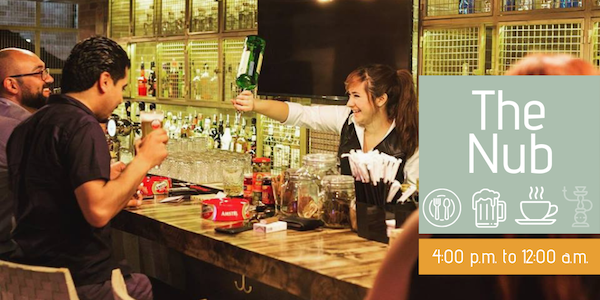 The Nub returns with their old schedule, uninterrupted by any occasion. Enjoy their legendary chicken wings or their delicious burgers. Luckily, they're still as great as ever at mixing those cocktails.
---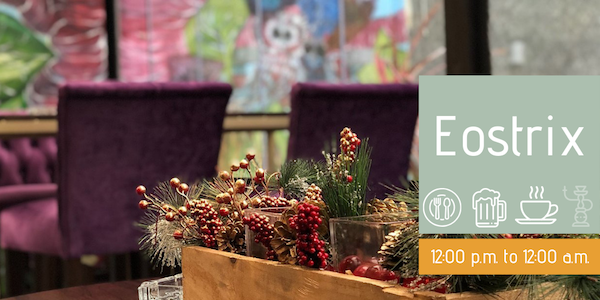 Eostrix is relatively new to the bar scene, but that doesn't stop them from innovating with their dishes or drinks. Try out their kale jameed dip for a daring and delicious pick-me-up to go with an ice cold drink.
---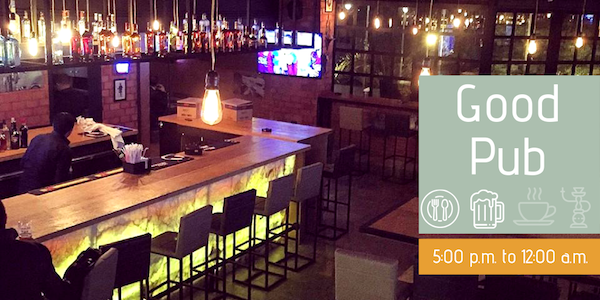 The hot and grueling days of Ramadan don't stand a chance against an ice cold beer, and the Good Pub is one of the better places to unwind. If cocktails are your vice, Good Pub's fully stocked bar can cater.
---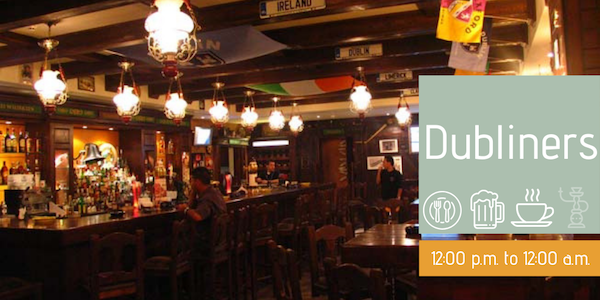 Dubliners offers Jordanians the chance to visit an authentic Irish pub in the heart of Amman. That, in itself, comes with benefits: great drinks and good food to go together.
---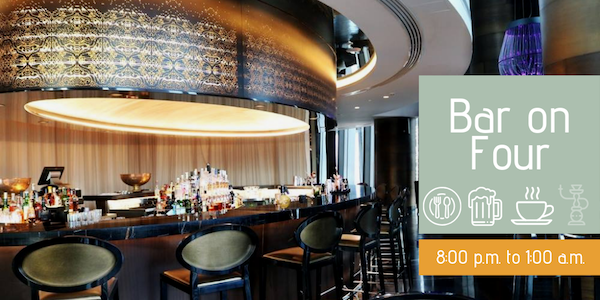 Bar on Four is a stylish bar towering Amman with it's great cocktails and views. If you're in the mood for something specifically hand-crafted for your tastebuds, this is where you want to be.
---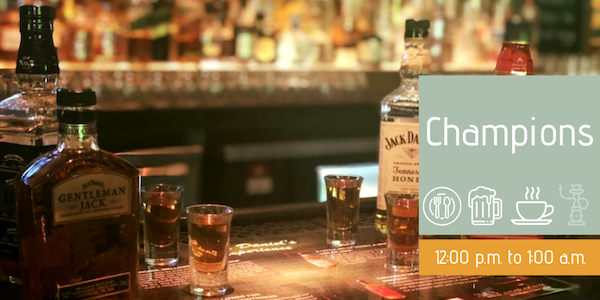 Got a game to catch this Ramadan? Watch it at Champions. If you're in for an early snack, try their breakfast burritos to go with your drink. No one's going to judge you for drinking beer with your breakfast. Not Champions, at least.
---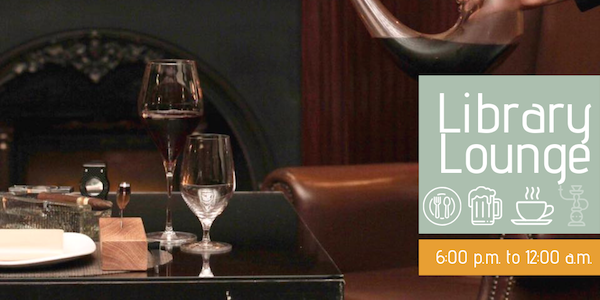 Yes Tipsters, the Library is open. If ever you find yourself feeling exceptionally fancy and in the mood for a cigar, dress up and head over to this lounge. The steaks are great, the drinks are refreshing, and their cigar collection is impressive.
---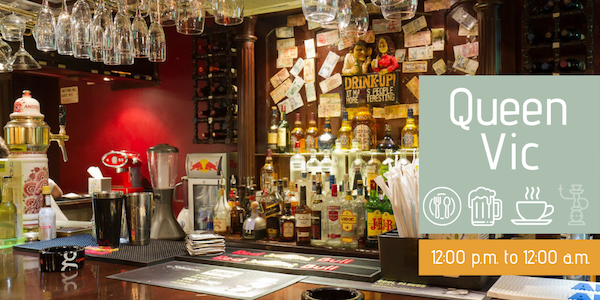 Queen Vic will be open for business as usual this Ramadan. They have a wide variety of beers to browse through, and their fish and chips are to die for.
---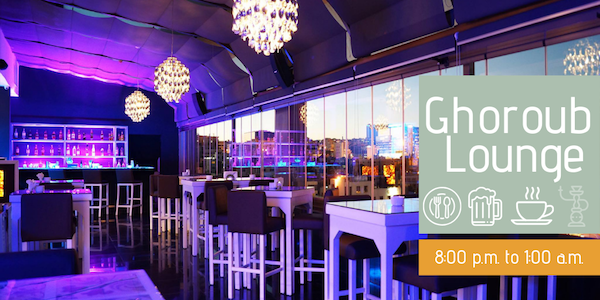 Ghoroub, Arabic for sunset, commands one of the best views of Amman's skylines right in the heart of it. Though you won't be able to catch the sunset here this month, you can still drop by after Iftar for a delicious mojito and an impressive view of town.
---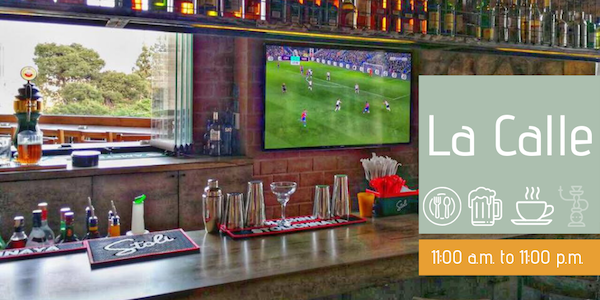 La Calle is a rustic-themed Italian eatery and bar, with three floors for you to choose from. If you're not looking to try some of their delectable bites, unwind with a cosmopolitan in hand on their terrace.
---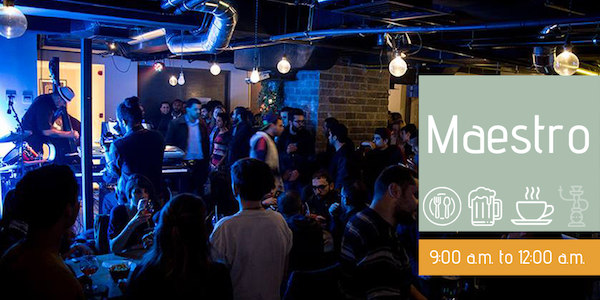 A mainstay in the Weibdeh bar scene, Maestro's doors will be open to those seeking a drink or two this Ramadan. Be sure to catch their live music nights, and wine nights where they bring international wines at discounted prices for you to try out.
---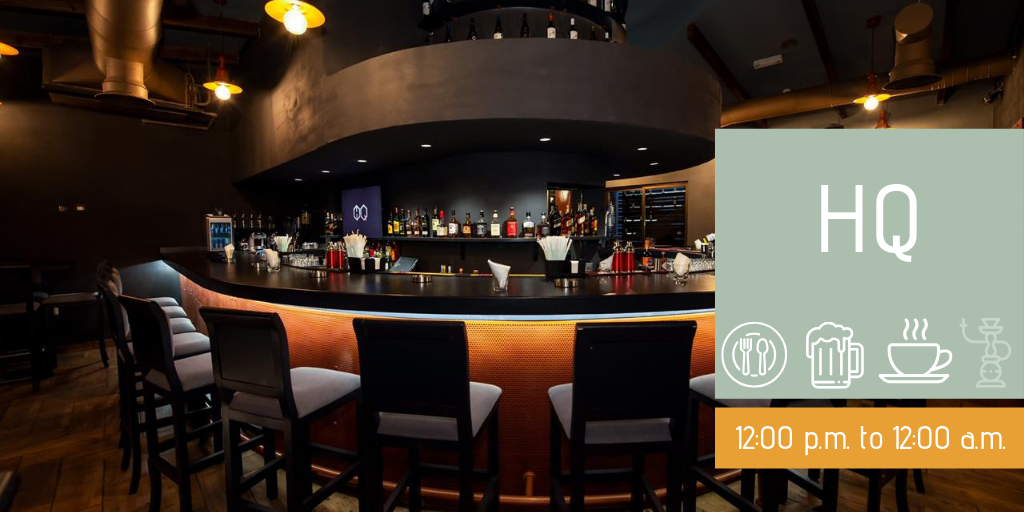 HQ is restaurant and bar that just launched in Jabal Amman. Luckily they'll be running all day in Ramadan, so you can kick back and enjoy the intimate atmosphere with a drink in hand and a bite in your stomach.
---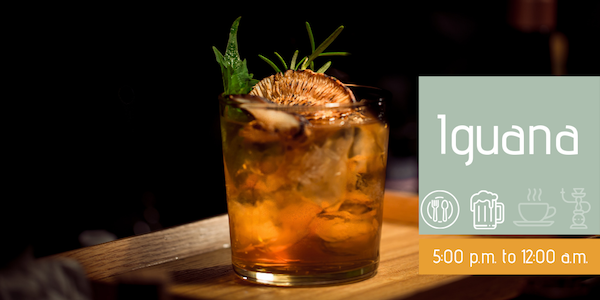 If you're craving a flavor-filled cocktail to savor on an early evening this Ramadan, Iguana has the best of the best. The atmosphere is unique, and inspired, and the sunset is a sight to behold.
---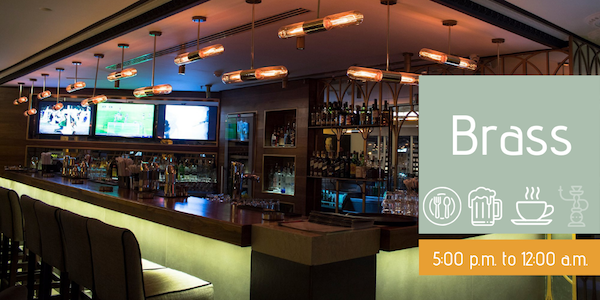 At some point in the past decade, Brass perfected the art of mixing cocktails. Do yourself a favor, and set aside some time to enjoy their delicious bites and drinks.
---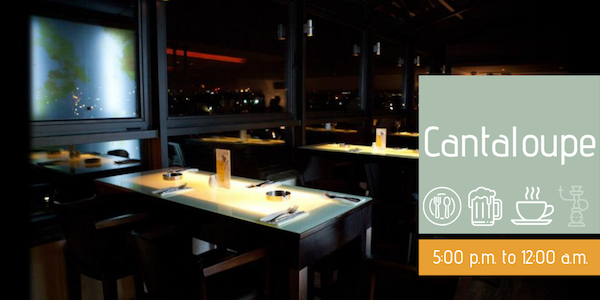 Cantaloupe, like its sibling Brass, excels at mixing drinks. Try their refreshing bellinis on an exceptionally warm Ramadan day and pair with a meal from their delicious menu!
---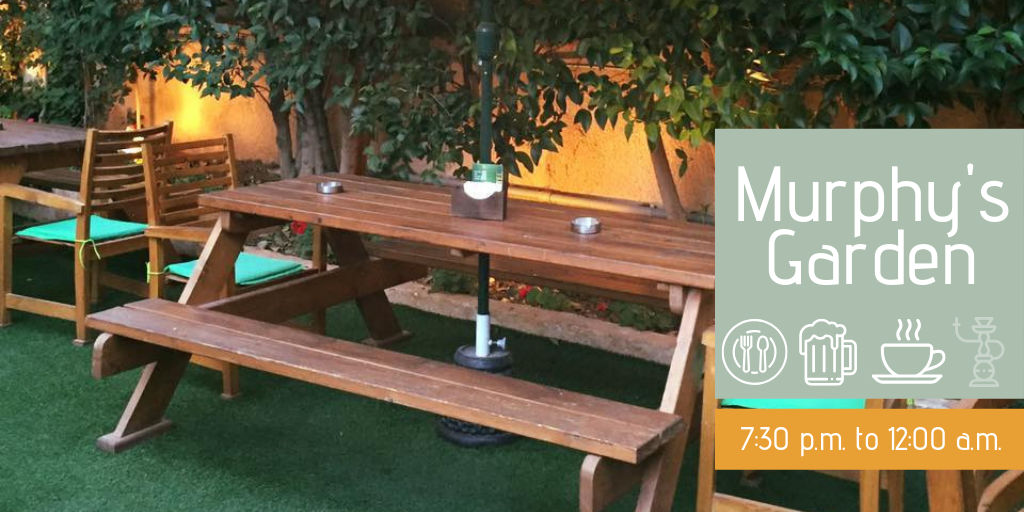 We've come bearing good and bad news, Tipsters. Let's start with the bad news: Murphy's Pub will be closed for Ramadan, but the good news is that its sister location, Murphy's Garden will be open for business. Enjoy those cool summer nights out in the open at the Garden instead!
---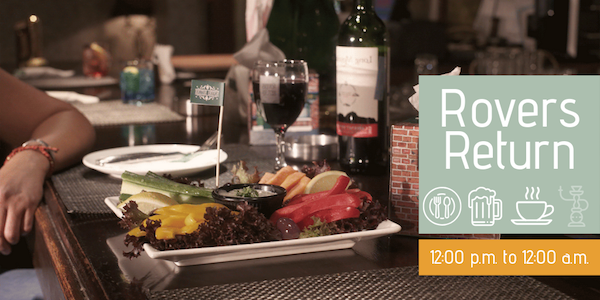 Rovers Return is based on a fictional inn from a relatively ancient (by today's standards) British TV series. It attempts to emulate the atmosphere of classic English pubs. Where best to enjoy a pitcher of beer and a dish of fish and chips than at a place that faithfully recreates the pub experience?
---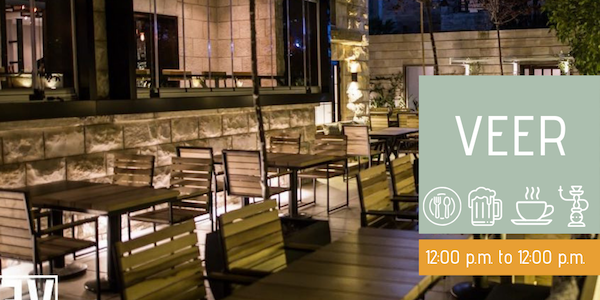 Veer will be open during fasting hours in Ramadan serving the delectable dishes you've grown accustomed to as well as delicious drinks. It's the season for sharing – so you might as well share a meal with your friends at Veer!
---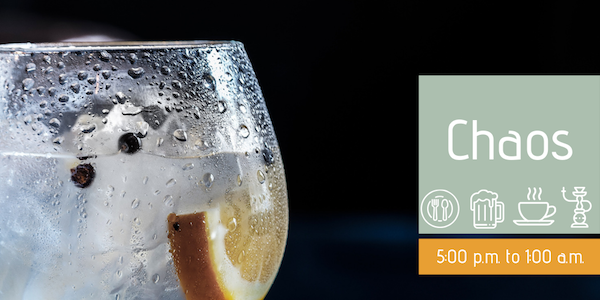 Chaos is an underground bar where you can gather around with friends, have drinks, smoke shisha, and grab a bite. Grab a friend or two and wind down at Chaos after a long day at work. The foosball table there will keep you occupied.
---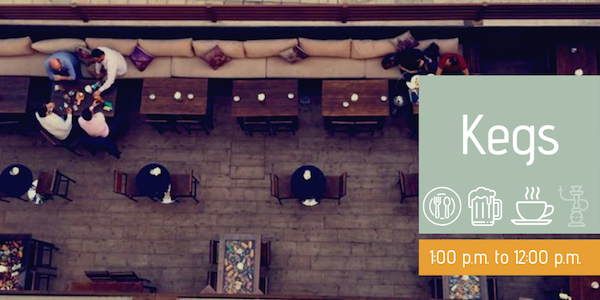 The beauty of this non-fasting guide is that it shows you places you thought would never be open during Ramadan; one of which is Kegs. You might think it's the right place to spend a night out with friends, but it can be even more giving on a hot afternoon.
---
Sahtein Tipsters and Ramadan Kareem!
Lemur Love,
The Tip n' Tag Team